When thinking about skiing, the first thing that comes to mind is ski resorts in France, Switzerland, Germany, Austria. Dreamy towns, Toblerone peaks, endless ski slopes and overall a hell of a good time. 
Like any director, you know your wife will be happy and will have plenty of bragging material to shoot out when you come back home.
Price wise, it could cost you a fortune if you're just going there to ski. 
But, If you're looking for a cheaper alternative, amazingly delicious food (cheap beyond imagination) and a taste of local Balkan hospitality, then this list here will definitely quench your thirst and hunger (and your spending). 
9 Must Visit Balkan Ski Resorts
Bansko (Bulgaria) 
Arguably the most famous Balkan based ski resort, set between the towering peaks of the stunning Pirin National Park. About a 2-hour drive from Sofia Airport, Bansko has IT ALL. 
Food? If you've never tasted Bulgarian doner, kebab, sarma while skiing, this is the place that will provide you with those divine treats.
70km of ski slopes, situated just after a 25-minute gondola ride, Bansko can accommodate all sorts of skiers – beginners, advanced powder riders and even jeans-wearing hotshots.
Don't worry about accommodation as the resort has a huge number of 3, 4, 5-star hotels at your disposal. Besides the stars, you are in for a treat – this region is full of thermal springs where you can revitalize and refill your Chi energy.
Additional Resources:
Kopaonik (Serbia)
Looking for a bit milder slopes but picturesque nevertheless? If you didn't know you were headed towards Kopaonik, you'd think you are somewhere in British Columbia or Colorado. Pine covered forests are blanketing the whole resort inside out and if you're lucky enough to witness a bluebird day, you'll probably want to stay there forever. 
55+ km of alpine and 18 km of nordic trails, 24 ski lifts and local Serbian cuisine (amazing pork) and wine. 
Additional Resources:
Sign me up Scotte!
Jahorina (Bosnia & Herzegovina)
The only Balkan resort that had a Winter Olympics (1984). Not the biggest, not the highest altitude but well-groomed pistes and alpine trails combined with hiking, paragliding, and local cuisine, is more than enough reasons to visit this place. Idemo!
Additional Resources:
Kranjska Gora (Slovenia)
Another alpine gem found in Slovenia, situated close to the famous Triglav National Park. Alpine conditions that you would normally see in Switzerland, describe best Kranjska Gora's 20 km of seamlessly maintained trails, 40km of cross country ski pistes, and plenty of hiking trails.
Feeling a bit adventurous? Head over to Triglav National Park – climb the highest peak in the Balkans, visit the Plitvice Lakes, head into the Postojna Cave or ride a Lipizzaner. Your choice.
Additional Resources:
Popova Shapka (North Macedonia)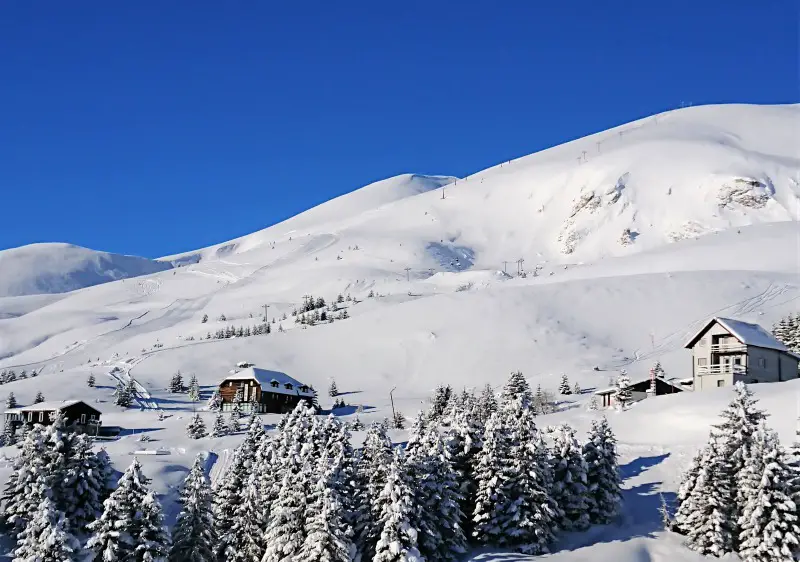 Best know as the top 3 off-piste skiing resorts in the Balkans, Popova Shapka boasts a small resort but a HUGE powder opportunity for those who like powder.
43 peaks over 2,500 meters, 10+ glacier lakes, endless off-trail pistes that are enhanced by the lack of woods due to the height of the resort. 
Looking to visit Shapka in the summer? Waterfalls, canyons, sheep cheese and freshly baked bread, are the things you will encounter all around this huge massif. 
One thing to keep in mind, always carry cash because not always the POS systems work there (if any) – yes it's that remote!
Additional Resources:
Borovets (Bulgaria)
We have admit, we lied. Kopaonik isn't the only pine infested resort in the Balkans. 
You have the beautiful Borovets with snow covering from December until April, crazy nightlife (we tried it personally) and beautiful, mild slopes that will keep you skiing for the whole day. It's like the Kopaonik of Bulgaria and vice versa. 
72 km from Sofia, it's an easy choice if you're traveling by air. Karai Mom4e!
Additional Resources:
Mavrovo (North Macedonia)
Arguably the most famous ski resort in Nort Macedonia, known for its location in the midst of the Mavrovo National park, where the beautiful Mavrovo lake with it's submerged church lies. 
Great après-ski, fantastic food and beautiful weather throughout the season. Feeling hungry? You're in for a treat as the resort and the national park are known for the endemic cheese and local schnapps. Just don't drink and ski (or at least not too much). 
Additional Resources:
Poiana Brasov (Romania)
Who knew Romania was in the Balkans? Well lucky for us because this country boasts one of the best resorts found in this part of the world. Voted the most affordable European ski resort by Telegraph in 2008, with a total length of ski slopes 24.5 km, Poiana Brasov is a gem in the Carpathian Mountains.
Want something more? How about staying in for the whole summer and exploring the amazing labyrinth of hiking trails, paths, horseback stables, romanian restaurants and peaks that will let you observe the vast plateau that Romania occupies (if the weather is cool with that of course).
Feeling nostalgic for the old times? No worries because places like Dracula's Castle (23km), the Rasnov Fortress (12km), and the medieval city of Brasov (14km) will definitely help let some steam off (just eat some garlic prior).
Additional Resources:
Brezovica (Kosovo)
Remember that Popova Shapka was one of the top off-piste ski destinations? Well, Brezovica fits that description and not only that but, it's on the other side of the Shara mountain range, parallel to Popova Shapka!
Like twins separated at birth, this sibling boasts a longer ski season than Shapka thanks to its northern position on the Shara Mountain Range. It's located only 90 minutes from two international airports so the only dilemma remains: Brezovica or Popova Shapka? How about both?
It's family unfriendly but a true powder addicts paradise!
There you have it, a list of the 9 must-visit ski resorts in the Balkans. Whichever one you choose to go, you'll be pleasantly surprised by the local culture and food. A region shattered by past wars, political tension, right now is the mecca for budget thrill-seeking powder hounds, as well as families looking to spend some of that hard-earned cash on those 5-star hotels. Enjoy!
Additional Resources
Because why not? If you're still hungry for more great and breathtaking places to visit this year, check out our guides below: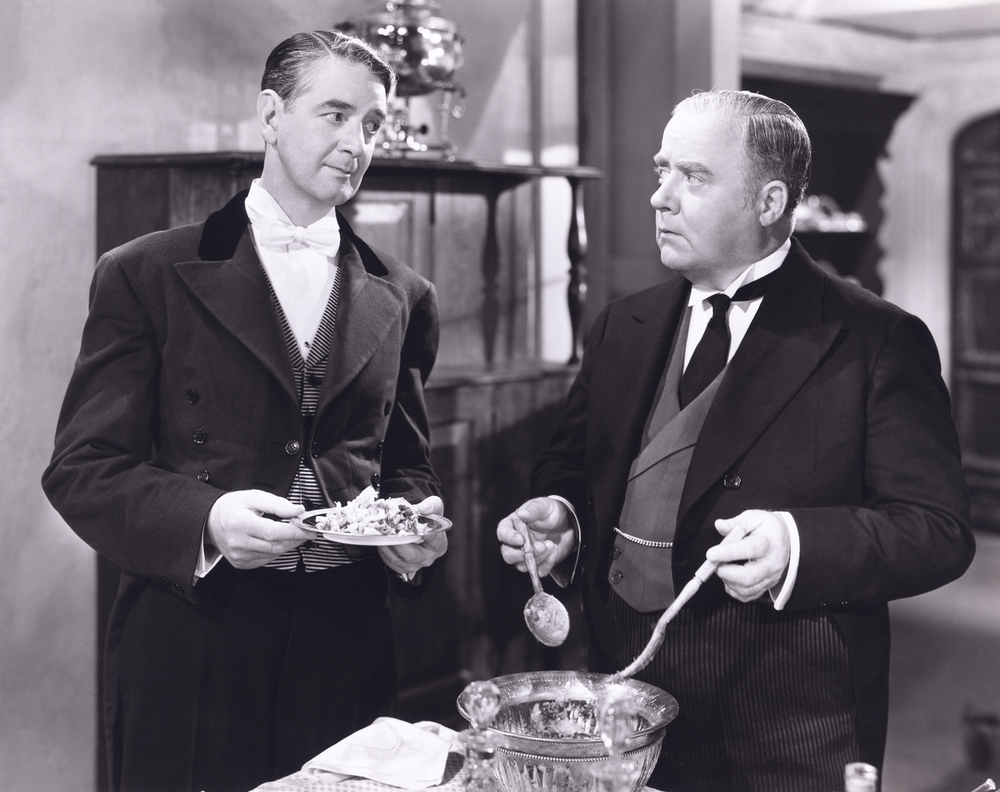 Avid travelers, passionate fishermen, and all-around great guys to hang out with (therefore the reason why they are the ones traveling around and not the rest of us, introverts and repulsive individuals). When not writing about their latest trip or catch, they drink beer, play the synth and call their friends to unpurposefully annoy them. A lot.