If you're looking for a new, easy, and tasty chicken dish, this is it! Made with simple ingredients, this chicken paprikash recipe can be on the table in less than an hour.
It's one of the most popular Hungarian dishes, loaded with hearty chicken pieces in an unforgettably rich, flavorful and creamy paprika-infused sauce! 
It's simply pure heaven!
Here is a delicious, authentic Chicken Paprikash recipe that is easy to make and guaranteed to please everyone at the table! 
https://youtu.be/72cn2Lb-TN4
What Is Paprikash?
Chicken Paprikash is a soul-warming and delicious Hungarian chicken dish in a thick, rich and creamy paprika sauce. Paired perfectly with dumplings or mashed potatoes, this Chicken Paprikash recipe is authentic and fast to prepare, so you'll be enjoying it before you know it! 
The recipe features tender chicken in a sauce with onions, butter, stock, and paprika. 
The amount and quality of ground paprika must be assured for the best chicken Paprikash possible. Believe me, you will notice the difference! The original Hungarian paprika has a vibrant flavor and a vibrant red hue. It's what gives this dish a fantastic flavor kick!
You can also add red bell peppers to your Paprikash, but that isn't necessary. The use of bell peppers varies in different areas and cultural traditions.
The sauce is deliciously rich and creamy, with a unique flavor profile owing to the addition of sour cream at the end. Its texture is smooth and velvety, unlike any other chicken dish, and a favorite among both Hungarians and food fans worldwide!
The iconic dish is rich with flavor and perfect for special occasions, like Sunday lunch or a romantic dinner. This is one of those dishes you come across in nearly every Hungarian household, so if you're ever in that part of the world, you should definitely give it a try!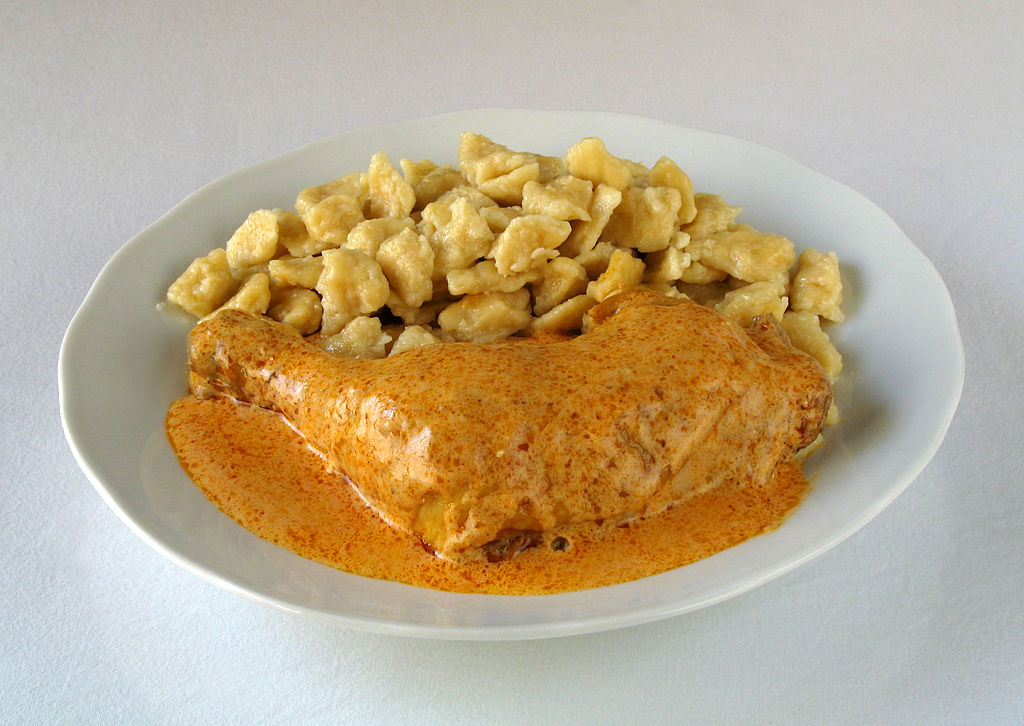 Paprikash Origin
Chicken paprikash, often known as a paprika chicken, is a classic Hungarian meal and one of the most well-known variants of the paprikás recipes seen on Hungarian tables.
Paprikash is one of the few foods in the world named after a spice—in this instance, the spice that became the foundation of the Hungarian cuisine.
The peppers used to make paprika, initially imported from Turkey, have been farmed in southern Hungary for about 500 years. As a result, paprikash is now regarded as a staple Hungarian traditional dish loved worldwide!
Paprikash Recipe
Ingredients
2 tablespoons pork lard or butter 

1.5 kg (3 lb) of chicken

2 yellow onions

2 cloves garlic

2 tomatoes

1 red bell pepper

3

–

4 tbsp sweet Hungarian paprika

2 cups of water

1 1/2 tsp sea salt

1/2 tsp ground black pepper

3 tsp all-purpose flour

3/4 cup full-fat sour cream

1/4 cup heavy whipping cream
Paprikash Recipe: Step-By-Step Instructions
Brown the chicken on both sides in a big saucepan with fat or butter. Some recipes call for simply boiling the chicken without browning it first, but I strongly recommend you do it beforehand because it improves the flavor of the final meal.
Place the chicken on a plate once it is done.
Fry The Ingredients In Remaining Oil
In the same leftover grease, add the onions which are previously finely chopped and fry until golden brown. Continue to cook for another 2–3 minutes after adding the minced garlic and tomatoes.
Take the saucepan away from the heat and stir in the vital component—paprika! Stir it in evenly, and add salt and pepper to taste.
Bring the chicken back into the pot and cook over medium heat.
Fill the container halfway with water. The liquid should almost completely cover the chicken.
Bring the water to a boil. Simmer for 40 minutes, covered, over medium-low heat.
Remove the chicken from the pan and place it on a platter.
Mix the flour and sour cream or cream mixture in a small mixing bowl to make a homogeneous paste. To avoid lumps, stir the cream mixture into the sauce frequently.
Simmer for a couple of minutes or until the sauce thickens.
Season with salt and pepper to taste.
Place The Chicken Back In
Take the chicken and place it back into the sauce, and heat thoroughly.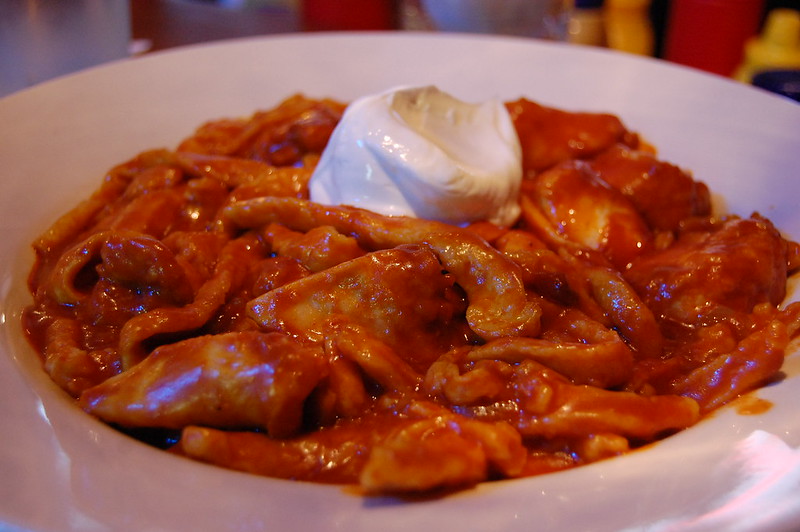 Paprikash Recipe: Serving Suggestions
The most popular way to eat Paprikash is with mashed potatoes. But, if you want to make it a bit more complete and wholesome, serve it with some home-cooked Hungarian dumplings or nokedli as well!
Nokedli is the same as Spaetzle; the only difference, they're much shorter and stubbier. But, again, it's a traditional homemade type of dumpling.
Another alternative is to serve it with a side of noodles or rice, but it also goes great with a side of any kind of fresh salad and makes the perfect hearty lunch!
Looking for more recipes? Check these Balkan food guides:
And our massive country guides:
Finally, here are our curated Balkan food guides: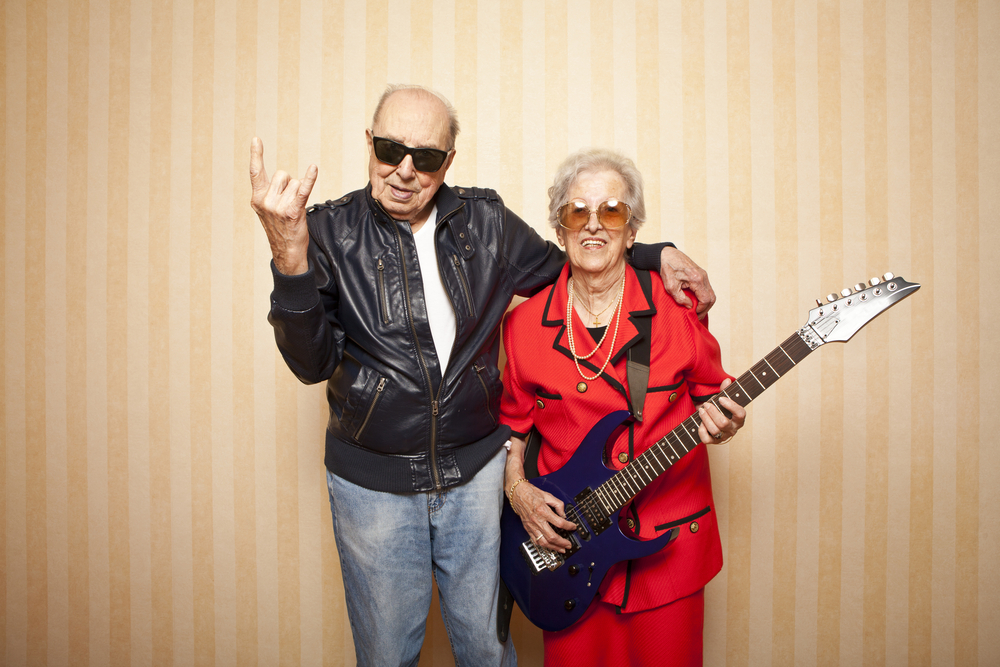 Jadranka Y. and Pero K. Foodies, lovers. Jadranka is the queen of pastries and sweets, whereas Pero is the prince of meat and potatoes.
They met at 15, while working in the kitchen of a famous chef here in the Balkans, and have been together ever since.
But they still love each other and are faithful till death or until one messes up their dish. Which happens quite often if you ask anyone of them.
Love is a battlefield and Jadranka and Pero decide who wins, in the kitchen.