Today, we're taking a detour from our usual escapades to share a story close to our hearts, set in the unexpected gem of Podgorica. Nestled in the heart of Montenegro, this city unveiled surprises at every corner, leaving us with tales to tell and memories to cherish.
We are Misho and Mile, your favourite experts on balkan travel destinations, restaurants, things to do and anything in between.
Discovering the Unseen Beauty of Podgorica
Podgorica isn't your typical tourist hotspot, and that's exactly what drew us in. We were on the hunt for something different, something off the beaten path, and boy, did we find it. The city's subtle charm and laid-back vibe provided the perfect backdrop for our adventures.
Misho's Culinary Conquest and a Taste of Local Life
Our journey took a delightful turn when Misho, ever the food enthusiast, stumbled upon a hidden rostilj joint, tucked away in a quiet corner of the city. The tantalizing aroma of grilled meat wafted through the air, guiding us to what would soon become our favorite spot in Podgorica. The owner, a man with a passion for cooking, welcomed us with open arms, sharing stories and dishes with equal generosity. It was a feast for the senses and the soul, a true taste of Montenegrin hospitality. Prshut brate!
Embracing the Digital Nomad Lifestyle in Podgorica's Hidden Havens
As strategic consultants, our work never truly stops, but Podgorica made it feel like a breeze. We found solace in quaint cafes and co-working spaces, where the internet was fast, and the coffee was strong. It was here, amidst the city's calm, that we found our rhythm, balancing work and play with ease.
Misho, Mile, and the Unforgettable Nights by the Moraca River
As the sun set over Podgorica, we found ourselves drawn to the Moraca River, a serene spot perfect for evening reflections. With a bottle of Montenegrin wine in hand and Misho's guitar setting the mood, we sang, laughed, and shared stories under the starlit sky. It was moments like these that made our trip unforgettable, turning Podgorica from a mere stopover into a highlight of our Balkan journey.
So, to all those seeking a unique adventure, give Podgorica a chance. It may surprise you, just as it surprised us, revealing its beauty in the most unexpected ways.
Yours,
Misho and Mile
Why visit Podgorica?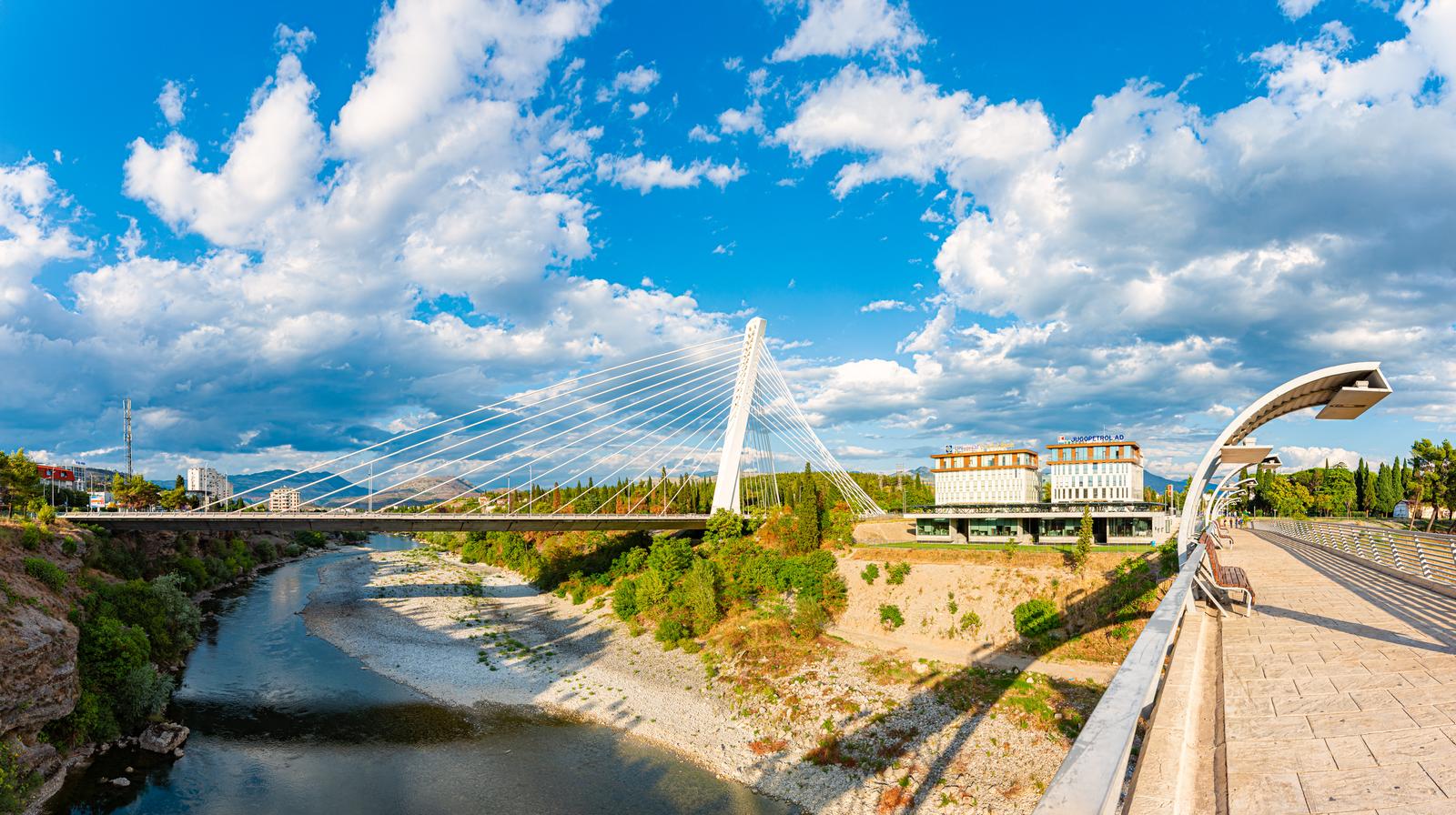 With its affordable living costs, reliable internet connectivity, and an array of cozy cafes and eateries, digital nomads will find Podgorica to be a conducive environment for productivity and creativity. The city's rich history is evident in its architecture, with remnants of Ottoman and Austro-Hungarian influences, providing a visual feast for culture enthusiasts.
Where Is Podgorica?
Podgorica finds its home right in the heart of Montenegro, serving as both the country's capital and its largest city.
Strategically positioned at the crossroads of several major routes, it's nestled between the Adriatic Sea and the impressive mountains, making it an accessible hub for travelers exploring the Balkans.
The city is surrounded by lush landscapes, with the Morača and Ribnica rivers flowing through, adding to its scenic charm. Its central location in Montenegro means that you're never too far from the stunning coastlines, majestic mountains, or any other adventures the country has to offer.
What is the Wi-Fi and internet speeds in Podgorica?
Whether you're working from a modern co-working space, sipping coffee in a quaint café, or unwinding in your accommodation, you'll find that reliable internet is just a click away.
The city's internet infrastructure is robust, offering speeds that can easily handle video calls, large downloads, and any other high-bandwidth activities that your work might require. On average, you can expect speeds ranging from 20 Mbps to 100 Mbps, ensuring a smooth and uninterrupted online experience.
Check this map out: https://www.wifimap.io/141-montenegro/1937-podgorica
Many of the city's cafes and restaurants offer free Wi-Fi to customers, making them popular choices for digital nomads looking to combine work with a taste of the local cuisine. Additionally, most hotels and accommodations are well-equipped with high-speed internet, ensuring that you stay connected throughout your stay.
Best Co-working spaces in Podgorica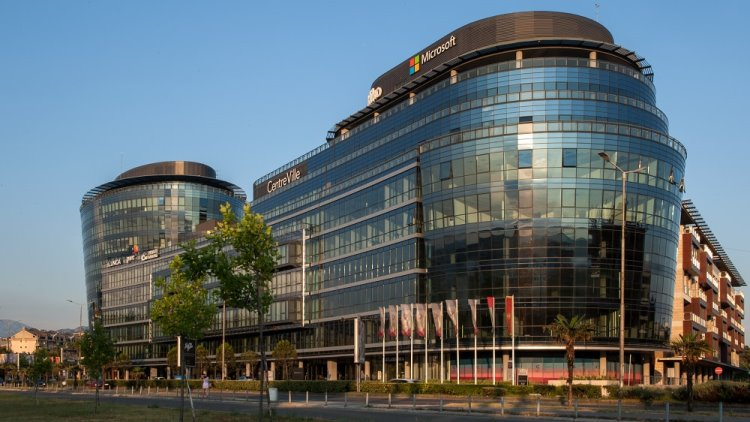 Here's a list of some popular co-working spaces in Podgorica:
The Capital Plaza Business Center: Located in the heart of Podgorica, this modern facility offers a professional working environment with all the amenities you need. From high-speed internet to meeting rooms, it's designed to boost productivity.
Work Hub Montenegro: This space is known for its cozy atmosphere and community-centric approach. It provides a range of flexible working options, making it a favorite among digital nomads and local freelancers.
Smart Office: Offering a sleek and contemporary setting, Smart Office is equipped with everything from private offices to open working areas, catering to various working styles.
Innovation and Entrepreneurship Center Tehnopolis: While a bit of a drive from the city center, Tehnopolis is worth the trip for its state-of-the-art facilities and vibrant community of innovators and entrepreneurs.
Regus – Podgorica, City Kvart: Part of the global Regus network, this location provides a reliable and professional workspace with flexible terms, perfect for those who are in the city for a short period.
Delta City Mall: While not a traditional co-working space, the mall offers numerous cafes with free Wi-Fi, serving as informal workspaces for those looking to combine work with a bit of shopping.
These co-working spaces not only offer the necessary amenities for a productive workday but also provide opportunities to network and connect with fellow professionals.
Best Cafes and public spaces with Wi-Fi access in Podgorica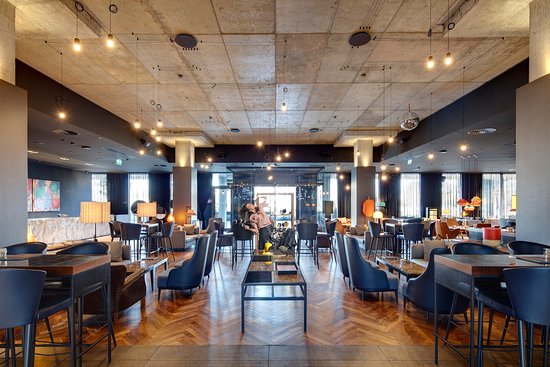 Here's a list of some popular spots with Wi-Fi access:
Best Accommodation Options In Podgorica
Podgorica presents a diverse array of accommodation options, catering to different preferences and budgets. Whether you're looking for luxury, comfort, or something more economical, this city has got you covered.
For those seeking a touch of luxury, the CentreVille Hotel & Experiences offers top-notch amenities and a central location, ensuring a comfortable and convenient stay. If boutique hotels are more your style, Hotel Hemera combines modern amenities with a cozy atmosphere.
Budget travelers and backpackers will appreciate the numerous hostels and guesthouses scattered around the city, such as Montenegro Hostel B&B Podgorica, providing affordable yet comfortable lodging options.
Apartments for rent are also widely available, offering a home-away-from-home experience, complete with kitchen facilities and more space to relax. Websites like Airbnb and Booking.com feature a variety of listings, catering to both short-term and long-term stays.
With its range of accommodation options, Podgorica ensures that every traveler can find a place that suits their needs and budget, making it an ideal destination for digital nomads, business travelers, and tourists alike. Now, let's take a closer look at the local cuisine and where to find the best bites in the city.
7 Short-term rentals Options In Podgorica
Podgorica offers a variety of short-term rentals and apartments, providing comfortable and convenient options for travelers and digital nomads. Here's a list of some popular choices:
These short-term rentals and apartments provide a range of options to suit different preferences and budgets, ensuring a comfortable and convenient stay in Podgorica.
Best Hostels and budget-friendly options In Podgorica
Podgorica is a city that caters to travelers of all budgets, and there are plenty of hostels and budget-friendly accommodation options to choose from. Here's a list to help you find a place that suits your needs without breaking the bank:
7 Top Hotels and Luxury Accommodations In Podgorica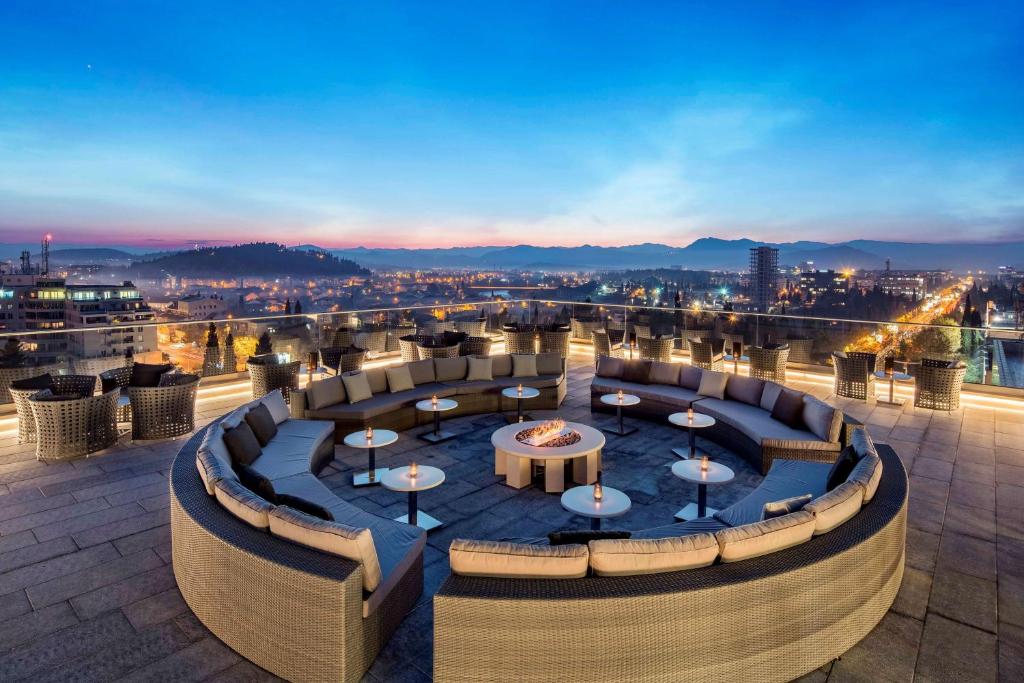 Podgorica, with its growing tourism and business sectors, offers a variety of hotels and luxury accommodations for those looking to indulge in a bit of comfort and elegance during their stay. Here's a list of some top-notch options:
These hotels and luxury accommodations offer a taste of the finer things in life, ensuring a comfortable, stylish, and memorable stay in Podgorica.
Cost of Living in Podgorica
Podgorica presents an attractive option for many due to its relatively low cost of living, especially when compared to other European capitals.
Housing is affordable, with a variety of options ranging from budget-friendly apartments to more luxurious dwellings. You can find a decent one-bedroom apartment in the city center for around €300 to €400 per month, while prices are even lower outside the central areas.
When it comes to dining out, Podgorica is a treat. A meal at an inexpensive restaurant will set you back around €5 to €10, while a three-course meal at a mid-range restaurant costs about €20 to €30 per person. Local markets offer fresh produce at reasonable prices, allowing you to cook at home and save money.
Transportation costs are also quite low, with a monthly public transport pass costing around €30. Alternatively, taxis are readily available and affordable. Internet and utilities are reasonably priced, contributing to the overall affordability of living in Podgorica.
Comparison to other European destinations 
When compared to other European cities, there are several aspects where Podgorica shines, as well as areas where it offers a more laid-back approach.
Affordability:
Podgorica is significantly more affordable than many Western European cities. The cost of living, including housing, food, and transportation, is lower than in cities like Paris, London, or Munich. For instance, renting an apartment in the city center of Podgorica can be up to 50-70% cheaper than in these more expensive European capitals.
Pace of Life:
The pace of life in Podgorica is more relaxed and unhurried, providing a stark contrast to the hustle and bustle of larger European cities. This laid-back atmosphere can be a breath of fresh air for those looking to escape the fast-paced lifestyle.
Cultural Experiences:
While Podgorica may not have the same extensive range of cultural attractions as some other European destinations, it offers a rich history and a unique blend of Eastern and Western influences. The city's museums, galleries, and historical sites provide insight into Montenegro's past and present.
Natural Beauty:
Podgorica is surrounded by stunning natural landscapes, including mountains, rivers, and lakes. This access to nature is something that many larger European cities cannot offer, making Podgorica a great option for outdoor enthusiasts.
Connectivity:
While Podgorica's airport and transportation infrastructure are improving, it may not offer the same level of connectivity as major European hubs. However, its central location in the Balkans makes it a good base for exploring the surrounding countries.
Culinary Scene:
Podgorica's culinary scene is a hidden gem, with an abundance of local restaurants serving traditional Montenegrin cuisine, as well as international options. While it may not have the same culinary reputation as cities like Rome or Barcelona, it offers authentic and delicious options at a fraction of the price.
Podgorica Vs Tbilisi: Prshut or Khinkali?
Comparing Podgorica, Montenegro with another city outside the Balkans for digital nomads, is unfair because there is no other city like Podgorica. But if we had to choose, it would be the great Tbilisi, home of amazing food, warriors in the judo world, and hustlers in the business world:
Affordability: Both Podgorica and Tbilisi are known for their low cost of living, especially when compared to major Western European or North American cities. This affordability extends to housing, dining, and everyday expenses, which is particularly appealing for digital nomads on a budget.
Internet Connectivity: Tbilisi, like Podgorica, offers reliable and relatively fast internet connectivity, a crucial feature for digital nomads whose work depends heavily on being online.
Cultural and Historical Appeal: Both cities are rich in history and culture. Podgorica, with its mix of modern and Ottoman-influenced architecture, and Tbilisi, with its unique blend of Eastern and Western influences, offer a wealth of historical and cultural experiences.
Growing Digital Nomad Community: While not as popular as some of the more established nomad hubs, both Podgorica and Tbilisi are home to a growing community of digital nomads. This is supported by the availability of coworking spaces and an emerging startup scene.
Culinary Scene: Both cities offer a unique and diverse culinary experience. Podgorica offers Montenegrin cuisine with its Mediterranean and Balkan influences, while Tbilisi is renowned for its Georgian culinary traditions, which are considered some of the most unique and flavorful in the world.
Language: In both cities, the local language dominates (Montenegrin in Podgorica and Georgian in Tbilisi), but English is increasingly spoken, particularly among younger people and in business contexts, which helps in reducing the language barrier for international nomads.
Climate and Environment: Podgorica enjoys a Mediterranean climate, with hot, dry summers and mild winters. Tbilisi has a more humid subtropical climate, with warm summers and moderately cold winters. Both cities are close to beautiful natural landscapes, providing opportunities for outdoor activities and exploration.
Accessibility and Travel Opportunities: Both Podgorica and Tbilisi serve as good bases for exploring the surrounding regions. Podgorica offers easy access to the Adriatic coast and the mountainous northern region of Montenegro, while Tbilisi is a gateway to the diverse landscapes of Georgia, from the Caucasus Mountains to its wine regions.
These similarities make Podgorica and Tbilisi comparable and attractive for digital nomads looking for an affordable, culturally rich, and somewhat off-the-beaten-path experience.
Average costs for food, transportation, and leisure activities
Podgorica offers an affordable lifestyle, and this extends to food, transportation, and leisure activities. Here's a breakdown of the average costs you might expect:
Food:
Groceries: For a single person, monthly grocery bills can range from €100 to €150, depending on your diet and preferences.
Eating Out: A meal at an inexpensive restaurant costs around €5 to €10. A three-course meal for one at a mid-range restaurant is about €20 to €30.
Coffee: A cup of coffee in a café can cost between €1 to €2.
Beer: A local beer at a restaurant or bar is around €1.50 to €3.
Transportation:
Public Transportation: A one-way ticket on public transport costs around €1, while a monthly pass is about €30.
Taxi: Starting tariff is usually around €1, with an additional €0.50 per kilometer.
Gasoline: If you're driving, expect to pay around €1.30 per liter of gasoline.
Leisure Activities:
Cinema: A movie ticket costs around €3 to €5.
Gym Membership: A monthly gym membership is about €20 to €40.
Outdoor Activities: Hiking and exploring the natural landscapes are popular and mostly free. Entrance fees to national parks are around €3 to €5.
Miscellaneous:
Internet and Utilities: For a standard 85m2 apartment, utilities including heating, cooling, electricity, and internet cost around €100 to €150 per month.
These prices reflect the affordability of Podgorica, making it an attractive option for those looking to enjoy a European lifestyle without the high costs.
10 Tips for budget-conscious nomads visiting Podgorica
Visiting Podgorica on a budget is entirely feasible, and with a few smart strategies, budget-conscious nomads can make the most out of their stay in this charming Balkan city. Here are some tips to help you save money while enjoying all that Podgorica has to offer:
1. Opt for Local Eateries:
Indulge in the local cuisine at small restaurants or street food stalls. The food is delicious, authentic, and significantly cheaper than at tourist-oriented establishments.
2. Use Public Transportation:
Podgorica's public transportation is affordable and reliable. Invest in a monthly pass if you plan to stay longer, as it offers unlimited rides and is more cost-effective than paying for individual trips.
3. Stay in Budget Accommodations:
Consider staying in hostels, guesthouses, or Airbnb apartments. These options are cheaper than hotels and often provide a more authentic experience.
4. Explore Free Attractions:
Podgorica has plenty of parks, historical sites, and neighborhoods that can be explored for free. Spend a day wandering around and soaking in the local culture without spending a dime.
5. Shop at Local Markets:
Visit local markets for fresh produce, snacks, and other goods. Prices are usually lower than in supermarkets, and you get to support local farmers and vendors.
6. Be Smart About Alcohol:
Enjoying a drink at a bar can be pricey. Consider buying local beer or wine at a supermarket and enjoying it at your accommodation or in a park.
7. Take Advantage of Happy Hours:
Some bars and cafes offer happy hour specials, usually in the late afternoon or early evening. This is a great time to enjoy a drink or two at a reduced price.
8. Look for Free Wi-Fi:
Many cafes, public spaces, and even some parks offer free Wi-Fi. Take advantage of this to save on data costs and stay connected.
9. Be Mindful of Your Mobile Data Usage:
If you're using a local SIM card, be aware of your data usage to avoid extra charges. Alternatively, consider purchasing a prepaid plan with a generous data allowance.
10. Enjoy Outdoor Activities:
Podgorica is surrounded by stunning natural landscapes. Hiking, biking, and exploring the outdoors are not only great for your health but also free.
By following these tips, budget-conscious nomads can enjoy a fulfilling experience in Podgorica without breaking the bank. Now, let's delve into some of the must-visit local spots and things to do in the city.
The 10 Best Things To Do in Podgorica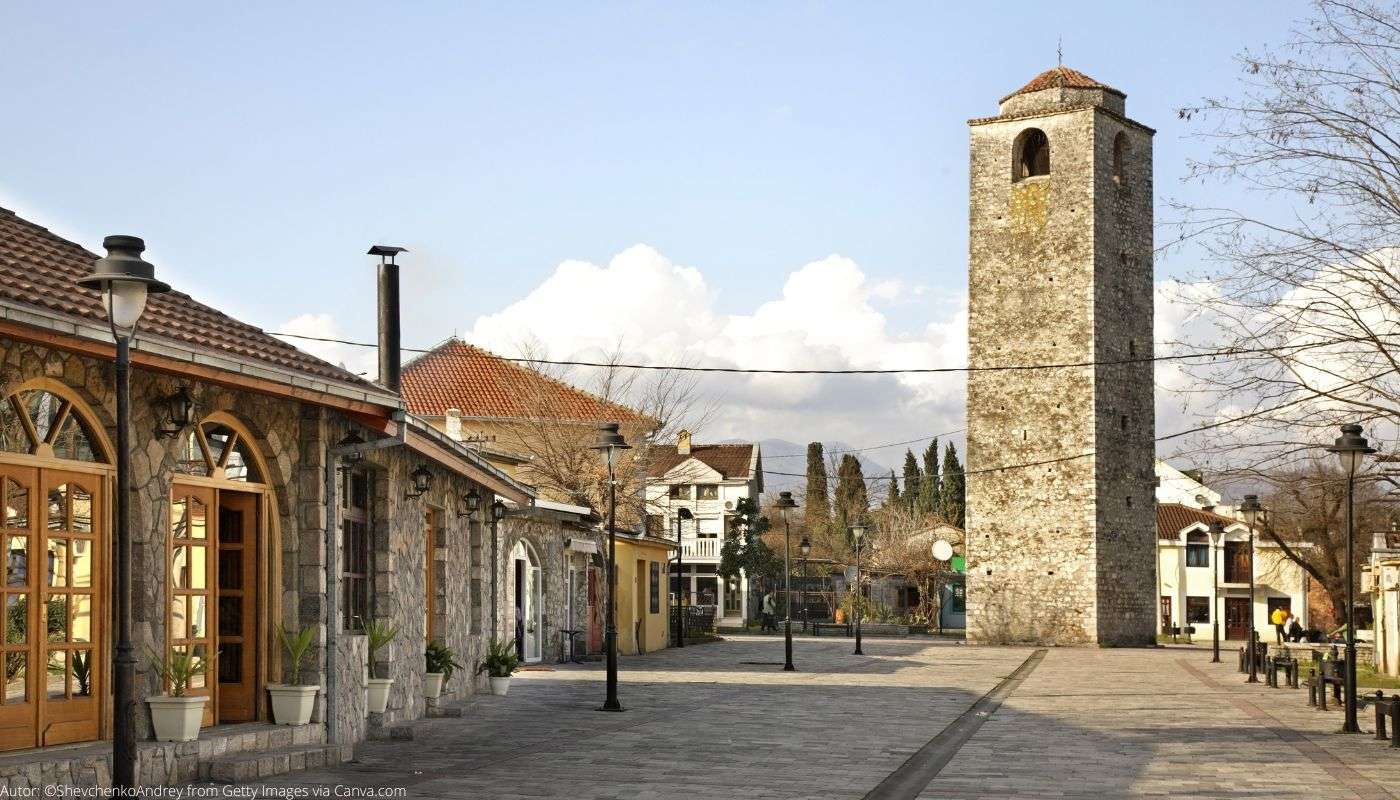 Here's a list of some of the best things to do in the city:
Delve into the history of Podgorica by wandering through the narrow streets of the Old Town. Here, you'll find ancient Ottoman-era buildings, charming houses, and the remnants of old fortresses.
This stunning cable-stayed bridge is an architectural marvel and a symbol of Podgorica. It's especially beautiful at night when it's illuminated.
Take a stroll along the river, or enjoy a picnic in one of the many green spaces. The river provides a tranquil escape from the city bustle.
Located in a former royal palace, this art center showcases a variety of modern and contemporary artworks, providing insight into Montenegro's art scene.
Visit the city's main market to sample fresh produce, local cheeses, and other delicacies. It's a great place to experience the local way of life.
This Serbian Orthodox cathedral is not only a place of worship but also a masterpiece of modern architecture, with its impressive frescoes and intricate details.
Just a short drive from Podgorica, Lake Skadar is the largest lake in the Balkans and offers stunning scenery, bird watching, and boat tours.
Montenegro has a burgeoning wine scene, and a visit to the Plantaze Vineyard is a must for wine enthusiasts. Enjoy a tour and tasting session of their exquisite wines.
This unique monastery is partially built into a cave and features fascinating frescoes and a peaceful atmosphere.
10. Enjoy the Nightlife:
Podgorica has a lively nightlife scene, with a variety of bars, cafes, and clubs to choose from. Enjoy a night out and mingle with the locals.
For more information on what to see, check out our guide on the best things to do in Podgorica.
Food and Culinary Scene in Podgorica
Podgorica's cuisine is made out of the diverse culinary traditions of the Balkans, Mediterranean, and Ottoman Empire. It's a gastronomic adventure that promises robust flavors, hearty portions, and a genuine taste of Montenegrin hospitality.
The city's culinary landscape is dominated by a love for fresh, locally sourced ingredients. Seasonal fruits and vegetables, high-quality meats, and dairy products play starring roles in most dishes. Grilled meats, known as "rostilj," are a local favorite, with dishes like "ćevapi" (grilled minced meat) and "pljeskavica" (spiced meat patty) being must-tries for any food enthusiast.
Podgorica's proximity to Lake Skadar ensures a steady supply of fresh fish, adding a delightful variety to the menu. Traditional fish dishes are often prepared with a simple yet flavorful combination of local herbs, garlic, and olive oil, allowing the natural tastes to shine through.
Dairy products, particularly cheese, hold a special place in Podgorica's cuisine. "Njeguški sir," a cheese made from cow or sheep milk, is a local delicacy, often served alongside cured meats as a part of a traditional Montenegrin feast.
To top it all off, Podgorica's emerging wine scene offers the perfect accompaniment to its rich culinary offerings. Local vineyards produce a variety of wines, with "Vranac" being a popular red wine choice.
Embracing the traditions of the past while welcoming modern influences, Podgorica's cuisine is a flavorful journey through Montenegro's culinary heritage. Now, let's explore some of the best local dishes that you absolutely must try during your visit.
5 Best Restaurants in Podgorica
Here are five highly recommended restaurants in the city:
Location: Stara Varoš Cuisine: Traditional Montenegrin Highlights: Nestled in the heart of the Old Town, Pod Volat is renowned for its authentic Montenegrin cuisine, serving hearty portions of local dishes. The restaurant's rustic ambiance and friendly staff make for a welcoming dining experience.
Location: Bulevar Svetog Petra Cetinjskog Cuisine: Mediterranean, Seafood Highlights: Lanterna is celebrated for its exquisite seafood dishes and Mediterranean flavors. The restaurant offers a cozy setting and a menu that showcases the freshest ingredients from the region.
Location: Njegoševa Cuisine: International, Mediterranean Highlights: Situated in the bustling city center, Hemera Restoran offers a modern twist on Mediterranean cuisine, with a menu that features a variety of international dishes. The stylish interior and attentive service provide a sophisticated dining experience.
Location: Stara Varoš Cuisine: Traditional Montenegrin, Balkan Highlights: Vodenica is a charming restaurant set in a historic watermill, offering a unique dining setting. The menu is a tribute to traditional Montenegrin and Balkan cuisine, with a selection of grilled meats and local specialties.
Location: Cetinjski Put Cuisine: American, International Highlights: For those looking for a familiar international flavor, Hard Rock Cafe Podgorica delivers with its classic American menu, rock 'n' roll memorabilia, and lively atmosphere.
These restaurants not only offer a taste of Podgorica's diverse culinary landscape but also provide unique dining experiences that showcase the city's rich history and contemporary vibes.
Vegetarian Restaurants and vegan-friendly options in Podgorica


While traditional Montenegrin cuisine is heavily meat-based, Podgorica has been embracing the global trend towards vegetarian and vegan diets. As a result, the city now offers a variety of options for those following plant-based lifestyles. Here are some vegetarian and vegan-friendly spots in Podgorica:
1. Soul Bistro
Cuisine: Vegetarian, Vegan, International Highlights: Soul Kitchen is a haven for vegetarians and vegans, offering a diverse menu filled with plant-based delights. From hearty salads and wraps to delicious desserts, there's something for everyone.
2. Green House
Cuisine: Vegetarian, Vegan, Mediterranean Highlights: Green House serves a variety of vegetarian and vegan dishes with a Mediterranean twist. The restaurant is known for its fresh ingredients, flavorful dishes, and cozy ambiance.
3. Fresh Healthy Food
Cuisine: Vegetarian, Vegan, Health Food Highlights: As the name suggests, Fresh Healthy Food is all about providing nutritious and delicious options. The menu features a range of salads, smoothies, and light bites perfect for health-conscious diners.
4. Falafel Restaurant
Cuisine: Middle Eastern, Vegetarian-Friendly Highlights: For those craving Middle Eastern flavors, Falafel Restaurant offers a variety of vegetarian-friendly dishes, including their signature falafel, hummus, and tabbouleh.
5. Vegetarian Corner at Local Restaurants
Highlights: Many traditional restaurants in Podgorica are starting to include vegetarian options on their menus. Dishes like stuffed peppers, grilled vegetables, and various salads can be found, providing plant-based alternatives.
These options ensure that vegetarians and vegans can enjoy the culinary delights of Podgorica without compromise.
Tap Water in Podgorica: Can You Drink It?
In Podgorica, as in many parts of Montenegro, tap water is generally considered safe to drink. The city's water supply comes from underground sources, and it undergoes strict quality control procedures to ensure its safety for consumption. However, as a visitor, there are a few things you should be aware of:
1. Check with Locals:
While the tap water is generally safe, it's always a good idea to ask locals or your accommodation hosts if the water is safe to drink in that particular area, as water quality can sometimes vary.
2. Taste and Smell:
Some visitors might find that the tap water in Podgorica has a different taste or smell compared to what they are used to. This is usually due to the minerals in the water and is not an indication of contamination.
3. Bottled Water:
For those who prefer not to drink the tap water, bottled water is widely available in supermarkets, convenience stores, and restaurants throughout the city.
4. Water Fountains:
In some public areas, you might find water fountains providing drinking water. These are generally safe to use, but if you're unsure, it's best to ask a local.
5. Stay Hydrated:
Podgorica can get quite hot during the summer months, so it's important to stay hydrated. Carry a water bottle with you and refill it as needed.
By following these guidelines, you should be able to safely enjoy the drinking water in Podgorica and stay hydrated during your visit. Now, let's move on to exploring the local drinks and nightlife in the city.
Networking and Socializing in Podgorica
Podgorica offers a warm and welcoming environment for networking and socializing, with its numerous cafes, bars, and public spaces serving as popular gathering spots.
The locals are generally friendly and open to making new acquaintances, making it easier for visitors to connect. Engaging in small talk over a cup of coffee or a glass of local wine is a common practice, and it can open doors to professional opportunities and lasting friendships.
Additionally, the city hosts various events and meet-ups, providing platforms for both locals and expats to network and share ideas.
Meetup groups and expat communities in Podgorica
Podgorica, with its growing popularity among expats and digital nomads, has seen an increase in meetup groups and expat communities. These groups provide a great way for newcomers to connect, share experiences, and find support. Here's a guide to help you navigate these communities:
Internations is a global network for expatriates, and its Podgorica chapter is quite active. They organize regular events and get-togethers, providing a platform for expats to meet and network.
2. Meetup.com:
While not as prevalent as in larger cities, Meetup.com does have a presence in Podgorica. You can find groups based on interests, such as hiking, language exchange, or professional networking.
3. Facebook Groups:
There are several expat and digital nomad groups on Facebook specific to Podgorica and Montenegro. These groups are great for asking questions, seeking advice, and connecting with other expats.
4. Local Cafes and Co-Working Spaces:
Places like Soul Kitchen and some co-working spaces in Podgorica have become popular hangouts for expats and digital nomads. They often host events and meet-ups, providing an informal setting to network and socialize.
5. Language Exchange Events:
Engaging in language exchange is a fantastic way to meet locals and other expats while improving your language skills. Keep an eye out for language exchange meet-ups or events in the city.
6. Volunteering:
Getting involved in local volunteer opportunities can be a rewarding way to connect with the community and meet like-minded individuals.
By actively participating in these groups and events, you'll find that Podgorica offers a welcoming and vibrant community for expats and travelers alike.
Cultural events and festivals in Podgorica


Podgorica, with its rich history and diverse culture, hosts a variety of events and festivals throughout the year, offering something for everyone. Here's a glimpse into the city's vibrant cultural scene:
This annual festival takes place during the summer months, transforming the city into a hub of cultural activity. Enjoy open-air concerts, art exhibitions, theater performances, and much more.
Held in September, FIAT brings together theater troupes from around the world, showcasing a range of avant-garde and experimental performances.
This festival celebrates visual arts, featuring exhibitions, workshops, and installations from local and international artists.
4. City Day of Podgorica:
Celebrated on December 19th, the city's day is marked with various events, concerts, and festivities, commemorating the liberation of Podgorica in World War II.
Held near Lake Skadar, this festival celebrates two of Montenegro's culinary delights: wine and bleak (a type of fish). Enjoy tastings, traditional music, and a festive atmosphere.
Podgorica's Jazz Fest attracts jazz musicians from across the region and beyond, offering a week of soulful performances and musical workshops.
Held in October, the Podgorica Marathon draws runners from around the world, creating a lively and energetic atmosphere in the city.
8. New Year's Eve Celebrations:
Join the locals in the city square to ring in the New Year with live music, fireworks, and a festive spirit.
This eco-friendly festival promotes sustainable living through workshops, film screenings, and discussions, all set in the beautiful natural surroundings of Podgorica.
Held in the nearby coastal town of Herceg Novi, this film festival is worth the trip for cinema enthusiasts, showcasing a variety of regional and international films.
These events and festivals provide a unique insight into Podgorica's cultural life, offering opportunities to engage with the local community, experience Montenegrin traditions, and enjoy the city's festive spirit.
Nightlife and entertainment options in Podgorica
Podgorica, though often perceived as a laid-back city, has a vibrant nightlife and a variety of entertainment options to suit different tastes. Here's a guide to help you navigate the city's after-dark scene:
1. Bars and Pubs:
Podgorica has a plethora of bars and pubs, offering a relaxed atmosphere to enjoy a drink and chat with friends. Some popular spots include "District" and "Berlin Bar," known for their great selection of drinks and cozy ambiance.
2. Nightclubs:
For those looking to dance the night away, Podgorica has several nightclubs that play a variety of music genres. "Sejdefa" is a well-known spot, often hosting DJs and live bands.
3. Live Music:
If you're a fan of live music, check out "Casper Bar" or "Bokeski Dvori," where you can enjoy performances ranging from jazz and blues to local Montenegrin music.
4. Cafes:
Many of Podgorica's cafes transform into lively social spots in the evening, offering a more laid-back alternative to bars and clubs. "Carine" is a popular choice, known for its great atmosphere and wide selection of drinks.
5. Cultural Events:
Keep an eye on the city's cultural calendar for live performances, theater shows, and art exhibitions. The "Montenegrin National Theatre" is a great place to catch a play or a dance performance.
6. Outdoor Activities:
During the summer months, take advantage of Podgorica's outdoor spaces. The area around the Millennium Bridge and along the Moraca River becomes particularly lively, with locals gathering to socialize and enjoy the warm evenings.
7. Cinemas:
For a more relaxed evening, catch a movie at one of Podgorica's cinemas. "Cineplexx Delta City" offers a wide selection of the latest films.
8. Casinos:
If you're feeling lucky, try your hand at one of Podgorica's casinos, such as "Casino Crna Gora" or "Meridian Casino."
9. Seasonal Festivals:
Depending on the time of year, you might be able to catch one of Podgorica's festivals or outdoor concerts, adding a special touch to your nightlife experience.
10. Dining Out:
End your night with a delicious meal at one of Podgorica's restaurants, many of which stay open late. It's a great way to experience the city's culinary scene and soak in the local atmosphere.
With these options, you're sure to find something that suits your style, making your nights in Podgorica as exciting as your days.
Best time to visit Podgorica


The best time to visit Podgorica largely depends on your preferences and what you're looking to get out of your trip. However, many would agree that the spring and fall seasons offer the most pleasant experience. Here's a breakdown to help you plan your visit:
Spring (April to June):
Weather: The temperatures are mild, ranging from 15°C to 25°C (59°F to 77°F), making it comfortable to explore the city and its surroundings.
Nature: Spring is when Podgorica comes alive with blooming flowers and greenery, providing a beautiful backdrop for your visit.
Fewer Crowds: This is a great time to visit if you want to avoid the peak tourist season and enjoy a more relaxed atmosphere.
Summer (July to August):
Weather: Summers in Podgorica can be quite hot, with temperatures often exceeding 30°C (86°F). If you don't mind the heat, this is when the city is at its most lively.
Events: Summer brings a variety of cultural events and festivals, adding to the city's vibrant atmosphere.
Outdoor Activities: Take advantage of the warm weather to explore the nearby lakes, rivers, and mountains.
Fall (September to November):
Weather: Like spring, fall offers mild temperatures ranging from 15°C to 25°C (59°F to 77°F), making it a comfortable time to visit.
Harvest Season: This is the perfect time for wine enthusiasts to visit, as the grape harvest is in full swing and many wineries offer tours and tastings.
Colorful Scenery: Enjoy the changing leaves and autumnal colors that adorn the city and its surroundings.
Winter (December to March):
Weather: Winters in Podgorica are mild compared to other European destinations, with temperatures ranging from 5°C to 15°C (41°F to 59°F).
Fewer Tourists: If you prefer a quieter visit, winter is a great time to come, as there areHow To Get To Podgorica fewer tourists and you can have the city's attractions mostly to yourself.
Proximity to Ski Resorts: Take advantage of Podgorica's proximity to Montenegro's ski resorts for some winter sports.
Ultimately, the best time to visit Podgorica depends on your personal preferences. Whether you're looking to enjoy the city's outdoor activities, cultural events, or simply want to explore at a leisurely pace, Podgorica has something to offer year-round.
How To Get To Podgorica
Getting to Podgorica, the capital city of Montenegro, is quite straightforward thanks to its well-connected transportation network. Here's a guide to help you plan your journey:
By Air:
Podgorica Airport (TGD): The city's international airport is located around 10 kilometers south of the city center. It serves various airlines, providing connections to major European cities.
Transport from the Airport: You can take a taxi or a bus to reach the city center. Taxis are readily available, but make sure to agree on the fare before starting your journey.
By Train:
Rail Connections: Podgorica is well-connected by train, with services running to and from Belgrade, Serbia, and Bar, a coastal town in Montenegro. The train journey offers stunning scenic views, especially the route through the Tara Canyon.
Central Train Station: The city's main train station is located close to the city center, making it convenient to reach your accommodation or start exploring right away.
By Bus:
Extensive Bus Network: Podgorica's bus network connects it to various cities within Montenegro, as well as neighboring countries such as Albania, Croatia, and Serbia.
Main Bus Station: The city's main bus station is centrally located, providing easy access to public transportation and taxis to reach your final destination.
By Car:
Driving to Podgorica: If you prefer the flexibility of traveling by car, you can easily reach Podgorica via well-maintained roads and highways. Car rental services are available at the airport and in the city.
Parking: Keep in mind that parking in the city center can be challenging, so it's advisable to check if your accommodation provides parking facilities.
By Boat:
Close to Ports: While Podgorica itself is not a coastal city, it is relatively close to ports such as Bar and Kotor. You can take a ferry to these ports from various destinations and then continue your journey to Podgorica by bus or car.
How to get around Podgorica
Navigating around Podgorica is relatively straightforward, thanks to its compact size and variety of transportation options. Here's a guide to help you get around the city with ease:
1. Walking:
City Center: The city center of Podgorica is quite walkable, with many of the main attractions, cafes, and restaurants within easy walking distance of each other.
Pedestrian Areas: Enjoy strolling through pedestrian zones like Hercegovačka Street, where you can soak in the local atmosphere.
2. Bicycling:
Bike Rentals: There are several places in Podgorica where you can rent a bicycle for a few hours or the entire day.
Bike Paths: The city has been working on increasing its network of bike paths, making it a more bike-friendly destination.
3. Public Buses:
City Buses: Podgorica has a network of city buses that cover various parts of the city. They are an affordable way to get around, though they might be a bit confusing for first-time visitors.
Bus Card: Consider getting a bus card to make your bus rides easier and more economical.
4. Taxis:
Readily Available: Taxis are readily available throughout Podgorica and are a convenient way to get around, especially if you're traveling with luggage or in a group.
Fare: Make sure to agree on the fare before starting your journey or ensure that the meter is running.
5. Car Rentals:
Car Hire: If you prefer having the flexibility to explore at your own pace, renting a car is a good option. There are several car rental agencies in the city and at the airport.
Parking: Keep in mind that parking in the city center can be challenging, so plan accordingly.
6. Trains:
Rail Connections: While trains are more commonly used for intercity travel, you can use them to reach certain suburbs or nearby towns.
By using a combination of these transportation options, you can easily navigate Podgorica and make the most of your time in this charming city. Now, let's delve into some tips and tricks to ensure a smooth travel experience in Podgorica.
Tips for Using Public Transport in Podgorica:
Plan Your Route: Use online maps or ask locals to help plan your route and determine the best mode of public transport for your journey.
Carry Change: If you're using buses without a bus card, make sure to carry small change to pay for your ticket.
Be Aware of Timetables: Check bus and train timetables in advance, especially if you're traveling during off-peak hours or on weekends.
Stay Informed: Keep an eye on any announcements or changes to public transport services, which can occasionally happen due to road works or public events.
By familiarizing yourself with Podgorica's public transport options and following these tips, you can navigate the city with ease and confidence. Now, let's move on to exploring the best ways to enjoy Podgorica's vibrant nightlife and entertainment scene.
Top Itineraries For Podgorica
Exploring Podgorica can be a delightful experience, and having a well-planned itinerary can help you make the most of your time in the city. Here are two different itineraries to suit varied interests:
1. Cultural and Historical Exploration (1 Day):
Morning: Start your day with a visit to the Podgorica Museum, where you can delve into the city's history and culture. Follow this with a stroll around the Old Town, exploring the remnants of the Ottoman and Austro-Hungarian periods.
Lunch: Head to Njegos Park for a relaxing lunch at one of the cafes, enjoying the green surroundings.
Afternoon: Visit the Millennium Bridge and the nearby Cathedral of the Resurrection of Christ, a modern architectural marvel. Don't miss the Clock Tower in the Stara Varos neighborhood.
Evening: Enjoy a leisurely walk along the Ribnica River, followed by dinner at a traditional Montenegrin restaurant, trying local delicacies like "ćevapi" or "sarma".
2. Nature and Relaxation (1 Day):
Morning: Take a trip to the Moraca River Canyon, just a short drive from the city. Enjoy the breathtaking scenery and perhaps indulge in some light hiking.
Lunch: Have a picnic by the river or head back to the city for lunch at a restaurant with a view.
Afternoon: Visit the Plantaze Vineyard, one of the largest vineyards in Europe, and enjoy a wine tasting tour.
Evening: Unwind at the Gorica Hill, a popular spot for locals to relax and enjoy nature. You can have a casual dinner at a café or restaurant in the area.
3. Extended Stay (3 Days):
Day 1: Follow the "Cultural and Historical Exploration" itinerary.
Day 2: Follow the "Nature and Relaxation" itinerary.
Day 3: Take a day trip to Lake Skadar, the largest lake in the Balkans, and enjoy bird watching, boating, or visiting the small villages around the lake. Alternatively, you could visit the coastal town of Bar, exploring its old town and enjoying the seaside.
These itineraries offer a balanced mix of culture, history, nature, and relaxation, allowing you to experience the best of Podgorica and its surroundings. Feel free to mix and match activities based on your interests and the time you have available.
Now, let's see some additional questions fellow nomadeers asked us.
What is Montenegro like for digital nomads?
Montenegro is a fantastic destination for digital nomads. It offers a low cost of living, beautiful beaches, and a peaceful environment. It is also becoming increasingly popular among the digital nomad community.
Is there a digital nomad visa for Montenegro?
Yes there is, and it lasts for a whopping 2 years! Find out more info here: https://montenegrodigitalnomad.com/montenegro-digital-nomad-visa
What are the visa requirements for Montenegro?
The visa requirements for Montenegro vary depending on your nationality. It is best to check with the Montenegrin embassy or consulate in your home country for the most up-to-date information.
Is there a digital nomad community in Montenegro?
Yes, there is a thriving digital nomad community in Montenegro. Many coworking spaces and networking events have been established to cater to the needs of digital nomads.
What are the best places in Montenegro for digital nomads?
Some of the best places in Montenegro for digital nomads include Kotor, Budva, Tivat, and Herceg Novi. These cities offer a mix of natural beauty, cultural attractions, and amenities for remote workers.
How long can I stay in Montenegro as a digital nomad?
As a tourist, you can stay in Montenegro for up to 90 days within a 180-day period. After that, you may need to leave the country and re-enter to reset your visa.
What is the cost of living like in Montenegro?
The cost of living in Montenegro is relatively low compared to many other European countries. Accommodation, transportation, and groceries are generally affordable, making it an attractive option for digital nomads on a budget.
Are there coworking spaces in Montenegro?
Yes, there are several coworking spaces in Montenegro, particularly in cities like Kotor and Budva. These spaces provide a productive environment for remote work and offer amenities such as high-speed internet and meeting rooms.
Are there any beautiful beaches in Montenegro?
Yes, Montenegro is known for its stunning coastline and beautiful beaches. Places like Budva, Tivat, and Kotor Bay offer picturesque seaside locations where digital nomads can relax and enjoy the sun.
What does Montenegro offer to attract digital nomads?
Montenegro offers a range of attractions for digital nomads, including a low cost of living, a peaceful environment, beautiful beaches, and a growing digital nomad community. The government is also exploring programs to attract and support remote workers.
Digital Nomad Guide To Podgorica: Wrap Up
Podgorica stands out as a unique destination for digital nomads and travelers, offering a blend of cultural richness, natural beauty, and modern amenities. The city's compact size and walkable streets make it easy to explore, while the affordable cost of living is a significant draw for long-term visitors.
With a variety of co-working spaces and cafes boasting reliable Wi-Fi, digital nomads can find plenty of spots to stay productive. The local cuisine, characterized by a mix of Mediterranean and Balkan flavors, promises a delightful culinary experience. Additionally, Podgorica's strategic location in Montenegro allows for easy access to both the stunning Adriatic coast and the breathtaking mountainous regions.
The city's laid-back atmosphere, combined with its friendly locals, ensures a welcoming environment for all. Whether you're looking to delve into history, enjoy nature, or simply find a cozy corner to work from, Podgorica delivers on all fronts, making it an appealing choice for digital nomads and travelers alike.
Check out our other nomad guides for other balkan destinations: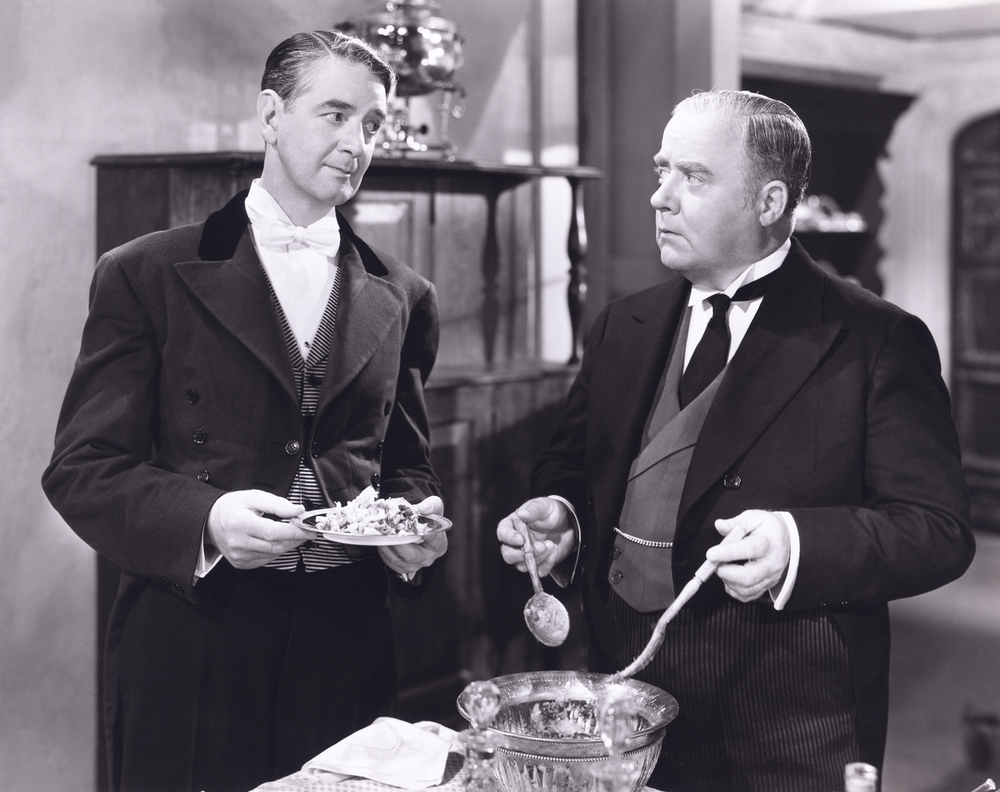 Avid travelers, passionate fishermen, and all-around great guys to hang out with (therefore the reason why they are the ones traveling around and not the rest of us, introverts and repulsive individuals). When not writing about their latest trip or catch, they drink beer, play the synth and call their friends to unpurposefully annoy them. A lot.