Foreword by your authors
Misho and I had arrived with little expectation here, but the city's subtle allure quickly drew us in. On our first morning, we decided to take a leisurely stroll along the Ribnica River, hoping to find a quiet spot for some fishing.
As we set up our fishing rods, Misho, in his typical enthusiasm, managed to get his line tangled in a nearby tree. While trying to free it, he lost his balance and took an unexpected dip into the river! As I burst into laughter, a local fisherman nearby rushed over to lend a hand. With a chuckle, he shared that Misho wasn't the first to be baptized by the Ribnica.
Grateful for the help and slightly embarrassed, Misho offered the fisherman a beer from our cooler. What started as a fishing mishap turned into an afternoon of shared tales, laughter, and local fishing secrets. The fisherman, Dragan, even introduced us to a local delicacy, grilled carp with a special Podgorican spice blend.
That day, Podgorica taught us that sometimes, the most memorable adventures come from the most unexpected moments. And while we left with no fish, we gained a friend and a story that epitomized the city's warm and welcoming spirit.
Quick Intro
Podgorica, the capital of Montenegro, is a city full of exciting activities! From historic landmarks to outdoor adventures, there's something for everyone.
Yeah we know, cliche right?
But, even though Podgorica is a small city, just like any Balkan town, it has a lot to offer due to it's proximity to nearby attractions – nature, monuments, you name it.
So, If you're looking for the best things to do in Podgorica, look no further! Our article will provide you with all the ideas you need to have a wonderful time in this beautiful city. So get ready and let's explore the top attractions Podgorica has to offer!
10 tips a tourist should know when visiting Podgorica?
Misho and I have gathered quite a few tips from our escapades in the Montenegrin capital. Here are 10 nuggets of wisdom for any traveler:
Local Currency: The official currency is the Euro (€). While most places accept credit cards, it's always a good idea to carry some cash, especially if you're venturing to local markets or smaller establishments.
Language: The official language is Montenegrin. While many locals, especially the younger generation, speak English, learning a few basic phrases can go a long way. A simple "Hvala" (Thank you) can earn you a warm smile.
Public Transport: Podgorica's public transport system is quite efficient. Buses are the primary mode of transport. Familiarize yourself with the routes and schedules if you plan to use them frequently.
Tipping: It's customary to leave a tip of around 10% in restaurants and cafes. However, always check your bill, as some places might include the service charge.
Stay Hydrated: Especially if you're visiting in the summer. The heat can be intense, so carry a water bottle and refill it at public fountains.
Local Delicacies: Don't miss out on trying local dishes like "ćevapi" (grilled minced meat) or "burek" (a pastry filled with cheese, meat, or spinach). Misho swears by the "rostilj" (grilled meat) at local taverns!
Safety: Podgorica is generally safe for tourists. However, like in any city, it's wise to be cautious, especially at night. Keep an eye on your belongings and avoid poorly lit areas.
Local Etiquette: Montenegrins are warm and hospitable. When entering someone's home, it's polite to bring a small gift. And if you're invited for a drink, it's customary to toast – "Živjeli!" (Cheers!).
Explore Beyond the City: While Podgorica has its charms, Montenegro is known for its natural beauty. Consider taking day trips to places like Lake Skadar or the nearby mountains.
Stay Connected: Free Wi-Fi is available in many public areas, cafes, and hotels. However, if you plan to stay longer or travel extensively, consider getting a local SIM card for better connectivity.
How to get to Podgorica? 
Getting there is easy. The easiest way is by plane.
Check your local airline's website or booking site for flights to Podgorica Airport (TGD). Airlines such as Wizz Air and Turkish Airlines fly directly from many cities in Europe. If you are coming from farther away, it may be easier to fly into nearby Dubrovnik or Belgrade before continuing by bus or train.
Alternatively, there are also ferry services that operate between Bari in Italy and Bar in Montenegro daily during the summer months.
When To Visit Podgorica?
Misho and I have had our fair share of experiences in this Montenegrin capital, and here's our take:
Spring (April to June): This is arguably the best time to visit Podgorica. The weather is mild, and the city is in full bloom. The temperatures are comfortable, making it ideal for exploring the city's parks, historical sites, and outdoor cafes. Plus, the tourist crowds haven't peaked yet, so you get a more authentic experience.
Summer (July to August): It can get quite hot in Podgorica during these months, with temperatures often soaring above 30°C (86°F). However, if you're a sun-lover, this might be the time for you. Just be prepared for the heat and plan your outdoor activities for the cooler parts of the day. On the upside, the city's nightlife is vibrant during the summer, and there are various festivals and events to enjoy.
Autumn (September to November): The temperatures start to cool down, and the city is adorned with autumnal hues. It's a beautiful time to visit, especially if you enjoy the crisp air and fewer tourists. The local vineyards also start their grape harvest, making it an excellent time for wine enthusiasts.
Winter (December to February): Winters in Podgorica are relatively mild compared to other European cities. While it rarely snows, the temperatures can drop, and there's a certain charm to the city's quiet streets and cozy cafes. If you're looking to experience Montenegro's ski resorts, you might want to head north, but Podgorica serves as a good base.
Remember, my friend, no matter when you visit, Podgorica has its unique charm in every season. Just pack accordingly, and maybe Misho and I will see you there for a round of beers!
Where To Stay In Podgorica
To make the most of your getaway in this Mediterranean paradise, it's important to find the right lodging. Here are some top picks for where to stay in Podgorica.
The city center is an excellent spot for visitors who want easy access to all of Podgorica's attractions and entertainment options. Hotel City offers modern accommodations in a prime location near several museums, parks, shops, and restaurants.
The boutique hotel Art Plus provides luxury amenities including air conditioning and flat-screen TVs with satellite programming as well as complimentary breakfast each morning. For budget travelers, Guesthouse Lucky offers affordable rooms with private bathrooms just minutes from downtown area sights like the Kale fortress.
Ok let's see the list of the best things to do!
Walk Across The Old Ribnica River Bridge
C7Q5+QGW, Podgorica, Montenegro || from Monday to Sunday Open 24 hours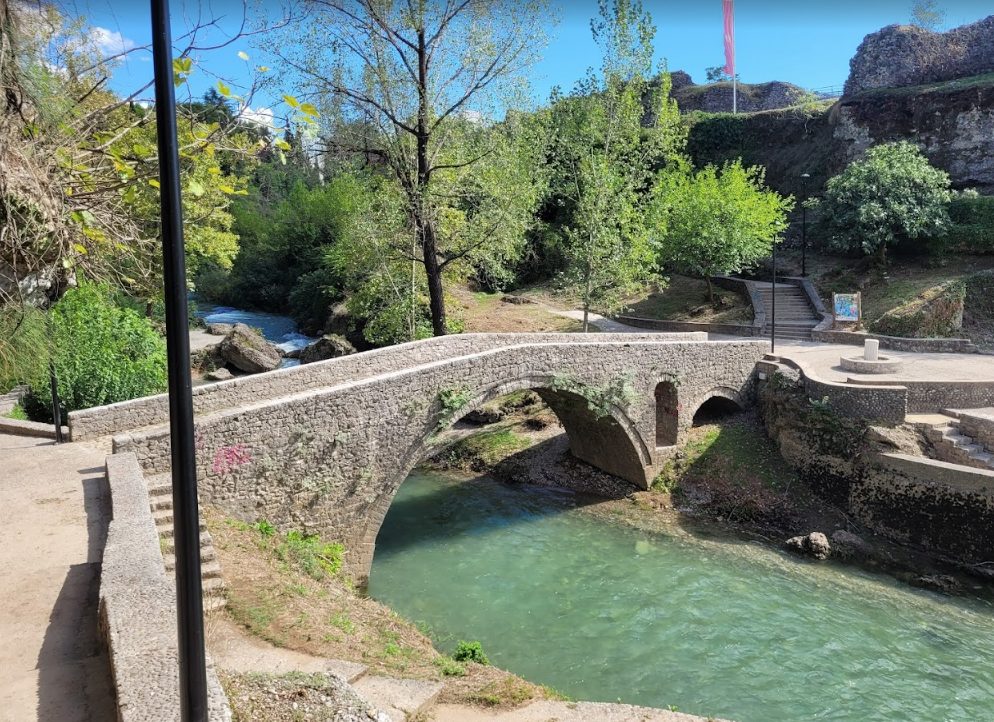 The Old Ribnica River Bridge is an iconic symbol of the region and is beloved by many who grew up in its shadow. Recently, it became even more popular as tourists flock to this picturesque location to marvel at its beauty and capture breathtaking photos.
This impressive bridge stretches across the old Ribnica River, offering amazing views from both sides during any season.
Whether you choose to take a leisurely stroll over it or observe its majestic architecture from afar, you're sure to be filled with excitement when you come across this impressive structure which stands tall above the river like a sentry.
Brief history
The Old Ribnica Bridge in the capital is a unique piece of Montenegrin history. Built-in the late 19th century, it stood for over 120 years connecting the capital city to its neighboring towns.
Its structure and design are considered an architectural masterpiece, with intricate details and designs that can be appreciated by all who cross the bridge.
In addition to its beauty, the bridge also serves as an important cultural symbol for locals. It was built to replace a previous wooden bridge that was destroyed during World War I and thus represents both resilience and progress.
The local community holds this landmark sacred, with many visiting it daily or taking special trips just to experience its beauty. It is also featured in numerous artworks depicting life in the country and has become an iconic symbol of its culture and heritage.
Niagara Falls Podgorica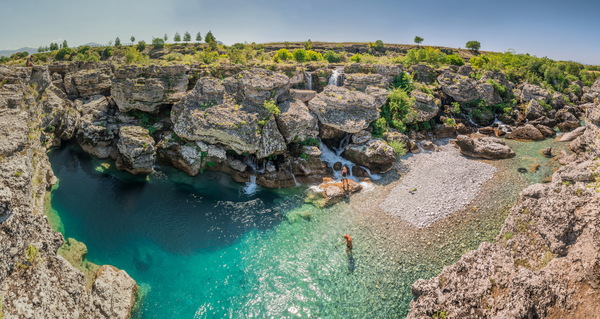 The Waterfall Niagara of Podgorica is an awe-inspiring attraction that captivates tourists from all over the world.
Located in the heart of the country, this natural wonder is not only a breathtaking sight to behold but also offers a wide variety of activities for visitors to enjoy.
From swimming and canoeing to fishing and trekking, there are endless possibilities for visitors to engage in during their stay at the Waterfall Niagara of Podgorica.
With its lush vegetation and crystal-clear streams, this spectacular location provides an unforgettable experience that will remain with you long after your visit ends.
Whether you're looking for a romantic getaway or simply need some time away from everyday life, this stunning waterfall promises plenty of fun and relaxation.
Brief history
In actuality, 150 years ago local agriculturists resolved to construct a dam across the river and generate a waterfall aiming to drive a watermill for grinding their grain. An old tale states that the dam was built twice; however, each time it was demolished by the surging river during the spring season.
Then an elderly female emerged who informed the local inhabitants that there was only a single method to solve this dilemma: inserting sheep wool in between each rock. This was accomplished and the dam endured up until the present day.
3 fun facts about Niagara waterfalls
The name was designated in honor of Niagara Falls in Canada.
In summer, when the waterfalls cease to flow, we suggest that our visitors take in the sights at either Virpazar or the outlooks situated above the Crnojević River. Both sites are located within Skadar Lake National Park.
From that spot, you will glimpse the Cijevna River Valley and part of the largest vineyard on the continent.
The Cathedral of the Resurrection of Christ Podgorica
3 Bulevar Džordža Vašingtona, Podgorica 81000, Montenegro || from Monday 8am – 8 pm to Friday 8 am – 8 pm Saturday 8 am – 9 pm Sunday 7am – 9 pm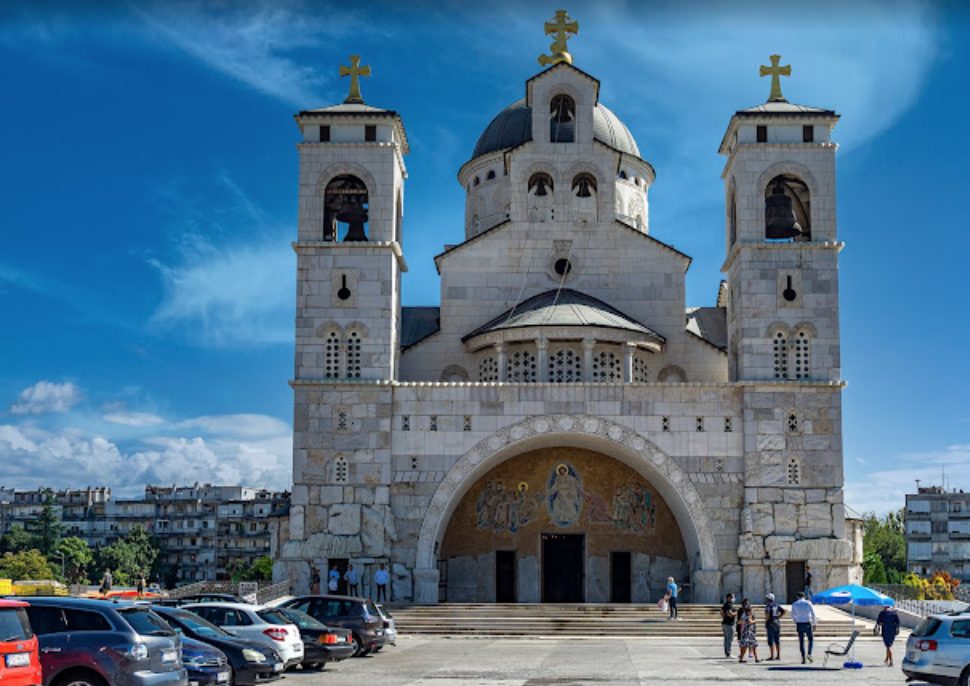 The Cathedral of the Resurrection of Christ is a breathtakingly beautiful structure located in the center of the city. Built in 2014, this magnificent building quickly become a symbol of Montenegro's faith and unity.
It stands tall at 35 meters high and boasts an impressive fifteen domes with unique gold-plated crosses on each one. Inside, visitors can explore its many chapels, mosaics, and stained glass windows depicting scenes from Jesus' life.
Brief history
The construction of this cathedral was quite an ambitious project that required years of hard work and dedication by an entire team.
This majestic building is located on Mount Vodovod which overlooks the capital`s city center. It was constructed as an Orthodox church that honors Jesus's resurrection according to Christian beliefs. The exterior design features traditional Byzantine-style architecture with modernized elements, resulting in a fascinating blend between the two styles.
2 fun facts about the Cathedral of the Resurrection of Christ Podgorica
First, the Cathedral was built to commemorate the 1,000th anniversary of Christianity in Montenegro.
It was designed by prominent architect Predrag Ristić who incorporated traditional Byzantine styles into his work and elements from other architectural movements such as Baroque and Romanticism.
Moraca River Canyon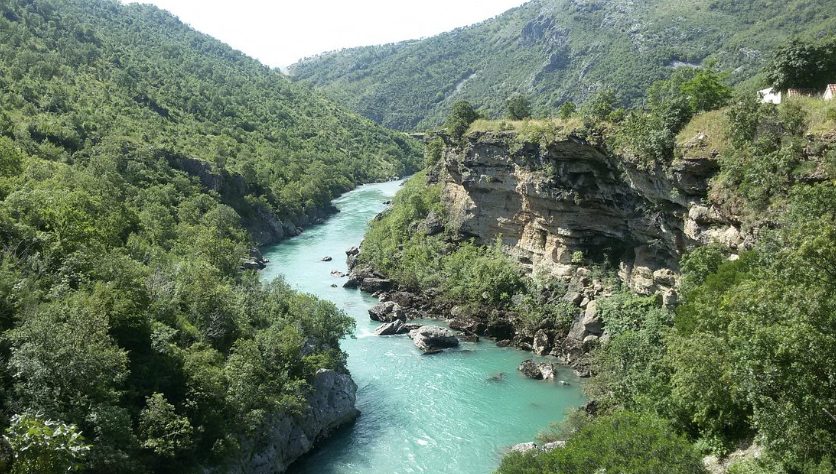 Moraca Canyon is a stunning natural wonder located in this country. This picturesque landscape is a breathtaking display of nature's beauty, with its crystal clear rivers and towering cliffs.
Visitors can admire the spectacular views from anywhere around the canyon, making it one of the most desirable places to explore in the region! The canyon was created by thousands of years of erosion caused by the Moraca River.
The river carved out an impressive path through limestone rocks to create dramatic cliffs that reach up to 500 meters high. Along this winding route, visitors will find various waterfalls and rock formations that make for thrilling views and activities. Whether you hike or boat your way through, Moraca Canyon is sure to leave you in awe at each turn!
Brief history
The Moraca river canyon is one of the most picturesque landscapes in this country. Its history dates back to ancient times when it was used as a trade route between the cities of Bar and Podgorica.
The canyon was a source of inspiration to many poets and authors, who have described its beauty in words.
The Moraca River Canyon is home to some of the country's most important archaeological sites, including an old Roman fortress. Archaeologists have uncovered evidence that suggests the canyon may have been inhabited by prehistoric humans during the Neolithic era.
It is believed that these people used the river for fishing and transportation purposes. The area also contains numerous caves with artifacts from various cultures throughout time, providing insight into their lifestyles and customs.
2 fun facts about Moraca river canyon
The length of the Moraca River Canyon is approximately 20 kilometers, making it one of the longest canyons in Europe!
The canyon also features interesting geological formations such as caves, sinkholes, and springs, adding to its unique beauty.
Millennium Bridge
C7W5+36Q, Podgorica, Montenegro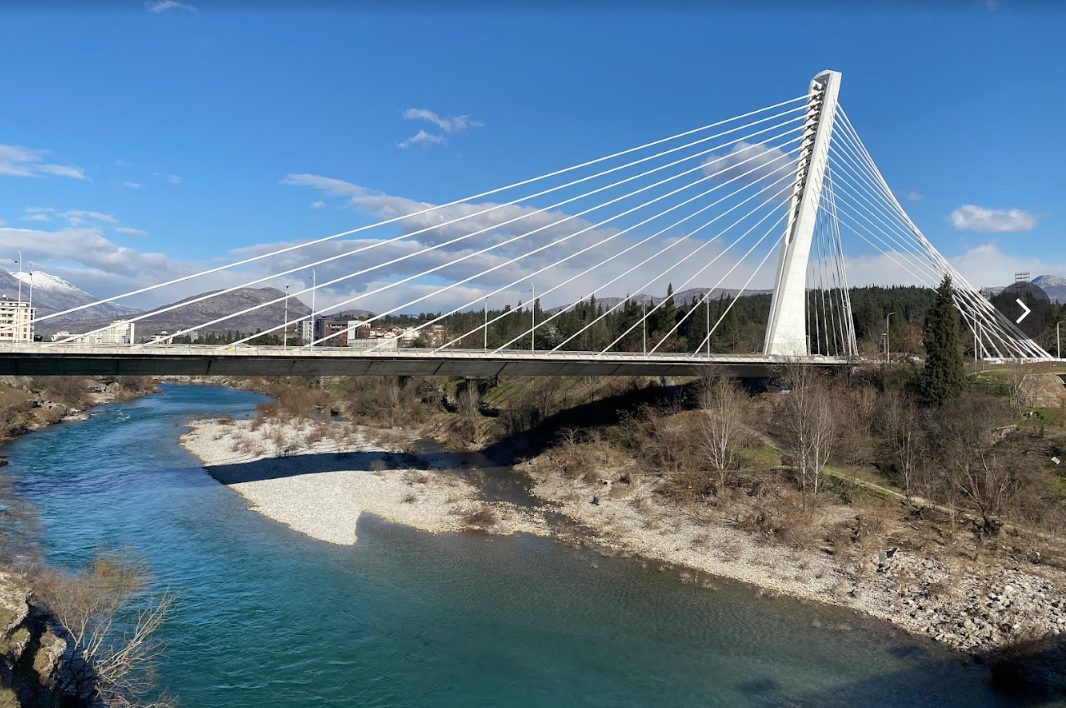 The beautiful Millennium Bridge in the capital is a stunning piece of architecture that will take your breath away!
Spanning the Moraca River, this incredible bridge stands tall amidst the Montenegrin cityscape. Its unique design featuring two asymmetrical arches lit up by LED lights makes it one of the most impressive structures around. It became an iconic symbol of the capital and a popular tourist attraction since its completion in 2005.
It's easy to see why visitors flock to this majestic bridge – it offers breathtaking views at sunset with its LED lights creating a mesmerizing atmosphere over the river.
You can take leisurely walks across its length or simply marvel at its design from afar, making it a must-visit destination for any traveler who finds themselves in the capital!
Brief history
The Millenium Bridge in this capital is an impressive structure that stood the test of time. Built-in 2005, it became a symbol of strength and resilience for the city.
The bridge stands tall over the Morača River and connects both sides of the riverbank to one another. It is an iconic landmark for locals and tourists alike due to its unique architectural design.
The bridge was designed by the Slovenian architect Vojin Bakić who used concrete as a main construction material due to its strong foundation capabilities.
In total, it took two years to complete the construction of the Millenium Bridge with many local Montengrins contributing their skills and expertise during its build. During this time, visitors were able to experience a range of cultural events which developed around this project including music concerts, art exhibitions, and even food festivals!
3 fun facts about the Millennium bridge
The measures of this impressive bridge are 478 meters long with a height of 109 meters.
The Millennium Bridge is known for its unique 'S' shape and white cables that support it from both sides.
It consists of 32 spans with an elevated pedestrian walkway as well as an impressive observation platform at the top that provides stunning views of Podgorica's skyline!
Centre of Contemporary Art Podgorica
2 Njegoševa, Podgorica, Montenegro || from Monday 9 AM – 9 PM to Friday 9 AM – 9 PM Saturday 10 AM – 2 PM Sunday Closed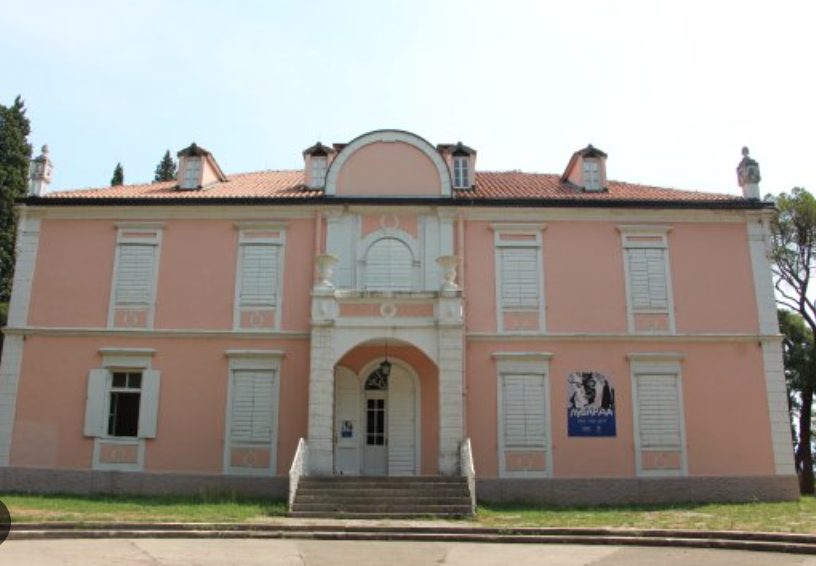 The Centre of Contemporary Art is the latest cultural hotspot to hit the country's capital city. This new state-of-the-art gallery and exhibition centre is sure to be a popular destination for locals and tourists alike.
Located right in the heart of the city in an old 19th-century building, this innovative space was designed to showcase the best of contemporary art from both local and international artists. The Centre boasts a variety of exciting events that are sure to attract visitors from far and wide.
From talks by leading curators to screenings of films by regional filmmakers, this creative hub has something for everyone. Visitors can also explore numerous temporary exhibitions showcasing works ranging from painting, sculpture, and photography, to performance art pieces.
Brief history
The Centre of Contemporary Art Podgorica is one of the most important cultural institutions in this country. It has a long and rich history. Located in the center of the capital, it was home to exhibitions, events, and activities that helped shape Montenegrin culture throughout history.
The Centre was founded in 1888 by Luka Popovic and initially served as an exhibition hall for local artists. Since then, it grew significantly and today stands as a symbol of modern art in Montenegro.
It houses artwork from across Europe, all with their own unique stories to tell, giving visitors an insight into the country's past and present culture. Alongside its permanent collections, the Centre also hosts regular temporary exhibitions featuring some of Europe's leading contemporary artists.
2 fun facts about the Centre of Contemporary art Podgorica
First, the Contemporary Art Centre is actually housed in an old mansion that was originally built as a family residence by a wealthy merchant from Dubrovnik.
Secondly, the centre regularly hosts events such as live music performances, film screenings, lectures, and workshops on contemporary visual art projects.
Old Town Podgorica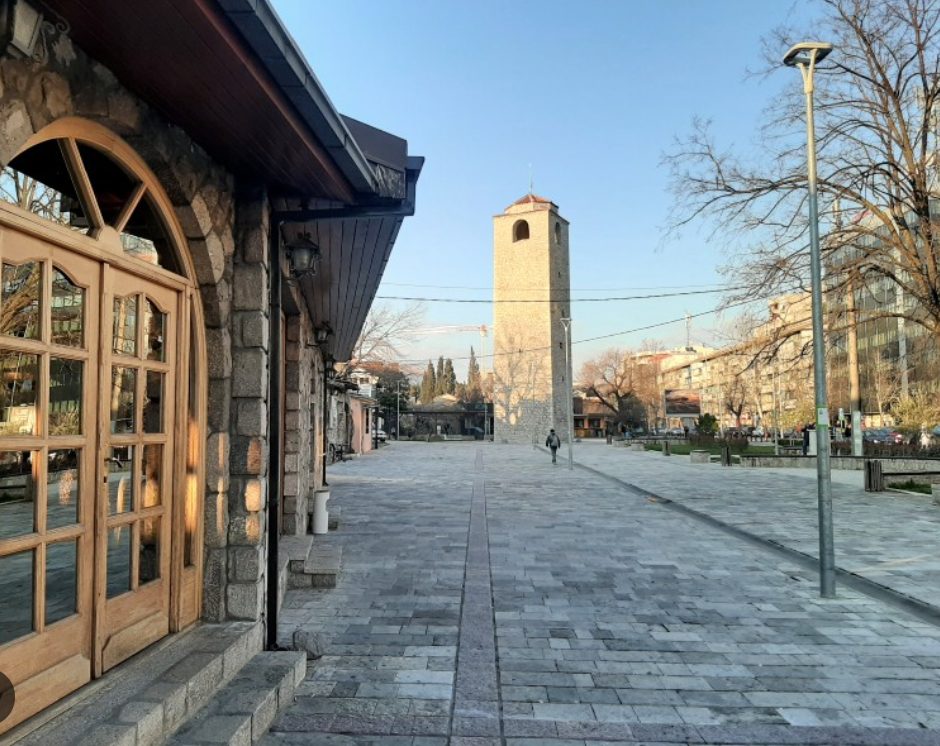 As guides with years of experience in everything Balkan, we can confidently say that this historic district is a must-visit destination for any tourist.
First and foremost, the Old Town is a living museum of Montenegrin history and culture. Walking through its winding streets, you'll encounter ancient Ottoman architecture and witness the remnants of centuries of Mediterranean influence.
From the iconic Clock Tower to the crumbling ruins of the Sahat Kula fortress, the Old Town is a treasure trove of historical landmarks.
But the Old Town is more than just a relic of the past. It's also a vibrant hub of modern-day Podgorica, filled with shops, restaurants, and cafes that cater to both locals and tourists. Grab a traditional Turkish coffee at one of the many cafes dotting the streets, or indulge in some authentic Montenegrin cuisine at a local restaurant.
Perhaps most importantly, the Old Town is where you'll find some of the friendliest and most hospitable people in the city. From shopkeepers to street vendors, the locals here are always eager to welcome visitors and share their stories and traditions.
Whether you're looking to learn more about the history of the Old Town or simply looking to connect with the people of Montenegro, you'll find no shortage of opportunities here.
So if you're looking for an authentic and immersive experience in Podgorica, look no further than the Old Town. As a local guide, I can promise you that a visit here will be an unforgettable highlight of your time in Montenegro.
Brief history
The capital has a long and fascinating history. Located in the centre of the country, it is known as one of Europe's oldest settlements. The city first began to develop around 2,500 years ago when Illyrians settled in what is now Old Town Podgorica.
3 fun facts about Old town Podgorica
First, Podgorica was an inhabited settlement since at least the 5th century BC!
The Romans called it Duklja, and in 1326 it was renamed Ribnica – another name for the old town Podgorica.
It wasn't until 1946 that it became known by its current name Podgorica.
Adventure Park Gorica
C7X8+PXV, Podgorica, Montenegro || from Monday 9 AM–8 PM to Sunday 9 AM–8 PM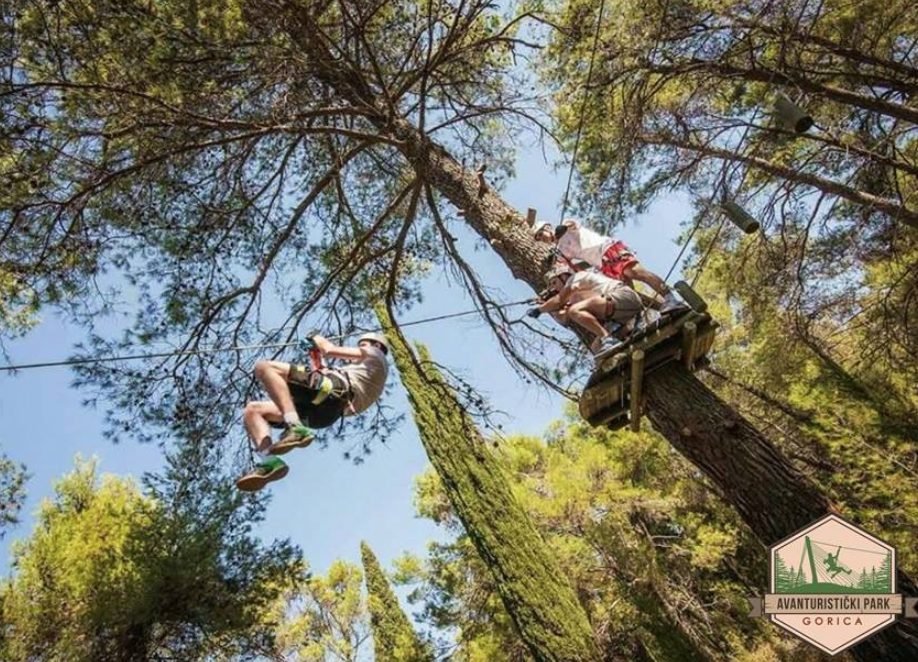 If you're a thrill seeker, then look no further than Adventure Park Gorica. This amazing outdoor adventure park has something for everyone, from thrilling rides to serene nature walks.
At Adventure Park Gorica, you can explore twisting trails that lead through the forest and up towering peaks for breathtaking views of the surrounding area. You can even take a dip in crystal-clear mountain streams!
At Adventure Park Gorica there are plenty of adrenaline-pumping activities like zip-lining, rock climbing, and rappelling. For thrill-seekers who want to test their bravery on a daring course full of obstacles like rope bridges and high walls, the park offers freefall jumps with professional instructors available on-site!
If you prefer something a bit more laid back, you can wander through lush meadows or relax in hammocks suspended between trees.
Brief history
Adventure park Gorica Podgorica is an amusement complex, located in the south of the city. Established in 1961, Adventure park Gorica Podgorica was one of the most popular tourist attractions for over 50 years. It offers visitors a wide range of outdoor activities such as biking, as well as rides like roller coasters and bumper cars.
The park also includes a variety of restaurants and bars to enjoy after a day spent exploring its many attractions.
The unique location and setting make Adventure Park Gorica Podgorica truly special. Located on the banks of Lake Skadar, visitors can take part in water activities such as canoeing or kayaking while enjoying breathtaking views across the lake. Additionally, the nearby mountains provide a stunning backdrop for activities such as trekking or simply admiring nature's beauty from afar.
Vladimir Vysotsky Monument Podgorica
Moscow Bridge, Podgorica, Montenegro || from Monday to Sunday Open 24 hours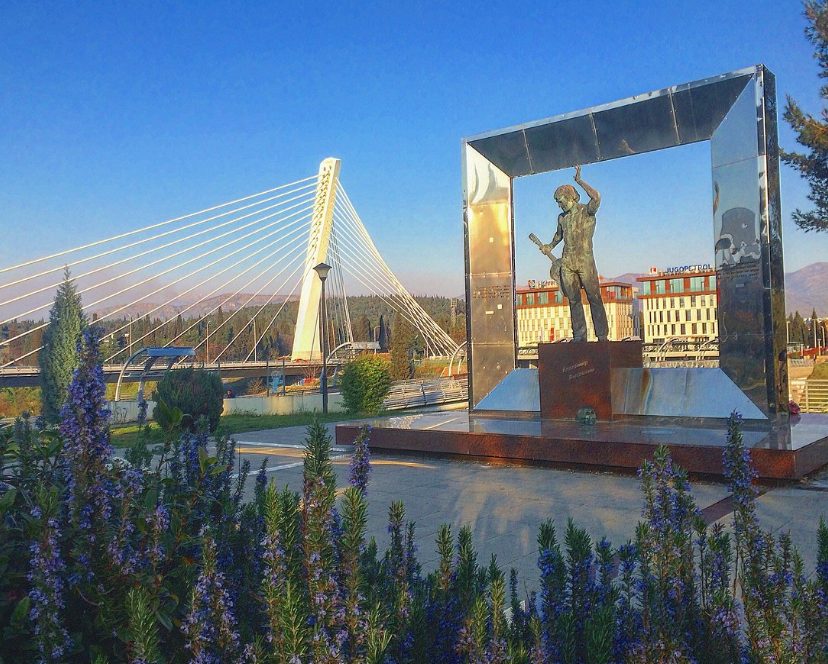 The 10-meter tall statue depicts the 20th-century Russian poet and singer in a familiar pose, with his trademark guitar slung over his shoulder while he looks out into the horizon.
It stands atop a pedestal of polished stone encircling engraved quotes from some of Vysotsky's most famous songs and poems. The scene is illuminated by a ring of spotlights that makes it visible even at night for those who take pleasure in taking late evening strolls along the capital's waterfront boulevard.
Brief history
Vladimir Vysotsky Monument Podgorica's history is steeped in culture and legend. This historical monument was erected to honor the famous Russian poet, singer-songwriter, actor, and playwright Vladimir Vysotsky.
The monument was unveiled on August 22nd of 2019 in the center of the capital. It stands as a testament to Vysotsky's influence as a prominent cultural figure who inspired generations with his works of art and music.
The bronze sculpture is a life-sized statue that depicts Vysotsky in his iconic pose – seating on a chair with one leg crossing over the other while holding an acoustic guitar. From its initial idea to its final unveiling, it took five years of hard work by sculptor Luka Radulovic to complete this amazing piece of public art.
Visit Lake Skadar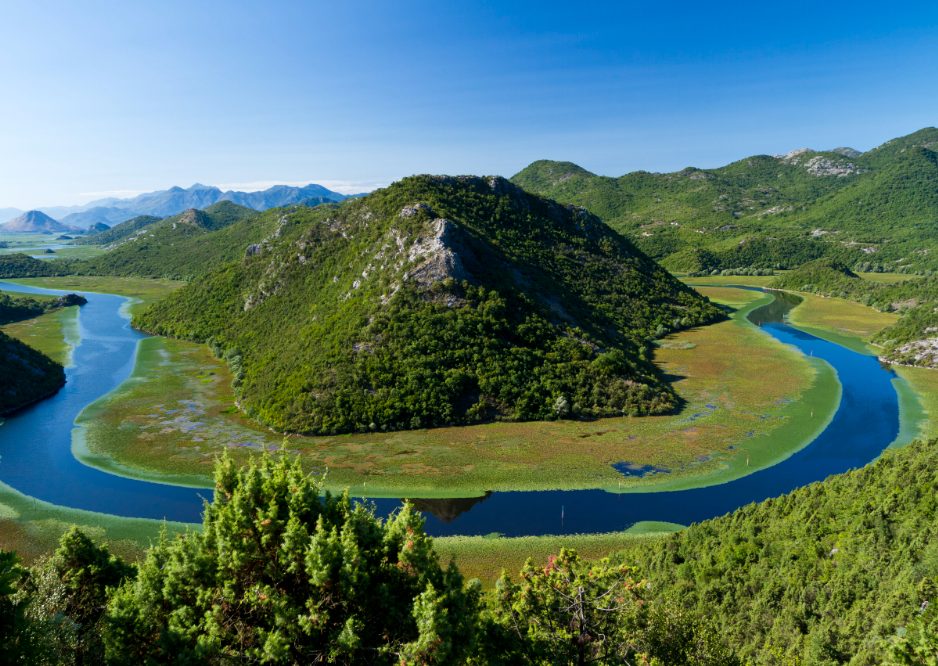 Skadar Lake is one of Europe's most beautiful and undiscovered gems. It's shared between two countries, Albania and Montenegro, and offers breathtaking landscapes along with vibrant wildlife.
The lake's beauty was well preserved due to its remote location, making it an ideal destination for travelers looking to experience untouched nature. The lake boasts magnificent views of rugged mountainscapes, picturesque villages, forests, gorges, and crystal clear waters that are perfect for swimming or fishing.
A visit to Skadar Lake will allow you to explore diverse ecosystems from wetlands boasting rare species of birds to canyons full of endemic plants. The diversity of both flora and fauna makes this place truly unique!
Brief history
Lake Skadar is a vast body of water that has been witness to centuries of history. It is believed it was forming during the Ice Age some 10,000 years ago, making it one of Europe's oldest lakes.
The lake was named after the Illyrian god of war, Skadar. Today it is part of a national park.
The city of Podgorica was populated since antiquity, with evidence suggesting settlement as far back as the 2nd century BC. It was an important trading center between the Roman Empire and other parts of Europe before becoming part of Serbia in 1918 following World War I.
3 fun facts about lake Skadar
The lake also has its own unique culture, with small villages located along its banks where visitors can get a glimpse of traditional Montenegrin life.
Here you can experience local cuisine, enjoy the lake or take part in water sports such as kayaking and canoeing.
The nearby city of Podgorica is also home to some interesting historical monuments such as the Stari Most bridge which dates back to 16th-century Ottoman rule.
King Nikola Monument Podgorica
C7Q6+M67, Podgorica, Montenegro || from Monday to Sunday Open 24 hours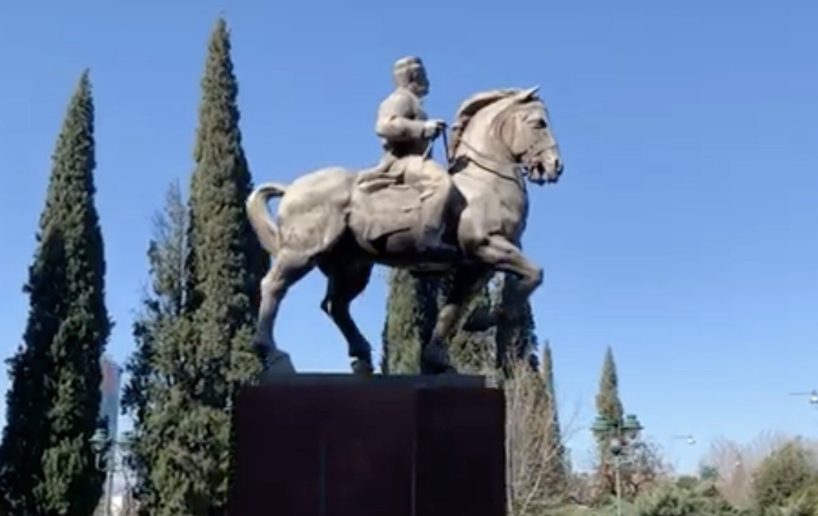 The King Nikola Monument is a sight to behold! Standing 35 meters tall and made of bronze, the monument is an impressive tribute to the former monarch. It was unveiled in 2004 after a lengthy restoration process, making it one of the city's most recognizable landmarks.
This stunning monument honors King Nikola I Petrovic-Njegos – Montenegro's ruler from 1860-1918. The statue stands atop a pedestal which also serves as his tomb; carved into its base are words from his famous poem "The Mountain Wreath".
Visitors will also find two life-sized statues at the foot of the monument; these depict two Montenegrin soldiers who fought for their country during World War II.
Brief history
The capital city is a bustling metropolis full of culture and history. One of the most iconic monuments in the city is the King Nikola monument.
The monument first erects to honor former Montenegrin king, Nikola Petrović-Njegoš. It was seen as an important symbol of the city's past.
Located in Liberty Square, near other historical sites such as St George Church, the King Nikola Monument pays tribute to one of Montenegro's most influential leaders.
During his reign from 1860 until 1918, he unified Montenegro with Serbia and made major improvements in education, infrastructure, and public works projects throughout the country.
2 fun facts about King Nikola's monument
It features statuesque figures of King Nikola and his two sons with their backs turned towards the city.
The king's face was created from bronze while his sons were crafted out of marble, making for a stunning display of craftsmanship and artistry.
Natural History Museum of Montenegro
C7P5+8X7, Podgorica, Montenegro || from Monday 9 AM – 4 PM to Friday 9 AM – 4 PM Saturday Closed Sunday Closed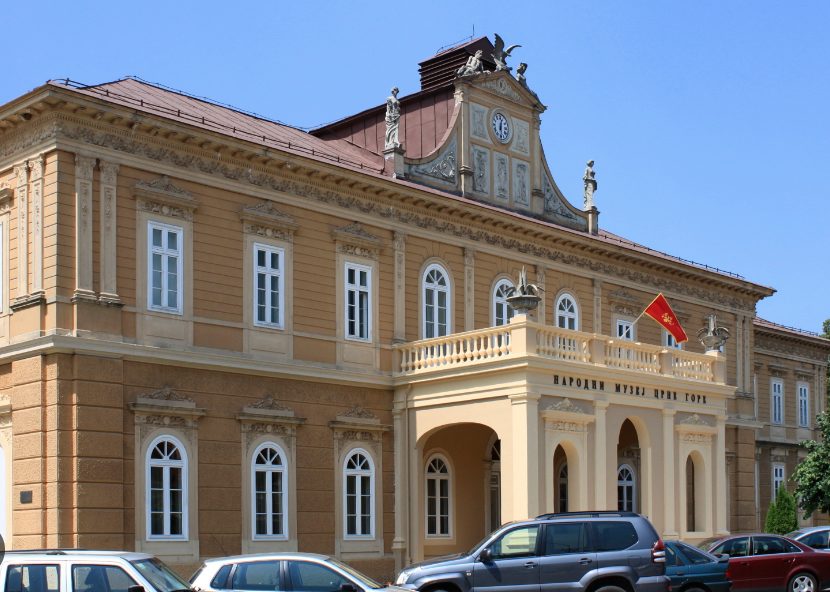 The Natural History Museum of Montenegro is a must-see for travelers! This incredible museum offers an educational and enjoyable experience for visitors of all ages. Here you can explore the many wonders of nature, from paleontology to geology to zoology and more.
Opened in 2018, this state-of-the-art facility houses over 50,000 specimens ranging from minerals, rocks, and fossils to birds, mammals, and insects. Each specimen is carefully catalogued and categorized according to scientific criteria.
With these detailed collections, visitors can learn about the incredible biodiversity of the country's natural history as well as global conservation efforts. The Natural History Museum of Montenegro also boasts interactive displays that offer a hands-on experience for guests.
Brief history
The Natural History Museum Podgorica is one of the most popular and celebrated museums in the country. This museum was part of the city's cultural life since its establishment in 1989.
For more than three decades, it served as an educational centre for local residents and visitors alike, providing a comprehensive look at Montenegrin history through its diverse collection of over 40,000 artifacts and specimens.
Visitors can explore the museum's exhibits which include minerals, fossils, animal skeletons, historical documents, and photographs from all eras of the country`s history. The museum also offers lectures on topics such as natural sciences and ecology to help educate visitors about their local environment.
Furthermore, the museum often organizes special exhibitions that feature unique objects such as ancient artifacts or rare species you can find only in Montenegro.
Sahat Kula (Clock Tower) Podgorica
Kralja Nikole, Podgorica, Montenegro || from Monday to Sunday Open 24 hours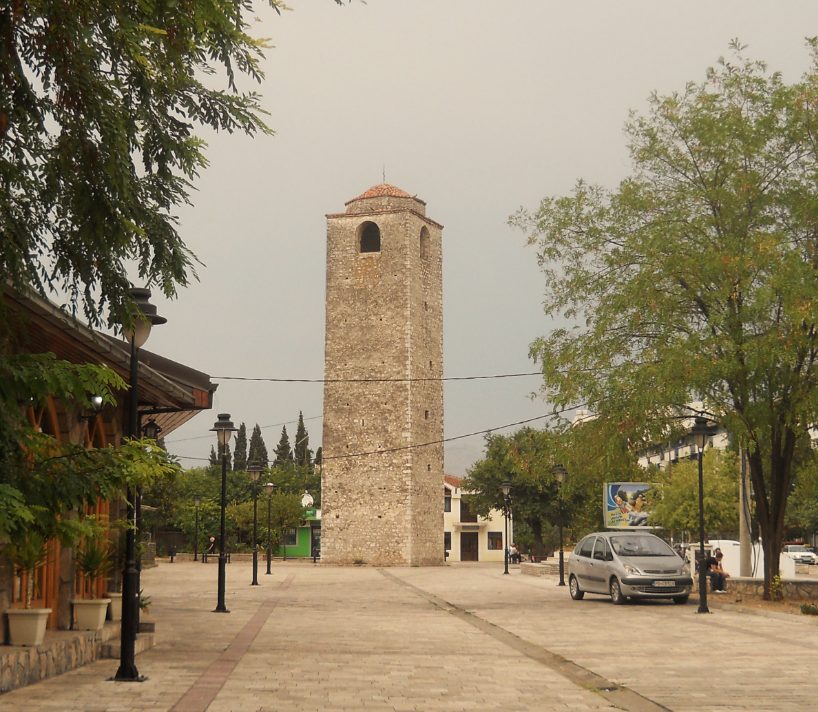 The Clock Tower is one of the city's most iconic landmarks and you can spot it from miles away. This impressive structure stands tall and proud in the heart of the capital city, a testament to its long history as an important center for culture, commerce, and politics.
The Clock Tower was built in 1667 by local craftsmen who used stone from nearby hills to construct this magnificent structure. This landmark saw many changes over the years it still stands strong and remains one of the capital's most popular attractions.
Visitors are drawn in by its grandeur and beauty, with its four towers representing each corner of the city. The clock itself is striking and visitors will often take photos or simply admire it as they walk underneath it on their way around town.
Brief history
The Sahat kula (Clock tower) in Podgorica, Montenegro was an iconic piece of local history since the 19th century. Built in 1667 by Hadzi Milutin Uskokovic, it was the first clock tower in the city. It stands 33 meters tall and is located just south of the main square near Komuna e Parisit.
The Sahat kula is one of the most important symbols and landmarks in Podgorica; its bells chime every hour to remind citizens of their rich and vibrant heritage.
Local legend claims that Uskokovic built the clock tower using donations from wealthy citizens, who wanted to honour his achievements as a military leader and statesman.
3 fun facts about Sahat kula (Clock tower)
The clock tower is a major landmark and symbol for locals, as it was part of Podgorica's skyline since its construction in 1667.
The clock tower was built by an Austrian officer named Simo Milutinovic Sarajlija, who was inspired by similar towers he saw while traveling through Europe.
Legend said that Sarajlija used his own money to build it and did not accept payment from anyone else.
Dajbabe Monastery
C63J+HXH, Podgorica, Montenegro || from Monday 7 AM–8 PM to Sunday7 AM–8 PM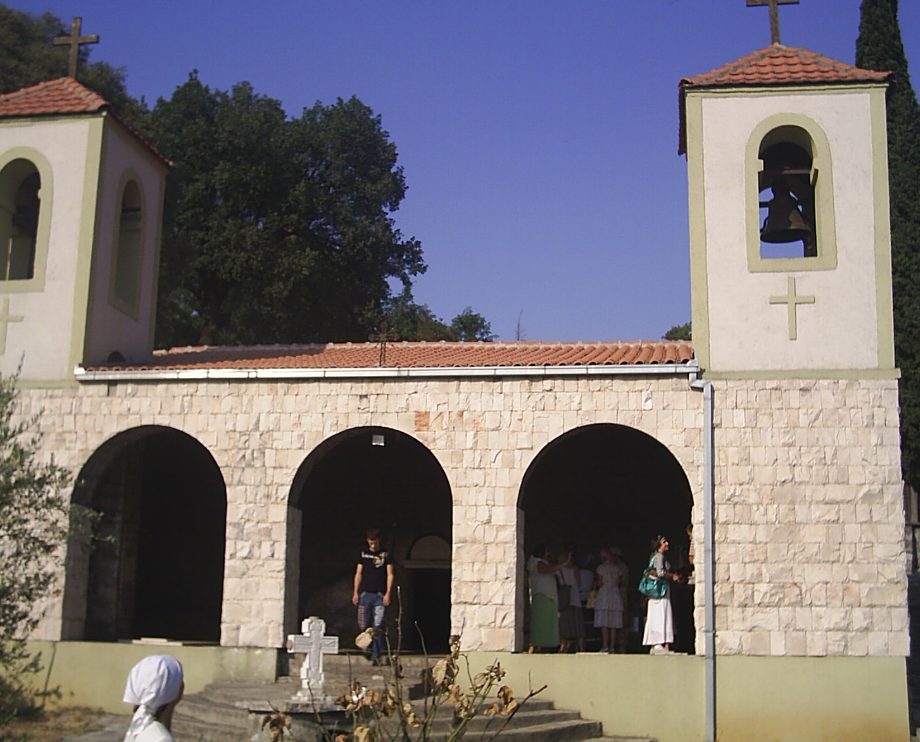 Welcome to Dajbabe Monastery! This historical and sacred site is a must-visit for anyone looking to explore the culture and history of the country. Located in the municipality of Bar, this beautiful monastery was first built in 1221 by Stefan Nemanja, Saint Sava's father, who founded the Serbian Orthodox Church.
Dajbabe Monastery is an incredibly awe-inspiring place. The stunning limestone structure looks out over majestic mountains and the deep blue waters of the Adriatic Sea.
Visitors can take part in guided tours around this ancient monastery, exploring its intricate decorations and impressive architecture which still stands after hundreds of years despite several wars that have ravaged the area.
Inside there are breathtaking frescoes depicting scenes from both Christian legends as well as Montenegrin folklore.
Brief history
The Dajbabe Monastery is a much-loved national monument. It is one of the oldest churches in the city and was founded during the 16th century. Its beautiful architecture and rich history attract thousands of visitors every year.
The monastery began as a small church dedicated to Saint Nicholas, built upon an ancient Christian necropolis. The first stone church was constructed in 1521 under the rule of Prince Ivan Crnojević, who also established various monastic settlements throughout Montenegro's coastal region at this time.
Today, it still stands as an impressive example of medieval architecture with its original frescoes and marble relief decorations intact
Independence Square
2 Novaka Miloševa, Podgorica, Montenegro || from Monday to Sunday Open 24 hours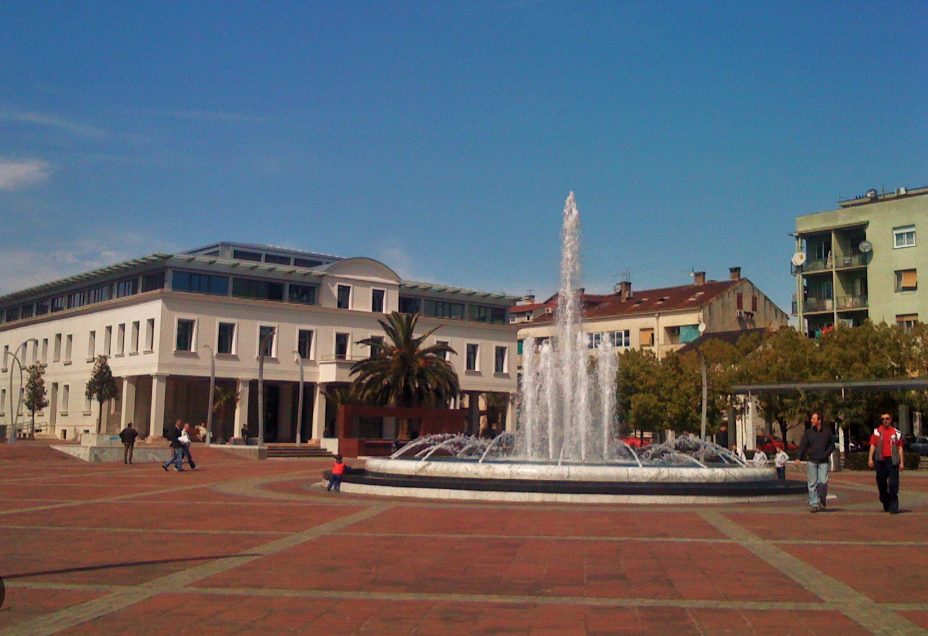 Independence Square Podgorica is a popular destination for tourists visiting this country. Located in the heart of downtown, it was a symbol of the city's unique charm and atmosphere.
For centuries, this public space has served as an important gathering place for both locals and visitors alike. It is considered to be one of the most beautiful places, with stunning views of nearby mountains and lush greenery.
The square also features several monuments that commemorate moments in Montenegrin history, such as the Monument to Freedom which stands proudly at its centre.
Visitors can expect to find plenty to do at Independence Square Podgorica – take picturesque strolls through nearby parks, enjoy a relaxing meal at one of its many outdoor cafes, or simply bask in its peaceful atmosphere while taking in the sights around you.
Brief history
Independence Square, or Trg Nezavisnosti, in the capital is the largest square in the country. Located in the center of the city, it was a focal point of Montenegrin life for centuries.
This public plaza was constructed during the Ottoman Empire and since then was home to some of Montenegro's most important events.
The first recorded event held at Independence Square was a celebration of Sultan Selim III's reign in 1790. Since that time, many other significant events took place here such as the first Constitution Day celebrations in 1878 and the declaration of Montenegro's independence from Yugoslavia on June 3rd, 2006.
Additionally, this popular gathering spot is also home to a large monument honoring fallen soldiers from World War I and II as well as an old clock tower and fountain built by Austrians during their occupation period.
Visitors Also Ask About Top Attractions And Things To Do In Podgorica
Is Podgorica Montenegro worth visiting?
Podgorica definitely is worth visiting! This vibrant city is filled with culture and history, making it a great spot for those who love to explore.
Whether you're looking for outdoor activities, nightlife or foodie experiences – Podgorica has something for everyone!
The stunning capital of Montenegro has plenty of attractions that are sure to make your trip one to remember. From walking through the old town Stari Grad, visiting the beautiful Orthodox Church of the Resurrection or taking in some of the incredible views from Vrelo Morače Canyon Park – there's no shortage of things to do in this city.
What to do in Podgorica in one day?
From nature hikes to historical monuments to delicious local cuisine – there's no shortage of activities that can be done in one day.
So, if you're wondering what to do in Podgorica in one day, here are some great ideas! Start your morning with a hike up Gorica Hill and take in the breathtaking views of the city or explore the historic Stari Grad fortress.
There are plenty of restaurants serving up traditional Montenegrin food like cevapi (grilled meat skewers) so make sure you sample some local delicacies while you're there!
What is Podgorica known for?
For those looking to experience all that this city has to offer, here's what you need to know about what is Podgorica known for! One of the most popular places in Podgorica is Moraca Canyon. Stretching for over fourteen kilometers, Moraca Canyon offers breathtaking views and an opportunity for exploration along its many trails.
This canyon is also home to one of Montenegro's most famous monasteries – The Monastery of Moraca – which dates back to 1252 AD. Podgorica's vibrant nightlife scene includes clubs, bars and restaurants offering international cuisine from around the world.
Can you get around Montenegro without a car?
Traveling to Montenegro is a wonderful idea for adventurers and explorers alike! With its stunning landscapes and beautiful coastlines, this small country has something special to offer visitors. But can you get around Montenegro without a car? You bet!
There are plenty of options that allow travelers to explore the country without renting or renting a vehicle. The best way to get around Montenegro is by bus. The public transportation system operates between major cities like Podgorica, Bar and Ulcinj, as well as smaller towns such as Kotor and Budva.
Intercity buses are very affordable and run frequently throughout the day, making them an ideal option for budget-minded travelers. Additionally, some private companies offer convenient airport transfers from Tivat Airport in the south all the way up to Herceg Novi in the north.
Why was Podgorica called Titograd?
Have you ever wondered why Podgorica, the capital and largest city of Montenegro, was formerly known as Titograd? It's an interesting story that sheds light on the city's complex history and unique cultural identity.
Titograd was named after Josip Broz Tito, a revolutionary leader who led the Yugoslav Partisans to victory during World War II, and was later appointed president of Yugoslavia until his death in 1980.
During this time period, which is referred to as "The Golden Age of Yugoslavia," Tito used his leadership to promote a strong sense of national unity among all Yugoslavian citizens. He also implemented sweeping social reforms that improved education, healthcare and economic opportunity for Yugoslavians.
As a result, many cities throughout Yugoslavia were renamed in honor of Tito – including Podgorica, which became known as Titograd from 1946-1992.
How to get to Podgorica by plane?
With plenty of direct flights available from major cities around the world, getting to this beautiful destination has never been easier! Here's a quick guide on how to get to Podgorica by plane. First off, it's important to book your flight well in advance – especially during peak season. You can find great deals on a variety of airlines that fly directly into Podgorica Airport. Once you've secured your ticket, all that is left is for you to sit back and enjoy the journey! On arrival at the airport, travelers will need to make their way through immigration before collecting their baggage and making their way into the city center.
Day Trips From Podgorica Montenegro
Are you looking for some great day trips from Podgorica Montenegro? Then look no further! From the stunning Tara River Canyon to the historical Old Town of Bar, there is something for everyone.
For those who love outdoor adventures, a trip to Tara River Canyon should not be missed. Located about 60 kilometers north of Podgorica in northern Montenegro, the canyon is an incredible sight with its steep cliffs and crystal-clear waters. There are numerous rafting and kayaking opportunities available here, along with other activities like biking and hiking.
And if you're lucky, you may even get a chance to spot some rare bird species as well! If history and culture is more your thing, then head southwards to nearby Bar where you will find one of Europe's oldest towns dating back over 2,500 years.
What are the best inexpensive tours in Podgorica Municipality?
There are plenty of great and inexpensive tours in Podgorica that can help you make the most of your time there. Here are some of the best affordable activities in Podgorica that will give you an unforgettable adventure.
Start with a walking tour of the old town, where you'll get to see the ancient walls and cobblestone streets as well as local landmarks like St. George's Church and Clock Tower Square. Next, take a bike ride around Lake Skadar – one of Europe's largest lakes – for stunning views and plenty of wildlife spotting opportunities.
Conclusion: Top Attractions In Podgorica Are Worth It!
Podgorica offers a wide range of attractions that suit all types of travellers. From its iconic architectural landmarks to its natural wonders and historic sites, the city is an ideal destination for those looking for a unique experience.
And with its vibrant nightlife, unique cuisine, and excellent shopping opportunities, Podgorica is sure to have something for everyone. So why wait? Pack your bags and start planning your trip to Podgorica today!
More Balkan Guides For You!
If you're traveling to Belgrade, check out our things to do in Belgrade article!
Traveling to Sofia, Bulgaria instead? Here's an in-depth guide to the best things to do in Sofia!
Maybe even Skopje? Check out our guide on the essential things to do in Skopje!
Going north to Zagreb? Check our list for the best things to do in Zagreb.
Or, visit the neighbours over at Bosnia, and find out about the best things to do in Sarajevo!
Last but not least, here's our guide on the best things to do in Ljubljana!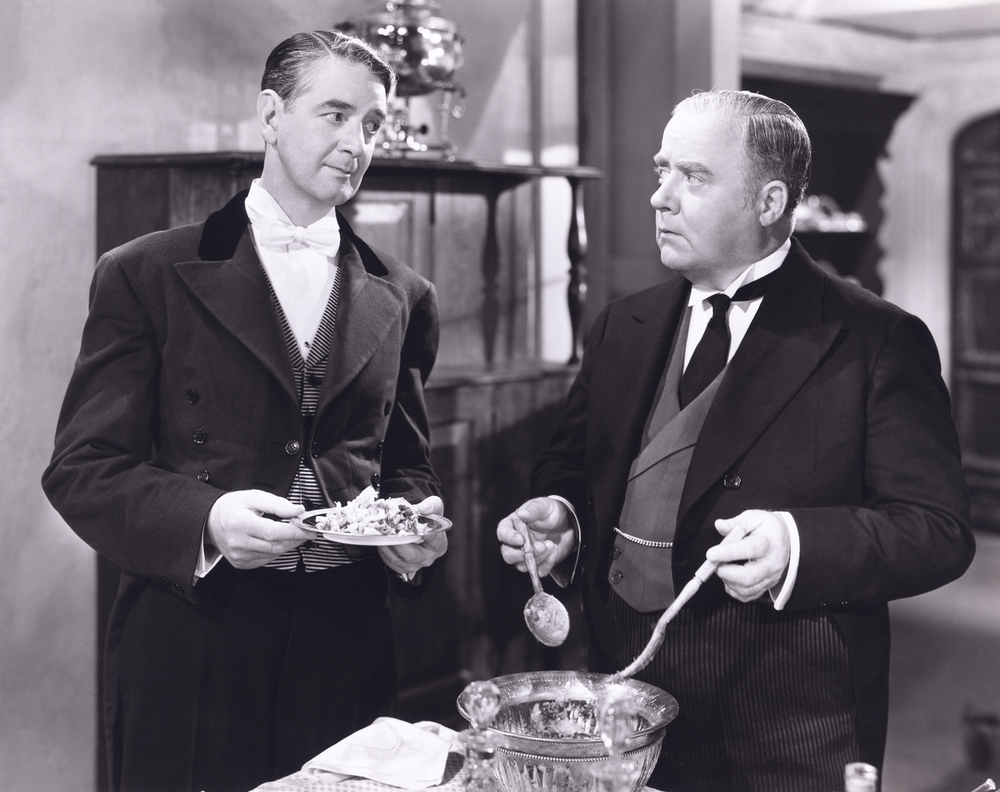 Avid travelers, passionate fishermen, and all-around great guys to hang out with (therefore the reason why they are the ones traveling around and not the rest of us, introverts and repulsive individuals). When not writing about their latest trip or catch, they drink beer, play the synth and call their friends to unpurposefully annoy them. A lot.