Foreword by your authors
The crossroads of history and the soul of North Macedonia. Misho and I often reminisce about our inaugural journey to this intriguing city. As the capital, Skopje is a mosaic of civilizations, where the ancient and modern coalesce in a captivating dance.
One balmy evening, as we ambled across the iconic Stone Bridge, a testament to the city's Ottoman past, the distant beats of modern music festivals echoed, symbolizing Skopje's ever-evolving spirit.
Drawn to the Old Bazaar, we found ourselves amidst bustling stalls, aromatic eateries, and the rhythmic cadence of craftsmen at work.
Over a cup of rich Macedonian coffee at a centuries-old café, a local named Elena shared tales of Skopje's legends, from the mighty fortress that overlooks the city to the legacy of Mother Teresa, its most cherished daughter.
For Misho and me, Skopje was more than just a destination on our Balkan map; it was a journey through time, a city where every corner whispered tales of empires, heroes, and the enduring spirit of its people.
Quick Intro
If Macedonia was the pearl of the Balkans, well, Skopje would be the center of the pearl (sorry Ohrid). This city is bustling with gourmet food, drink, traditions, and culture being a part of everyday life.
No matter how often you visit Skopje, there will always be something new and exciting to see or do. But, there are a few important landmarks and places to experience, regardless of when or where you come from.
The city has always been a crossroad of hundreds of cultures, so no wonder it's full of different and fun things to do and visit. Let's check out which are the top 13 things to do in Skopje.
BUT, before we do that, as always, let's check out some of the basic things you should know before coming in Skopje.
10 Things Visitors Should Know When Visiting Skopje
A city where history meets modernity. If you're charting a course to North Macedonia's capital, here are 10 tips from Misho's and my adventures:
Old Bazaar: One of the oldest and largest marketplaces in the Balkans, it's a maze of shops, cafes, and artisan stalls. Dive into its rich history and pick up some unique souvenirs.
Skopje Fortress (Kale Fortress): Perched above the city, this historic fortress offers panoramic views of Skopje. It's a testament to the city's strategic importance through the ages.
Macedonian Cuisine: Savor local dishes like "tavče gravče" (baked beans) and "ajvar" (pepper-based condiment). Misho can't get enough of the "burek" (filled pastry)!
Mother Teresa Memorial House: Pay homage to Skopje's most famous daughter. This modern structure stands where Mother Teresa's birth house once was.
Vardar River Promenade: Stroll along the river, taking in sights like the Stone Bridge and the many statues and monuments that dot the landscape.
Museum of the Macedonian Struggle: Delve into the country's history, from the Ottoman era to its quest for independence.
Matka Canyon: Just a short drive from Skopje, this natural wonder is perfect for hiking, boating, and exploring ancient monasteries.
City Square: At its heart stands the massive statue of Alexander the Great. The square is a hub of activity, surrounded by modern buildings and frequented by locals and tourists alike.
Local Etiquette: Macedonians are known for their hospitality. A simple "Blagodaram" (Thank you) in Macedonian can earn you a warm smile.
Day Trips: Skopje's location makes it ideal for day trips. Consider visiting the ancient city of Stobi or the serene Lake Ohrid.
How To Get To Skopje
Making your way to Skopje? Misho and I have journeyed there through various routes over our Balkan adventures. Here's a guide on how to reach this captivating Macedonian capital:
By Air:

Skopje International Airport (SKP) is the primary gateway to the city. Located about 20 kilometers southeast of Skopje, it's well-connected to major European cities.
Upon landing, you can opt for a taxi, shuttle bus, or car rental to reach the city center. The journey typically takes around 30 minutes.

By Bus:

The main bus station is adjacent to the train station. Buses are a popular mode of transport in the region, and Skopje is well-connected to cities both within North Macedonia and neighboring countries like Greece, Bulgaria, and Albania.
Tickets can be purchased online, at the station, or directly from the bus driver.

By Car:

If you're coming from neighboring countries, driving to Skopje can be a scenic adventure. The city is connected by well-maintained roads and highways.
Ensure you're familiar with local driving regulations and always have your international driving permit, passport, and vehicle documentation on hand.
Best Time To Visit Skopje?
Misho and I have a few insights. Spring (April to June) is delightful, with blossoming trees and mild temperatures, ideal for sightseeing and outdoor activities.
Summer (July to August) can be hot, but the city comes alive with festivals and vibrant nightlife.
However, if you prefer cooler climes and fewer tourists, consider Autumn (September to November).
The city is painted in autumnal hues, and the weather is pleasant. Winter (December to February) is chilly, with occasional snowfall, giving Skopje a magical ambiance, especially during the festive season.
In essence, each season offers a unique charm. Whether you're wandering through the Old Bazaar in spring, attending summer festivals, admiring autumn's golden glow, or sipping warm beverages in winter, Skopje promises memorable experiences. Choose based on your preferences, and the city will not disappoint!
Stroll Through The Old Bazaar
Photo by Fisnik Murtezi on Unsplash
There are three important things you can do in the Old Bazaar: Shop, eat and experience cultural landmarks. Is there anything else more important than that in life? Love? We don't think so!
This area is home to some of the most varied and impressive collections of Ottoman architecture because it was once an important hub of commerce during the Ottoman period. The old bazaar was actually considered to be the main gold exchange hub during that period.
If you're into gold, that's where you need to go. But if sightseeing is all you need, there are approximately 30 mosques, a few Turkish baths or hammams, caravanserais, mausoleum tombs or türbes, and churches that you can see here. The Old Bazaar is also a large old marketplace in the Balkans.
If you ever have the chance to visit Skopje, you should definitely spend some time walking around the shops in this market, which is located in a maze of narrow streets lined with cobblestones. This place has a little bit of everything, from copperware and small souvenirs to jewelry and folk costumes.
There are cafes and restaurants where you can enjoy kebabs and Turkish coffee or tea. The buildings and sculptures in the city square contrast strongly with this area, which is only one bridge away. Specific places you can visit:
1 Fun Fact About Old Bazaar
The majority of the structures that used to provide accommodation for travelers or act as hammams are converted into museums and galleries. Nowadays, they are primarily used to host art exhibitions, concerts, and other types of cultural events
Macedonia Square
Macedonia Square – Google Maps || open 24 hours
Photo by Ervo Rocks on Unsplash
Macedonia Square is the central square of Skopje, the capital city of Macedonia. What makes this place so special and different from all others is its unique architecture and design.
Old Skopians remember the square cobblestone, and actuall traffic going through. But thanks to a cultural revamp that happened a few years back, now you'll see many statues and monuments situated all over the square so you can get more familiar with the rich history of Macedonia.
The most noticeable item here is the outstanding fountain above which the statue of the ancient warrior king Alexander the Great is placed. Furthermore, there are many other statues of Justinian I, Samuil, Dimitrija Chupovski, and many others.
During the night hours, the square has a magical look, as it is illuminated by many lights which makes the evening walks pleasant and relaxed.
The popular Macedonia Square is an ideal place for spending excellent time with family or friends as there are many cafes and restaurants where you can enjoy the splendid taste of traditional Macedonian food.
If you're more into street food, there are street vendors selling roasted corn and roasted chestnuts.
Specific monuments you can see:
Ristiḱ Palace
Dame Gruev statue
Goce Delcev statue
Boatmen of Thessaloniki monument
Justinian I statue
Samuil statue
Metodija Andonov-Cento statue
Dimitrija Cupovski statue
The Pavilion
3 Fun Facts About Macedonia Square
The most popular tourist walk in the city starts from the Old Railway Station, down Macedonia Street past the Mother Teresa Memorial House and Feudal Tower, and then to the location of her birth house. From there, it's down Macedonia Square, across the Stone Bridge, past the Holocaust Museum and Museum of Macedonian Independence, towards the Turkish Bazaar, and ending at the Kale Fortress.
In 2008, a flagpole with the Macedonian flag was erected on Macedonia Square, near the Stone Bridge.
A feudal tower from the Middle Ages that stands next to the Mother Teresa House surprisingly withstood the devastating 1963 earthquake.
Experience The Breathtaking Matka Canyon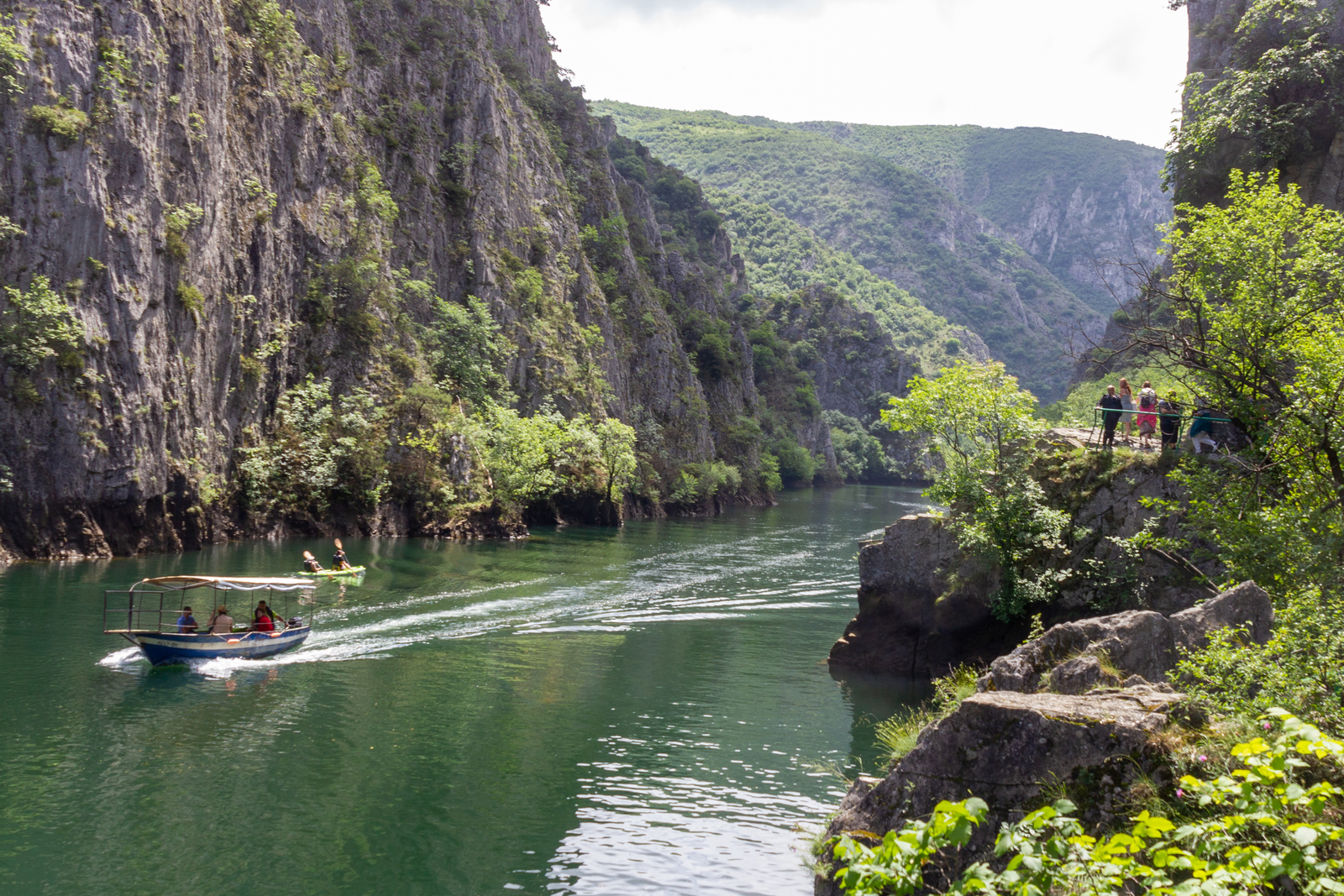 If you love nature, the Matka Canyon is a must-see, with its hidden hiking paths, climbing routes, and caves. Not in the mood for moving?
Sit at one of the lakeside restaurants and just enjoy the chill air, sounds of the Treska river and probably some traditional music. But, if you do go and explore, start with Vrelo cave. Vrelo Cave is one of the many caves that have yet to be fully explored. It is speculated to be the deepest underwater cave in the world.
You can get to the cave by boat and it costs just 500 denars (about 9 euros). On the way back you'll notice the incredible variety of plant life, with 20% of the species found nowhere else on Earth. The canyon is also a habitat for 77 different species of butterflies. If you get the opportunity, you should also visit some of the other ancient monasteries situated throughout the canyon.
To get to Matka, you can take bus 60 or a taxi. It'll usually take you 45-60 minutes to get to the city center. If you're in good enough shape, you can walk to the back of the canyon by taking the path from Vodno, passing the Ethno Village and the Panteleimon monastery.
3 Fun Facts About Matka Canyon
Matka means "womb" in Macedonian and "mother" in Polish.
Just look for the carabiner monument commemorating a local climbing legend.
Kosanini's Violet (viola kosanini), is a flower that only grows in Matka.
Climb The Majestic Vodno Mountain
Photo by Ervo Rocks on Unsplash
If you're looking for amazing views of the surrounding peaks and a panoramic view of the city, Vodno is the perfect spot. Or, if you just need a break from all the sculptures, noise, and buildings in the city, a visit to Vodno is a great way to get some fresh air.
Of course, you can take a cable car to the top, but we recommend hiking. Although it may be challenging to climb Vodno Mountain, it will be worth it when you reach the top and can enjoy a nice cup of coffee with a panoramic view of the city.
While up there, you'll be met by the 66 meter tall Millennium Cross which can be seen from anywhere in Skopje. The cross was constructed in 2000 and is a reminder of Christianity's 2000-year presence in the country.
All in all, Vodno is an excellent location for a picnic or spending a day out while in Skopje.
Taking The Cable Car To The Top Of Vodno Mountain
Vodno is located on the outskirts of the city, and you have two options for getting to the 700-meter-high top. The first option is to go on a hike, and the second is to take the Millennium Bus and then take the Millennium Cross Cable Car.
The first route will take approximately 4-5 hours (depending on your speed), whereas the second option will only take 30-40 minutes. The second choice will cost you 135 denars (around 2 euros).
From the top of the hill, you'll have an incredible view of Skopje and the 66-meter-tall cross, making it one of the biggest in the world.
Mother Teresa Memorial house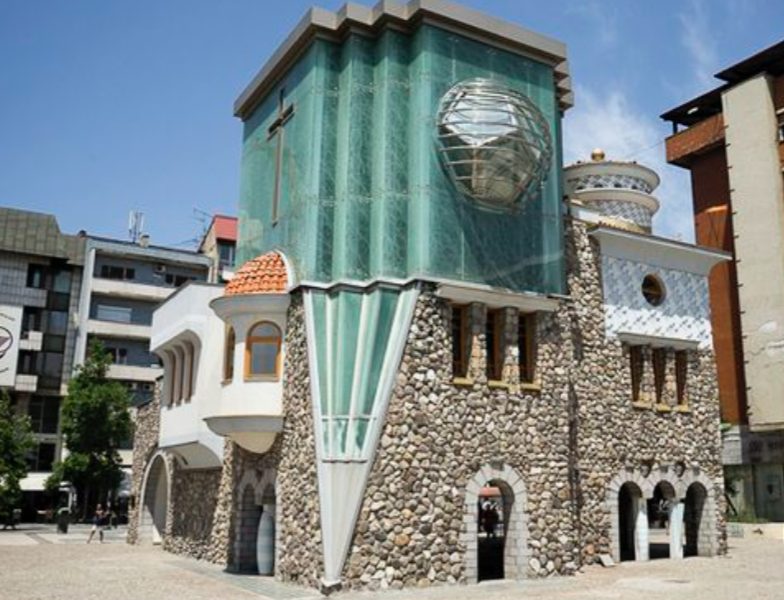 MK, Makedonija 1000, Skopje 1000 || from Monday to Friday from 9 am to 8 pm; Saturday and Sunday from 9 am to 2 pm.
Many people are familiar with Mother Teresa and her work as a humanitarian, but fewer people know that she was born in Skopje. This city has a memorial house built in honor of her on the very location where she was baptized.
The museum contains many items that commemorate her religious work and life, including photos and documents. Even below the museum in the multimedia center, you can watch a documentary about the humanitarian work of this Nobel Peace Prize laureate.
There is no cost for admission, and it is accessible daily. However, you may want to check the hours of operation, which are different during weekends.
The Stone Bridge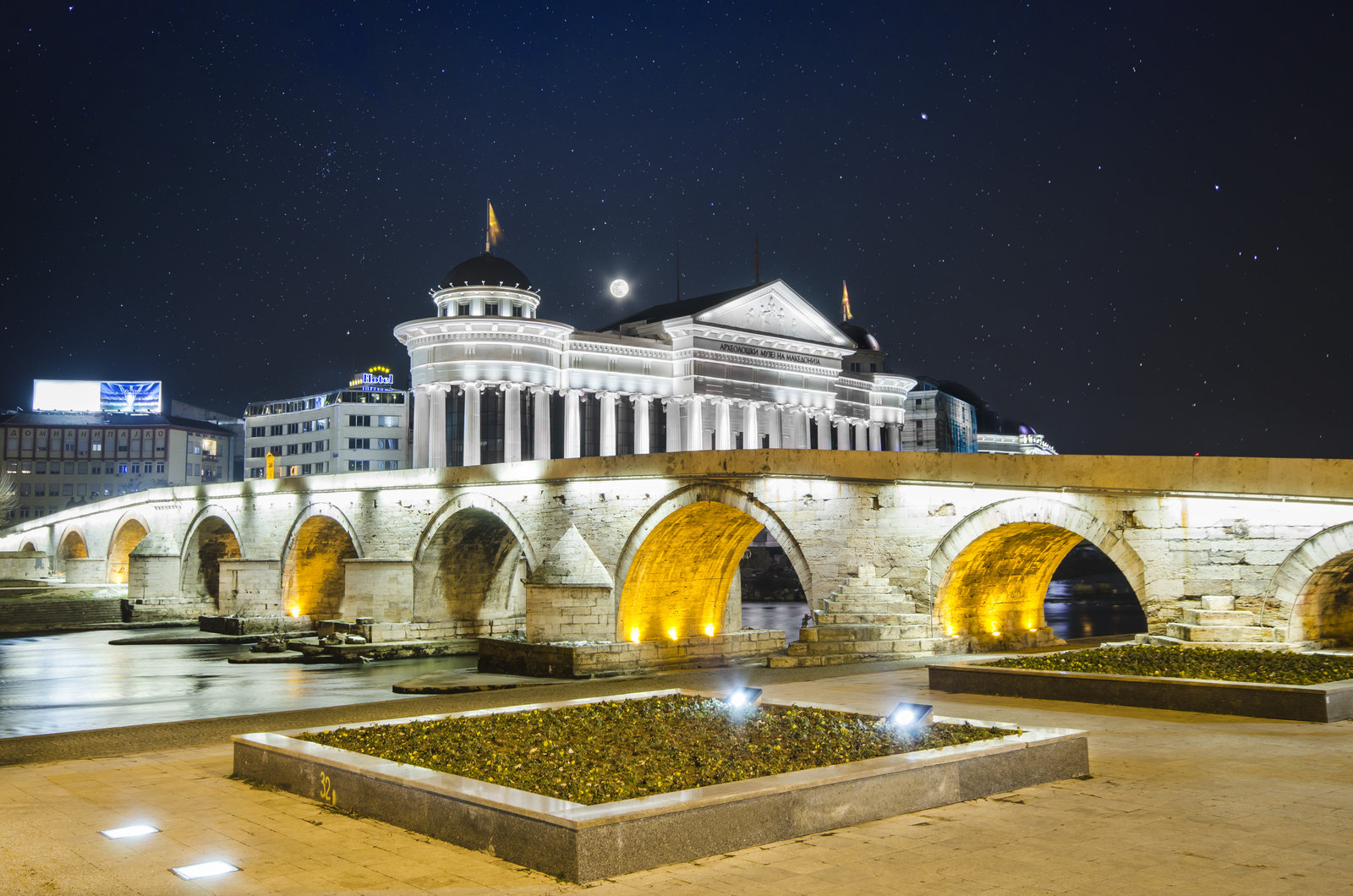 The majestic stone bridge spans the Vardar river, and connects the two halves of Skopje. It was first built under Roman Emperor Justinian's rule, but it was destroyed and repaired many times during the Ottoman period.
The 214-meter-long bridge was constructed out of solid stone blocks, hence the name Stone Bridge. The bridge is only for pedestrians, but it used to be for vehicles too. Brief History Sultan Mehmed II the Conqueror built the current Stone Bridge on Roman foundations between 1451 and 1469.
The great earthquake of 1555 caused heavy damage to four pillars, according to historical evidence. The Stone Bridge connects two areas of Skopje that have come to symbolise the city's contrasts between the "Ottoman" and "modern", the "historic" and "socialist", "Albanian" and "Macedonian".
1 Not So Fun Fact About The Stone Bridge
This bridge also was the site of some executions, such as the 1689 execution of Karposh – the leader of the Christian anti-Ottoman uprising in the Central Balkans.
Kale Fortress
Skopje Fortress – Google Maps || Monday – Sunday 9 AM – 7 PM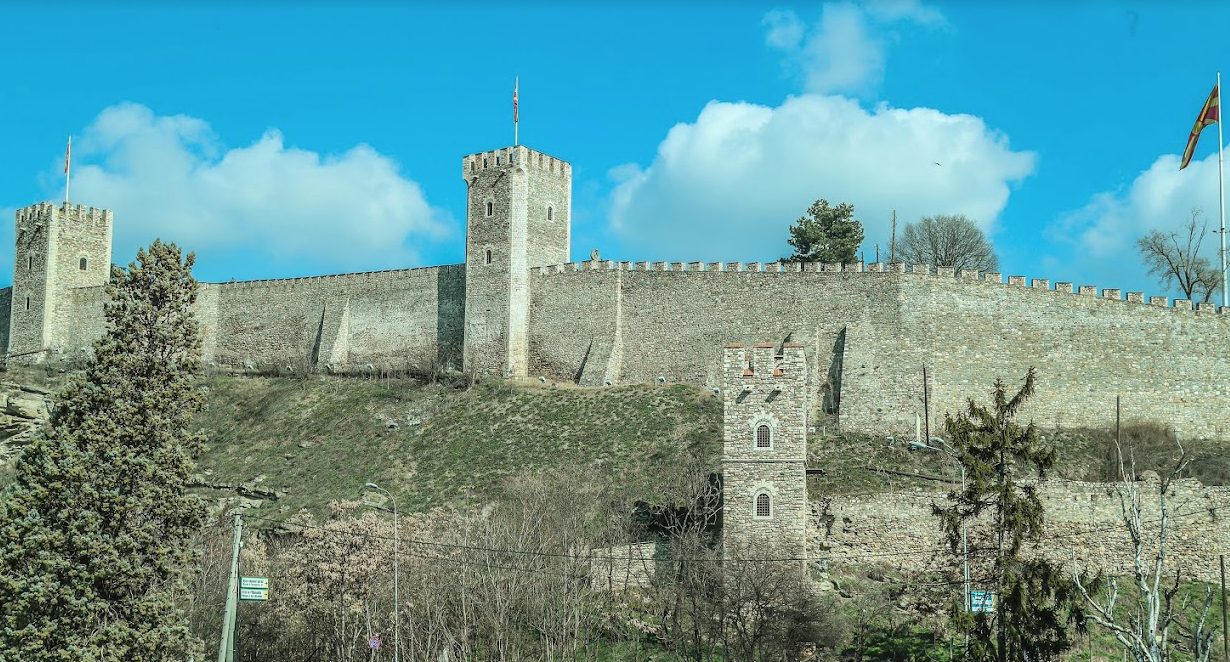 Kale Fortress is situated in the old part of Skopje, on a hill that provides stunning views of the city and the Vardar River.
The view from the top of the wall is incredible, and it's easy to see how it was a key asset for defending the area in past centuries.
The Roman Emperor Justinian I commissioned its construction in the 6th century, but it later sustained damage during the Ottoman period. The Kale Fortress is illuminated at night, giving Skopje a different look and feel.
3 Fun Facts About Kale Fortress
Skopje Fortress is a strategic point that was important throughout the country's history.
The Skopje Fortress is home to many archaeological sites that have undergone various types of research.
City Park of Skopje
city park Skopje – Google Maps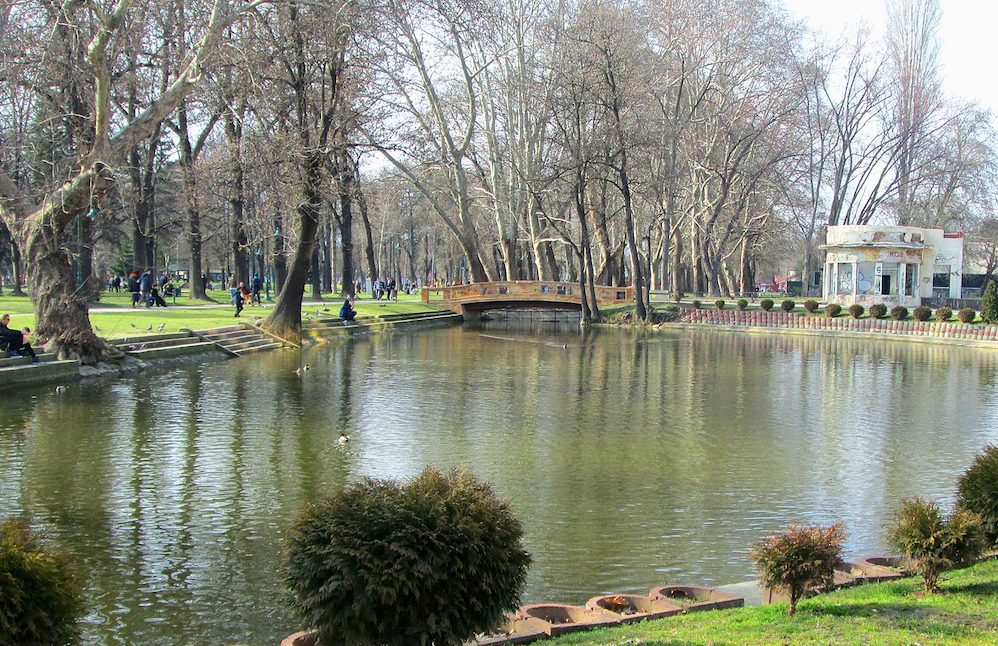 The City Park in Skopje is a large park that covers an area of 486,000 m. It is well-known for being a place where people can go to get some fresh air and escape the hustle and bustle of the city.
The park is a widely sought-after location for photographers. You are welcome to visit here anytime throughout the year, take some stunning photographs, and appreciate the lovely scenery.
The park is great for picnics and right next to it is the Skopje ZOO- the largest one in Macedonia.
Brief history The park's development started in the 19th century, and now it covers an area stretching from Boulevard October Revolution in the west to Leninova Street in the east, Illinden Boulevard in the south, and the Vardar River in the north.
2 Fun Facts About The City Park of Skopje
There is a wide array of Skopje City Park events to enjoy if you're interested in culture, music, and art, held throughout spring and summer.
Make sure to visit the Shell, where there are often music events taking place in the evening, and definitely visit the nearby nightclubs such as Havana and Marakana.
Debar Maalo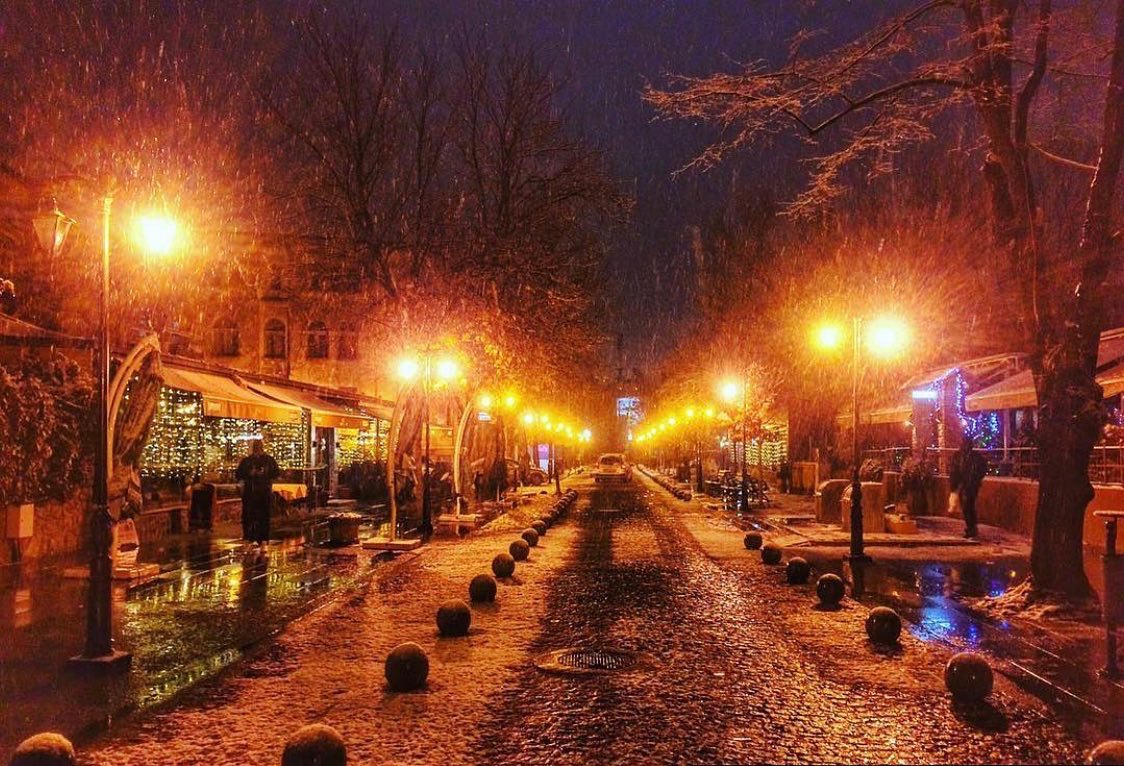 If you visited Skadarlija in Belgrade and liked it, then you've come to Skadarlijas doppelganger in Skopje.
Over 50 different national, international, and local restaurants, bars cafes, and whatnot are located in Debar Maalo.
Bohemian to the bone and lively all night long!
If you're hungry, this is where you go! And probably stay for a good 10 hours to feel the vibe.
Alexander The Great Statue
alexander the great – Google Maps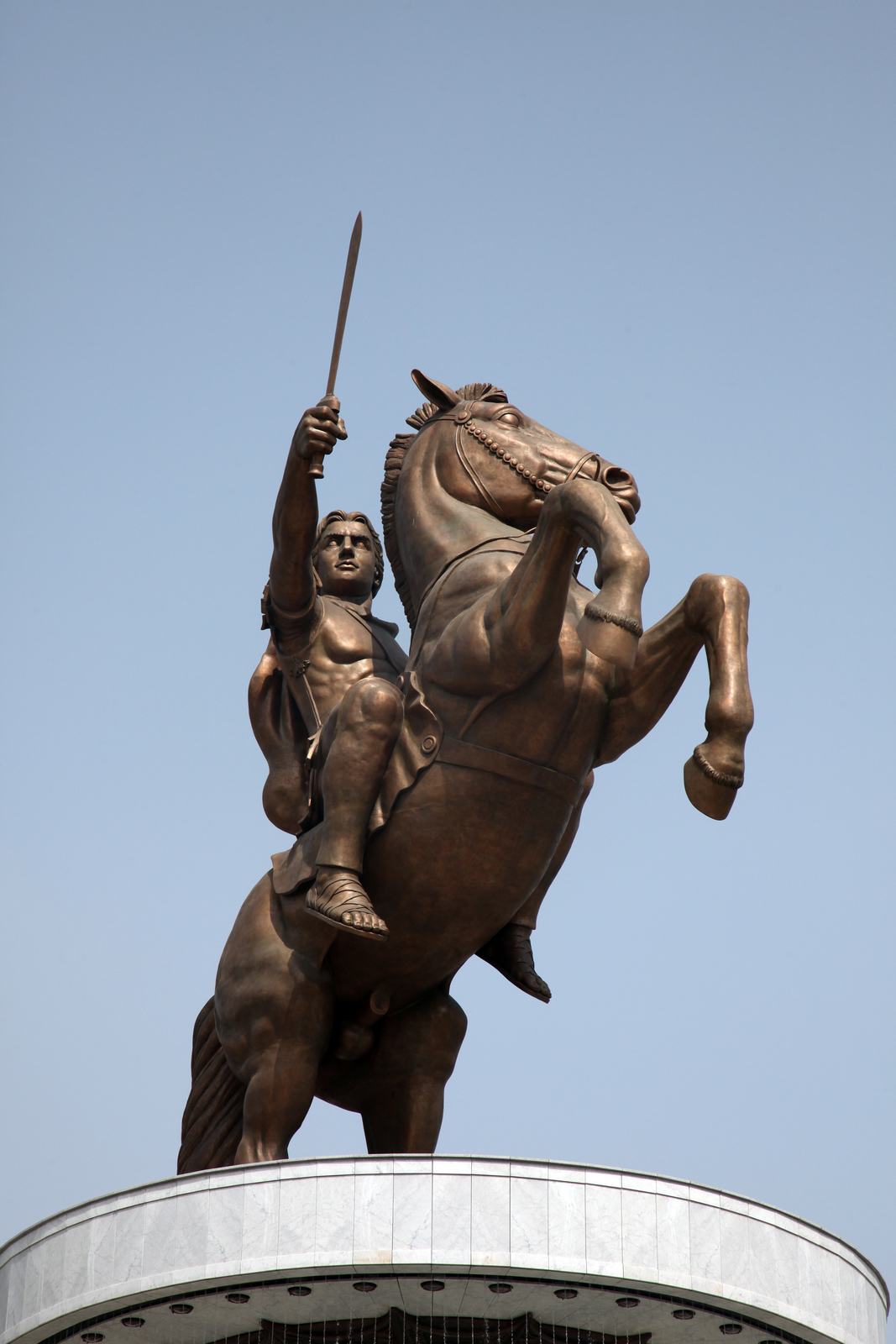 This monument is one of the most famous in Skopje and was central to the Skopje 2014 project, which was completed in 2011. It's a huge 28 meter statue that overshadows the main square and is one of the biggest tourist traps in the city.
Surrounded by a fountain and a plethora of food stands, you can just sit, eat doughnuts and admire Alexander. Brief history It was revealed on 8 September 2011, on the 20-year anniversary of Macedonia's independence referendum from Yugoslavia.
The Triumphal Arch and the Museum of the Macedonian Struggle are near a museum of waxworks of past Macedonian leaders -the Archeological Museum of Macedonia.
2 Fun Facts About Alexander The Great
The statue and fountain are interesting and the fountain plays music at any time of day. If you come at night, you will also see a beautiful light show.
The Millennium Cross
Millennium Cross – Google Maps || Monday Closed Tuesday 10 AM – 8 PM to Sunday 10 AM – 8 PM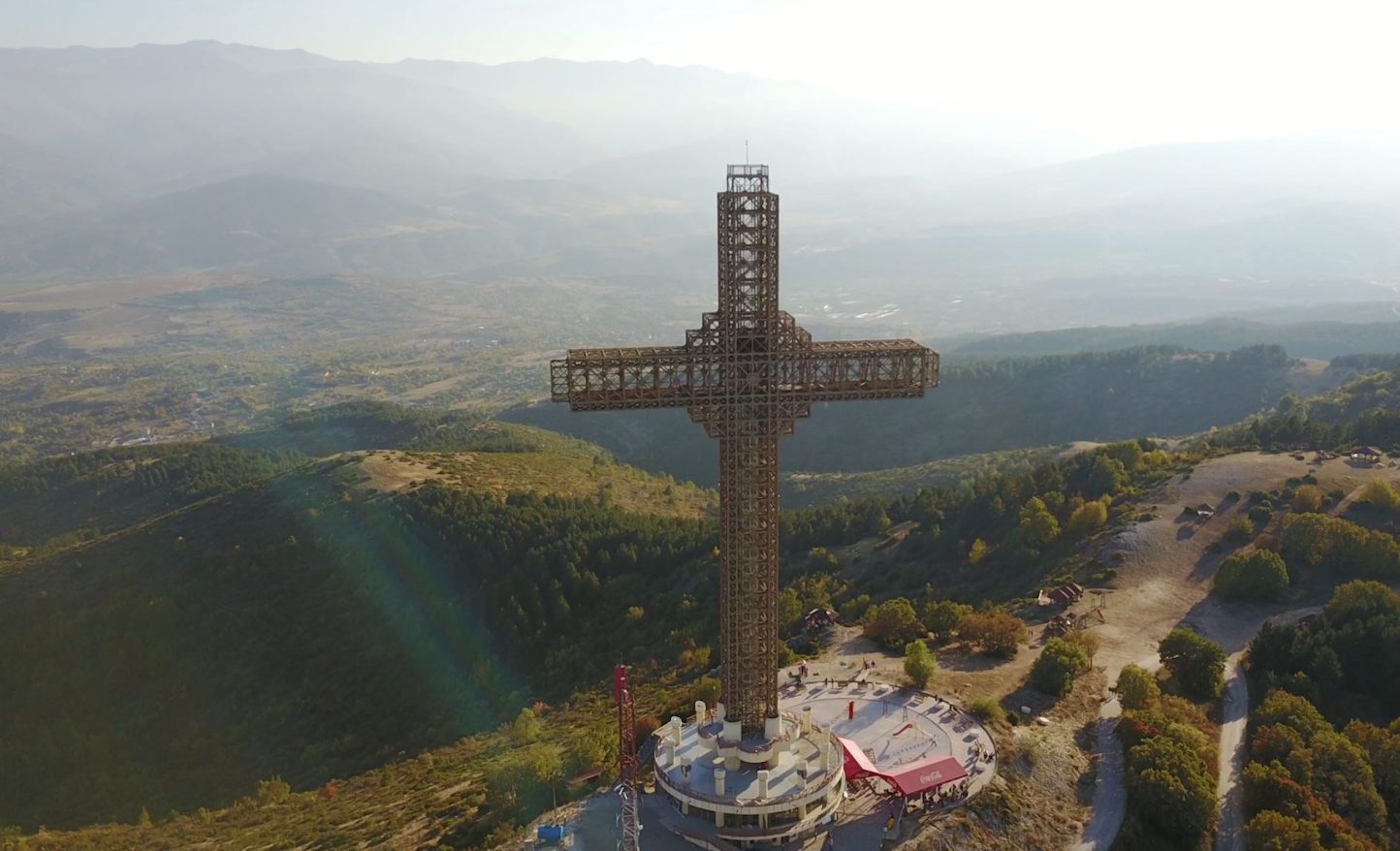 We mentioned a few paragraphs before, so we'll show you how to get there. You can climb the cross (although you could do that a few years back) so, no epic photos.
Here's how you get there: First, you need to take the Millennium Cross double-decker bus from the main bus station to the cable car station halfway up the mountain at Sredno Vodno. The buses currently depart every 30 minutes between 08:20 and 15:20 and a one-way ticket costs just 35 denars (half an euro).
The cable car station is located in Sredno Vodno and the return journey costs 120 denars (2 euro). The Millenium Cross itself doesn't have much to keep visitors there, except for the spectacular view on a good day.
The cafe downstairs is a great place to get coffee or ice cream, which you can enjoy on the outdoor terrace when the weather is nice.
City Shopping Centre
Google Location || Monday – Friday: 9:00 AM – 8:00 PM, Saturday: 9:00 AM – 5:00 PM, Sunday: Closed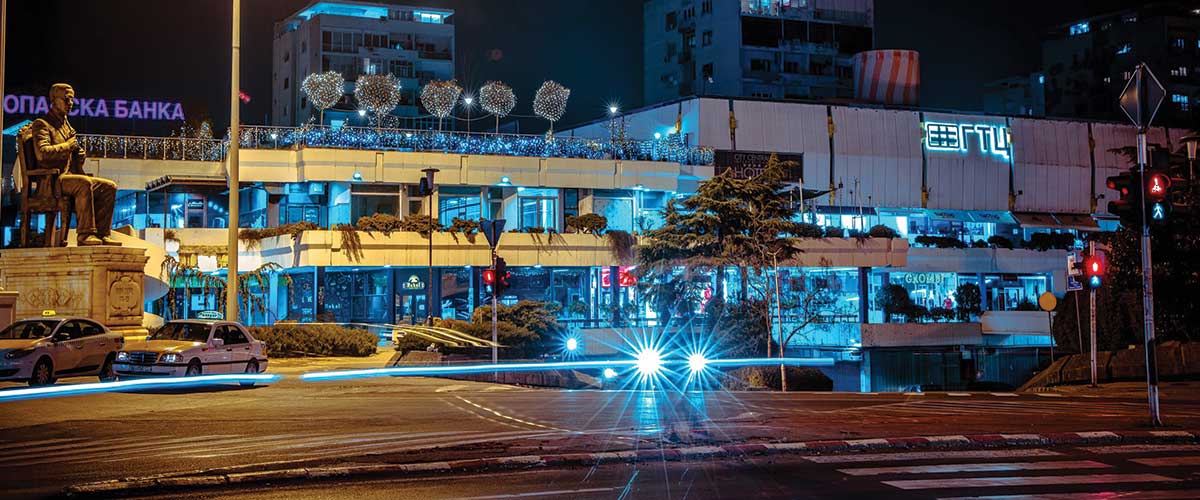 The GTC mall, which is located near Macedonia Square, is the oldest, and most popular mall in the capital.
It is partly open-air and it's unique in that it has open entrances from all sides, making it an essential transit route for people traversing the city centre each day. People often refer to it as the GTC.
It has many things to offer and competes well with both the newer Skopje City Mall and Capitol Mall. It's a reminder of the brutalist architecture this city used to have.
2 Fun Facts About City Shopping Centre
This is a prime example of modern and contemporary Skopje.
This building, which is supposedly designed to look like a boat, is full of shops and cafes. It is also a popular place for local buskers to perform.
Earthquake Museum of Skopje
Ss Cyril & Methodius 1000, Skopje 1000 || 9-5 PM, Closed on Monday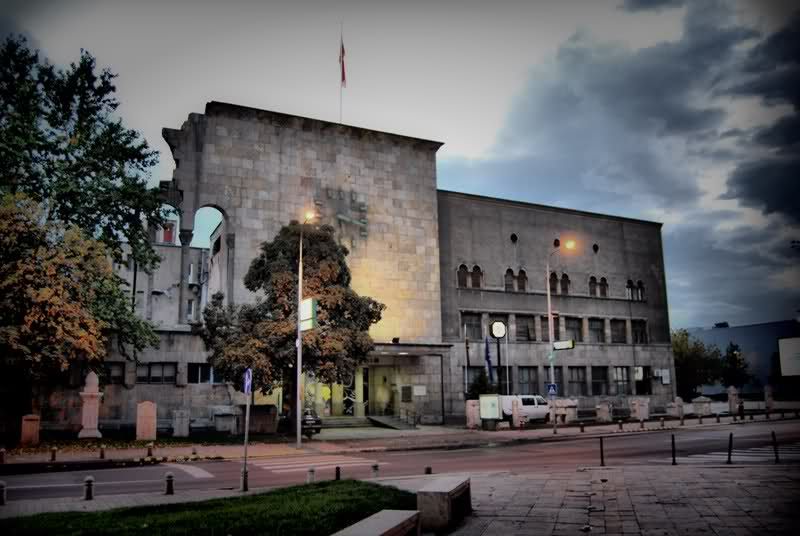 If you are walking by the Museum of the City of Skopje, you will probably see the big clock on the building, whose hands are pointing to 05.17. This clock isn't just some broken clock that stopped working by accident.
It's a reminder of the disastrous Skopje earthquake that happened on July 26th, 1963.
The earthquake happened 17 minutes after 5 in the morning. Brief history This building is a reminder of the old city railway station that was destroyed in the earthquake.
It haunts the people of Skopje, reminding them of the devastating catastrophe that killed around 1.000 people, seriously injured more than 3.300, and left homeless about 76% of the population.
Travelers Also Ask
Is Skopje worth visiting?
Skopje is certainly worth visiting! This capital city of North Macedonia is full of attractions and interesting sights. History lovers will find plenty to explore in Skopje, including ancient ruins, fortresses, and monuments.
The city also boasts beautiful parks and gardens such as the City Park, where visitors can enjoy a leisurely stroll or a picnic. There are plenty of great restaurants to try out in Skopje too, with a variety of traditional Macedonian dishes available.
Shopping enthusiasts will love exploring the old bazaar area in the heart of the city and discovering unique gifts to bring back home. All in all, a visit to Skopje is sure to be memorable and enjoyable for any traveler!
How many days do you need in Skopje?
Skopje is an amazing city with a lot of interesting sights, sounds and experiences to offer. Depending on the type of trip you are planning, you could need anywhere from two days to a week or more.
If you are looking for a short break from your daily routine, two days is enough time to explore the main attractions in Skopje such as Kale Fortress or Stone Bridge. If you want to explore all the museums, galleries, restaurants and bars that this vibrant city has to offer, then three or four days is ideal.
For those looking for an extended stay in Skopje, five or six days would be recommended so that you can take some day trips outside of the city and visit Ohrid Lake and Matka Canyon. No matter how much time you have available, there's sure to be something special waiting for you in Skopje!
Where do you hang out in Skopje?
Skopje is one of the most vibrant cities in Europe, and it has an abundance of places to hang out and have a good time.
For a night out, you can head to clubs like Epicentar and MKC Skopje. If you'd rather enjoy the outdoors, there are plenty of parks around the city, such as Vodno Park with its beautiful lake, or Central Park.
Beer and chill vibes enthusiast? Head over the Che cafe bar where you're sure to meet other travelers. And if you want to take in some culture, then make sure to visit Old Bazaar – one of the oldest markets in the world – or Kale Fortress – an ancient fortress overlooking Skopje. No matter what type of activity you're looking for, Skopje has something for everyone!
What are the best day trips from Skopje?
Skopje is an amazing city with many attractions, but there are also great day trips to be taken from the city.
Some of the best day trips from Skopje include visiting the Matka Canyon, which is located just outside of the city and offers stunning views and hiking trails. Another popular day trip is to Lake Ohrid, which is located in southwestern Macedonia on the border of Albania.
Here you can enjoy relaxing on the beach or take a boat tour on part of Europe's deepest lake.
If you're looking for something a bit more active, then you can go paragliding at Mavrovo National Park or take a hike up Mount Vodno for incredible views of Skopje. Whatever type of adventure you're looking for, there's sure to be something that fits your needs within easy reach of Skopje.
What is the best day trip from Skopje?
Where To Stay In Skopje, North Macedonia?
Here are some recommendations for different types of travelers:
City Center: The city center is the heart of Skopje and offers many attractions, including museums, galleries, cafes, and restaurants. It's an excellent option for first-time visitors who want to be close to the main sights, such as Macedonia Square, the Stone Bridge, and the Old Bazaar.
Hotels:
Hotel Marriott Skopje
Hotel Solun
Hotel Senigallia
Debar Maalo: This bohemian neighborhood is known for its vibrant atmosphere, trendy cafes, and bars. It's a great choice for travelers who enjoy nightlife and a more laid-back atmosphere.
Hotels:
Urban Hostel & Apartments
Lighthouse Hotel
Hotel Tomce Sofka
Old Bazaar: This historic district is the largest bazaar in the Balkans and offers a mix of Ottoman architecture, local crafts, and traditional eateries. Stay here for a more authentic experience and to immerse yourself in the city's rich history.
Hotels:
Bushi Resort & Spa
Hotel Arka
Hotel 903ta
Vodno Mountain area: If you prefer a more tranquil environment, consider staying near the Vodno Mountain. This area offers beautiful nature, hiking trails, and stunning views of Skopje. It's perfect for outdoor enthusiasts and those looking to escape the city's hustle and bustle.
Hotels:
Hotel Bellevue
Hotel Vodno
Vila Silia
Taftalidze: This residential neighborhood is a good option for budget travelers, as it offers affordable accommodations and easy access to public transportation. It is located a short distance from the city center, making it convenient for exploring the main attractions.
Hotels:
Hostel Kalonis
City Hostel Skopje
Get Inn Skopje
When booking accommodations in Skopje, consider your preferences for location, budget, and desired amenities. These options should provide a starting point for finding the perfect place to stay during your visit to North Macedonia's capital.
Best Things To Do In Skopje: Wrap Up
I would recommend spending a minimum of two days here to see the most popular tourist attractions located in the downtown area. The climate in the city is Mediterranean, and the mountains surrounding the city bring coldness.
The city has many outdoor attractions so it is a good idea to visit Skopje at different times of the year. We hope you found our Skopje travel guide helpful and informative. With its tips, you can now plan the perfect day in the city.
There is a lot to see and do in Skopje in just one day! Exciting things to do and believe us, there is so much more to see! And at the end, we hope you will visit different places in Skopje. Feel free to add your ideas in the comments below.
If you're traveling to Belgrade, check out our things to do in Belgrade article!
Traveling to Sofia, Bulgaria instead? Here's an in-depth guide to the best things to do in Sofia!
Or planning on going north to Montenegro? Check the best things to do in Podgorica.
Going even northern to Zagreb? Check our list for the best things to do in Zagreb.
Thinking about going to Slovenia? Check our guide on the things to do in Ljubljana!
Last but not least, our guide on the best things to do in Sarajevo!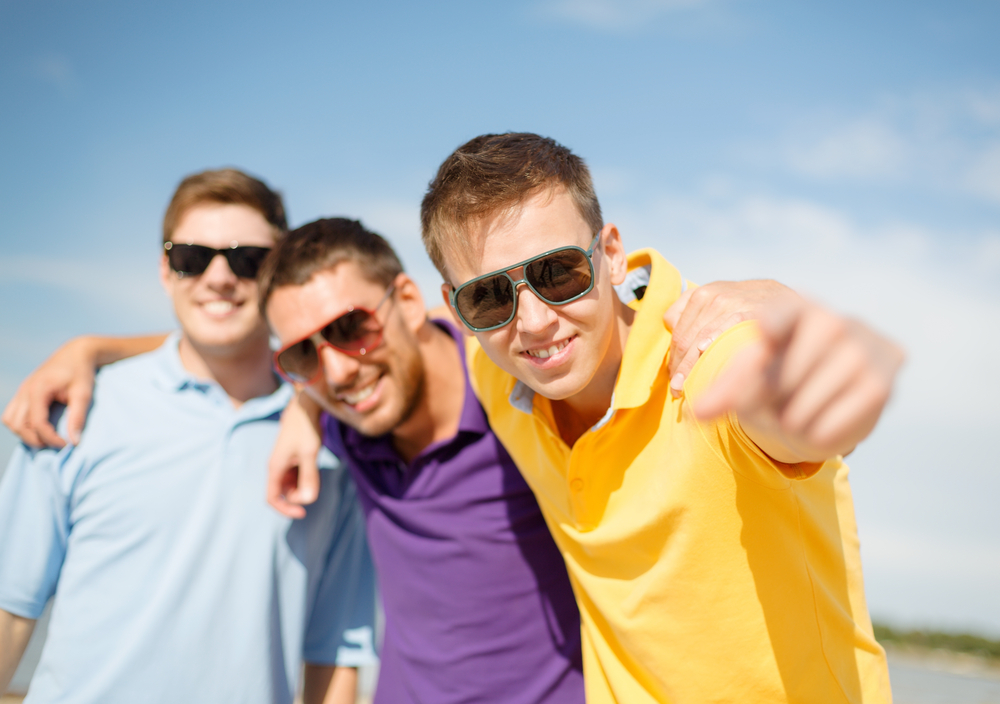 Arben G. and Will Do. – Friends since they met on Work on Travel in the States, they have been writing exhaustively about how not to do business and still make tons of money and every aspect of business for Direktorium.
When they're not writing about business, they don't know what to do and go back to writing about business. True friendship lasts even in business! (Arben is in yellow, and Will in purple shirt. Nobody knows who the douche on the left is).