Considered the underdogs in the startup world, Balkan-based startups are slowly rising the ranks and getting noticed, one by one. 
Crypto, education, analytics, automotive, you name it, and a Balkan-based startup has started working on it. 
Lack of funding options and rudimentary state regulations might be a downturn for many. Still, people in and around this region are used to the hardship and lack of $$$, giving them the perfect opportunity to build something that will change the current Balkan Startup landscape. 
If you google "Balkan Based Startups," don't be surprised by the quantity of information you can find on the internet about it.
I was, and it took me quite a time to make a list of the most promising ones. 
You will be too, and It's time to take your money and put it in one of these problem solvers before someone else does.
Can't see your startup here? Shoot a message in the comments and I'll add it.
Let's get started.
40 Balkan Based Startups
Sportifico is a Serbian startup that wants to create a connected world of sports through its social network, connecting athletes, particularly footballers and coaches. 
On Sportifico male, and female players can connect with industry insiders and build their sports bio and stats of interest to coaches and managers. 
In addition to the ability to share moments from their sports careers, coaches may book training, matches, doctor appointments, and communicate with their players via the app. Other sports may also be added in the future.
Milos Erić founded it in 2016.
A Slovenian cryptocurrency hashing power broker, NiceHash, offers a new marketplace to let sellers and buyers use the sharing economy to trade hashing power. 
It was founded by Marko Kobal and Matjaž Škorjanc in 2014.
SMS Bump is an SMS marketing tool designed specifically for Shopify stores. They are the largest SMS marketing tool in the Shopify app market, and they have powerful functionality and features.
It was founded by Mihail Stoychev and Georgi Petrov in 2017, and it is based in Sofia, Bulgaria.
Shpi.al provides detailed information about the real estate industry, real estate agencies, and construction firms operating in the country and provides services to clients.
This is one of the most reliable online platforms for providing detailed information on real estate in Albania.
This organization was founded in 2013 by Tomi Kallanxhi.
The EmbedSocial platform provides social proof on your website so every business can provide evidence of the quality of their products and services. 
Social media networks are integrated into the system so that user-generated content can be retrieved.
Three products enable social media profiles and the startup's website to be integrated. The three products are aimed at social media galleries, reviews, and Instagram and Facebook feed.
Kate Bojkov founded this company in 2016 in Skopje, North Macedonia.
Welcome redefines travel by providing people with an exceptionally high level of personalized travel experience. 
This company completely organizes their customer's trips for their transport and accommodation.
This company is based in Athens, Greece, and was founded by Alexandros Trimis and Savvas Georgiou in 2015.
Numbeo is a free database with user-contributed data about cities and countries worldwide, including the cost of living, housing indicators, health care, transportation systems, and crime and pollution statistics.
This site contains several Web pages. Numbeo also uses the crowd as a source to obtain the most reliable data.
Mladen Adamovic founded this company in 2009. It is based in the capital of Serbia, Belgrade.
Drooble is an excellent platform that is helping musicians to grow as artists. 
Musicians can use the platform to improve their skills and make more money from their craft using several innovative tools.  
Drooble empowers artists because they can access helpful services, monetize their skills, and receive honest feedback.
Melina Krumova founded this company in 2013. It is based in Sofia, Bulgaria.
Advanced Web Ranking is an SEO software suite created by Caphyon Ltd. that primarily focuses on tracking, managing, and reporting website rankings on all major search engines.
It allows you to manage many projects, websites, and keywords from the research stage to day-to-day tracking.
This company was founded in 2002 in Craiova, Romania. 
Strawberry Energy makes smarter and more convenient urban environments using the Internet of Things. Intelligent chargers, WiFi hotspots, and sensors that gather environmental data are all part of their products. 
Among their product portfolio, they have four types of smart benches suitable for different environments, such as shopping malls, campuses, parks, and other places.
Across Europe and North America, this startup supplies its products to 37 cities in 18 countries.
Miloš Milisavljević founded strawberry Energy in 2011.
A group of young professionals, CircuitMess is dedicated to developing software & hardware and the manufacture of educational and fun electronic devices. Currently, we count 11 employees.
All of their products are DIY, and they aim to bring electronics and programming to the masses in an exciting and fun way.
CircuitMess was founded in 2017 by Albert Gajšak. It is based in Karlovac, Croatia.
Mobidonia creates native apps for Android and iOS in less than a day. But, besides being a mobile app builder platform, Mobidonia is so much more. 
Mobidonia allows anyone to manage their app, view and communicate with their users, view analytics, manage their shop and orders, send push notifications, etc.
It was founded in 2013 in Skopje, North Macedonia, by Daniel Dimov.
Ucha.se makes learning enjoyable. Students and pupils use it to prepare for school and learning. 
Learning happens faster, results improve, and inspiration occurs. In addition, students can watch videos, take tests, ask questions, and share comments on the platform. 
Gamification components such as drawings, plays, dashboards, and narration are used to improve learning. The service is accessible on the web as well as on mobile devices.
Parents and teachers also love Ucha.se in Bulgaria. The Ucha.se website was recognized in November 2012 as the best Bulgarian website in the field of Education.
Darin Madzharov founded this organization in 2012 in the capital of Bulgaria, Sofia.
The GetByBus website provides information about bus tickets for more than 45 European countries.
Getting a bus ticket and seeing bus timetables online in various countries is made simple.
This company was founded in Split, Croatia, in 2014.
GoOpti connects passengers between airports and remote towns and cities with innovative matching services for shared and private transfers.
This startup was founded by Boris Horvat, Marko Gucek, Sašo Sušnik and Tomaž Lorenzetti in 2011 in Ljubljana, Slovenia.
With Balena, you can build, deploy, and manage fleets of connected Linux devices. In addition, Balena offers fleet owners infrastructure to focus on developing their applications and expanding their fleets as smoothly as possible.
As a platform, their tools are built to function well together. However, you can also pick and choose which components you need and customize them to fit your particular use case.
This company was established in the capital city of Greece, Athens, in 2013 by Alexandros Marinos, Pagan Gazzard, Petros Angelatos. 
A social marketplace for organic food that directly connects organic food producers with consumers. 
OrganicNet's mission is to make organic food and products accessible and affordable to everyone.
Farming organically is a modern way of producing food, and history shows that organic farming is a forward-looking production method.
OrganicNet was founded in Novi Sad, Serbia, in 2015 by Boban Tanovic.
A vendor connectivity portal based on the web, Vendora gives you everything you need to streamline processes and make better business decisions based on factual information instead of assumptions. 
It comprises features like management of forecasts, orders, ordering, ASN advanced shipment information, quality checks, GRN goods receipts, invoice tracking, two-way messaging (ticketing), auto-mailer, customer reviews, dashboard data, and reports.
The best use of this technology is in manufacturing, financial, real estate, automobiles, and corporates looking to digitally automate their vendor management systems and supply chain management systems.  
Vendora was established in Athens, Greece, in 2017.
This website represents a fashion social network and online fashion game that connects people of all ages through fashion, entertainment, creativity, and shopping. 
Users can create fashion collages on trendMe by searching the web for clothing, accessories, and other elements they like and putting them together. 
Users earn points (through the fashion game) while creating a fashion or art set, which helps them achieve a higher ranking on trendMe.
This website was made in 2009 in Zagreb, Croatia, by Admir Djozovic and Dejan Potocic.
Managing the process of time entry, matters, and billing is easy with LegalTrek. 
Get rid of the many applications. Utilizing this product, you can easily track each colleague's work and workload for each matter.
The system managed to establish itself as a leading legal software on three continents and in over 15 countries with time. 
It can be used by small firms as well as those with more than 100 employees.
LegalTrek was founded in Sofia, Bulgaria in 2014  by Aleksandar Gvozden, Alexander Bruehl, Ivan Rasic.
30 Seconds of Knowledge is a web extension that offers you to learn something new every time you open a new tab. 
After you open a new tab, you will be shown a random code snippet from one of five programming languages or an interview question. 
The contents of the extension should be understood in a short amount of time. Then, as you browse the web, you can learn new programming skills passively. 
There are several categories of snippets to choose from and two-color helpful themes to customize the extension to your taste.
30 Seconds of Knowledge was founded in Osecina, Serbia.
An interesting bootstrapped educational technology company. Simbound offers cloud-based simulation-based courses that allow students to use various online marketing tools with the least amount of risk.  
It was founded in Cluj-Napoca, Romania, in 2012.
Adeva connects top engineers with enterprises and start-ups through an on-demand developer network. 
A company can hire one of the best remote engineers and utilize them as a full-time, distributed employee.
Adeva was established in Skopje, Macedonia in 2015 by Katerina Trajchevska.
The Brainster education center offers data, a program with advanced course work, specializations, and an effective strategy in digital marketing, coding, design, and data science.
The Brainster Institute is a global educational technology organization, which offers high-quality education that helps students prepare for the future by learning relevant 21st-century skills and training in technology. 
Brainster was founded in 2015 in Skopje, Macedonia.
The CodeinWP blog is one of the most popular ones online for WordPress-related subjects. Known for creating high-quality content and valuable tools for business owners, they have earned a respectable reputation in the space. 
Their team publishes new tutorials, lists, comparison posts, and thoroughly researched materials every week that explain how WordPress works and how you can make the most of it. 
By not accepting advertising or sponsored posts, they set themselves apart from other WordPress blogs.
CodeinWp was established in Bucharest, Romania.
This form builder is both mobile and web-based. 
With its WYSIWYG interface, anyone can create forms and surveys as quickly as 1-2-3. 123ContactForm offers its users many things, handy contact interfaces, collecting and storing uploads, receiving payments, give discounts…
This company is from Timisoara, Romania.
Business owners can create stylish, self-editable, and full-featured websites using the VEVS Website Builder. 
VEVS is a web development company dedicated to offering ready-made business websites that come with a full-service package for selected industries. 
Entrepreneurs of all sizes can reach their target markets quickly and affordably with VEVS websites. 
This company was established in Varna, Bulgaria, in 2016 by Veselin Stojkov.
This is an app that combines community for an emergency. 
Simple things can solve everyday problems—particularly things which provide assistance to the needy and strengthen community bonds. 
This app was founded in Rijeka, Croatia.
With Radiojar, you can run a professional internet radio station without the complicated and costly hardware, software, and operations setup. 
You can indulge in your passion for radio while they handle all technical details. Unfortunately, Internet radio stations are difficult to launch, even for those who are technically proficient. You need a studio and a streaming service. 
A suitable radio automation system must be found and configured to work within a media library. It's also important to schedule and coordinate DJs. 
Using Radiojar, you can accomplish all of these things easily.
Radiojar was founded in Athens, Greece.
The platform connects architects, investors, and builders.
Finding good masters and getting relevant offers is increasingly tricky, whether you are building or renovating a house, cottage, or apartment. 
It is rare to find a good master, and the best ones can only be found through a recommendation. The desire to create something new and original inevitably encounters difficulties and limitations as soon as it begins.
Architects and their clients have struggled to find contractors, offers, and materials. As a result, architects are often disappointed because the project they envisioned was not realized, as the demand for masters is greater than the supply. 
In a market with a large quality gap, achieving goals requires additional effort.
This platform was created by two architects in Maribor, Slovenia.
The VivifyScrum tool allows users to manage agile projects and collaborate with their teams in one place. It is possible to use Kanban and Scrum together. Web development teams, as well as other agile teams and individuals, use this tool.
This app was founded in Novi Sad, Serbia, in 2014.
This is a developer of a recruitment platform designed to offer referral-based jobs. 
Using this platform, you can learn everything you need to know about the company before taking a step into their office project, culture, benefits, pay.
This recruitment platform was established in Sofia, Bulgaria, in 2018 by Georgi Ivanov.
The Zdraviji.ba project gives users access to useful health and medical information online.
The principal aim of the site is to provide free access to an online database of health professionals (doctors, dentists, hospitals, etc.). Users can search through this database using names, locations, and doctors' specializations on one online source. 
The health stores (optic, hearing aids, prosthetics, etc.) and clinics, hospitals, and pharmacies are also included since healthcare is directly related to them. 
Doctors and clinics can register their profiles for free. The profiles include all the information patients need to find or contact them. 
Their profiles will be shared, and users will have the ability to rate and recommend them.
This is a Bosnian website that was created a few years ago.
With Viva Wallet, you can make online payments, transfer money without billed, and pay bills. 
The Viva Wallet app and stores change how we pay for things online. Viva Wallet allows you to pay in one click to e-shops by just signing in, and the payment is made. 
You can also accept payments with Viva Wallet Business easily, quickly, and safely without going to the bank.
Viva Wallet App was founded in Greece in 2010.
With over 100 partner delivery services and restaurants, Donesi is the largest online ordering service for food delivery in metro areas throughout Serbia, Montenegro, and Bosnia and Herzegovina. 
Find the best food from local restaurants and order it online. 
Donesi is part of Foodpanda/Hellofood, an online food delivery marketplace operating in more than 40 countries.
Donesi was founded in 2006.
Rhyme is a start-up that offers hands-on training and a demo. In addition, cloud computing is utilized for installing software and configuring data. 
Users will be able to access their software using a web browser, and learners will enjoy and interact with it instantly.
This startup was founded in Bulgaria.
A valuable and fun psychometric tool, OWIWI measures a candidate's soft skills accurately.
Imagine a game that combines advanced scientific methodology with immersive gameplay that millennials will enjoy. 
Recruiters can eliminate the risk of hiring the wrong candidate, and the candidate experiences minimal stress in the hiring process. 
OWIWI currently measures four skills: Resilience, Adaptability, Flexibility, Decision Making, and the game is available in four languages: English, Spanish, Turkish and Greek – and is easily accessible via any device and web browser. 
Recruiters and managers receive immediate feedback upon completing the assessment, stating the results and areas of improvement.
This app was founded in Athens, Greece.
OptimoRoute is a routing and scheduling application for delivery routes and field services.
Through OptimoRoute, companies can automate their fleet's efficiency. Considering the road network and all logistical constraints, it will recommend which technician or driver should handle which orders. 
OptiRoute will suggest the most efficient multi-stop route to save you time and fuel. Since actual travel times and distances are used, the generated schedules are accurate and offer actual savings. 
The smartest stop sequence minimizes driving distances and time costs by analyzing the least number of stops and meets all customer expectations.
This application was founded in Zagreb, Croatia.
This is an online real estate rental and sales service with the highest standards. This offers a standardized view of the property: quality photos, video, 360-degree views, and detailed information.
Due to transparency, all information is published in advance on the site, saving users time as they will know what to expect from the property they are interested in advance. 
This company is based in Belgrade, Serbia.
With Beat's mobile app, you can hail a taxi, hail a ride, and hail a ridesharing service. As a result, beat revolutionizes the way people move around the city.
The Beat headquarters are located in Athens, Greece.
Last Words
Having read this article, did you find it interesting? Please share this article with friends who might be interested in reading it.
These other articles from our blog may be of interest to you
Summary on 40 Balkan Based Startups
Balkan Based Startup's goal is to share the most successful startups in this region and give you a taste of what the startup scene looks like here.
Entrepreneurs and startups will find out that there are many reasons to start a business in the Balkans and many opportunities for growth and profits.
As a whole, the Balkan region is economically healthy, and new business startups have excellent prospects. 
Although the region continues to receive a great deal of development assistance from international donors, there has been a trend towards more local ownership.
Many start-ups in the Balkans offer complex and straightforward solutions to make our lives easier and more convenient. The way they do that is often very creative and clever.
Many of them have already achieved success, and they wait until they become worldwide renowned.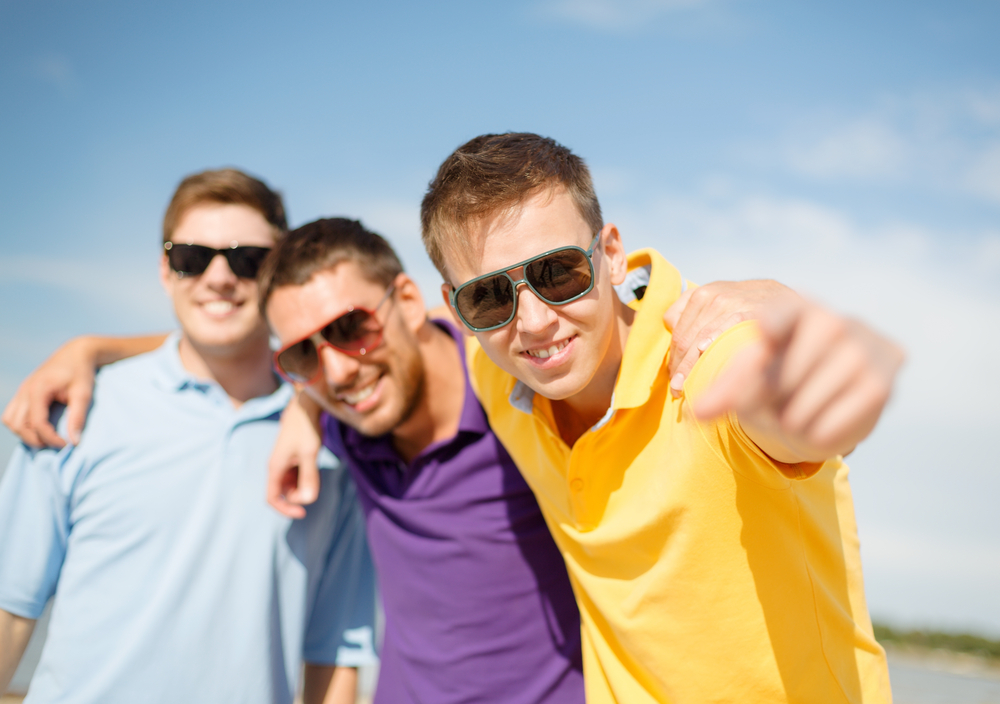 Arben G. and Will Do. – Friends since they met on Work on Travel in the States, they have been writing exhaustively about how not to do business and still make tons of money and every aspect of business for Direktorium.
When they're not writing about business, they don't know what to do and go back to writing about business. True friendship lasts even in business! (Arben is in yellow, and Will in purple shirt. Nobody knows who the douche on the left is).