Slovenia's nature is breathtaking, so come and see it for yourself. Dynamic landscapes, diversity of plants and animals await you year-round.
If you ever heard about Slovenia, do not be surprised that it only has 2 million citizens. It is so small yet so full of natural wonders. Such natural wonders can only be compared to ones that are worldwide recognized.
Now, let us guide you through the finest of Slovenia and its breathtaking nature.
Grejmo!
Check out the hottest tours right now: 
Visiting other Balkan countries? Check our nature guides:
17 Beautiful Places to Visit in Slovenia
1. So
č
a River
The first thing on Slovenia Nature: Nature Lovers Guide is the Soča River. The Soča River is considered one of the most beautiful rivers in Europe. 
https://www.instagram.com/socavalley/?hl=en 
Soča truly enchants with its shiny emerald-green color and loveliness. The canyon of the river and its waterfalls make this river a good place for kayaking and rafting.
This river is also home to a well-known fish called the Soča Trout that attracts a big number of fishermen (us as well!)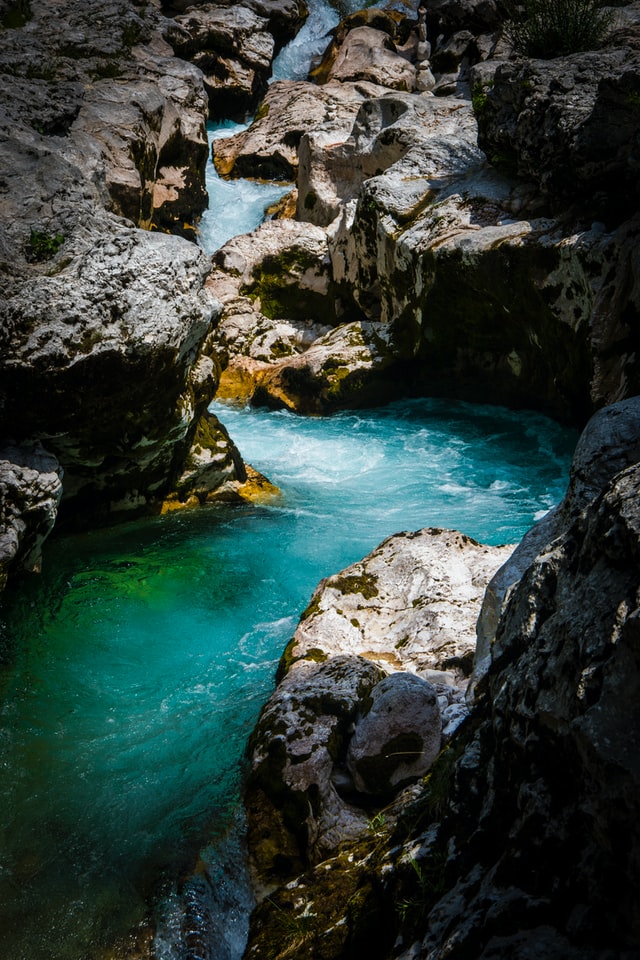 So
č
a River Tours
2. Lake Bled
Lake Bled is that famous Slovenian Lake with a small picturesque island in the middle. This lake is 50 km away from the capital city of Slovenia, Ljubljana.
It takes more than an hour to sightsee the island and the guide boats cost €20 per hour for rent.
We would describe Bled as it had escaped from a fairytale. What gives this place such a vibe? For one, we think it's the medieval castle that is on the island. 
Some places indeed deliver similar emotions to people. In Bled every person felt romantic and it seemed that love fulfilled the hearts of everyone present there. We felt that love too! (although it might have been infused with a bit of rakia!)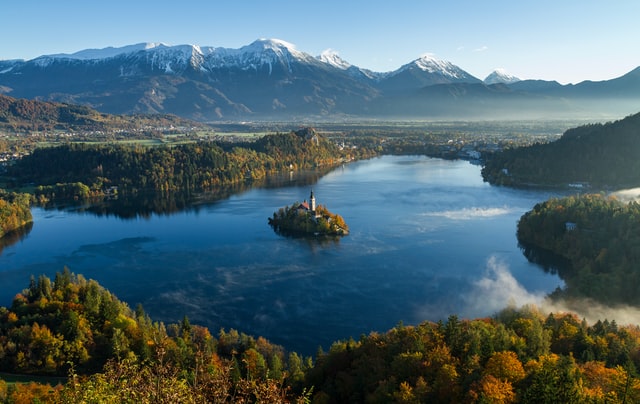 Lake Bled Tours
3. Lake Bohinj
If you crossed Lake Bled off your travel list then you should know that only 26 km away from there is the biggest natural lake in Slovenia. 
Even though it is not as popular as Bled, Lake Bohinj is a bit more calming and peaceful.
Bohinj is also a popular summer destination. It has many small and natural beaches. The water never gets very warm but it is okay in the summer. 
During the winter, this area transforms into a popular destination for skiing, snowboarding, and ice climbing. As we noticed, Bohinj seems more like a family destination.
Did you know that Bohinj is named after "Boh" which means God in Slovenian? We would not wonder then why near this lake is one of the most recognized and special churches in Slovenia.
This church is known as St. John the Baptist and it is more than 700 years old. It represents a beautiful example of Middle Age architecture and fresco painting in Slovenia.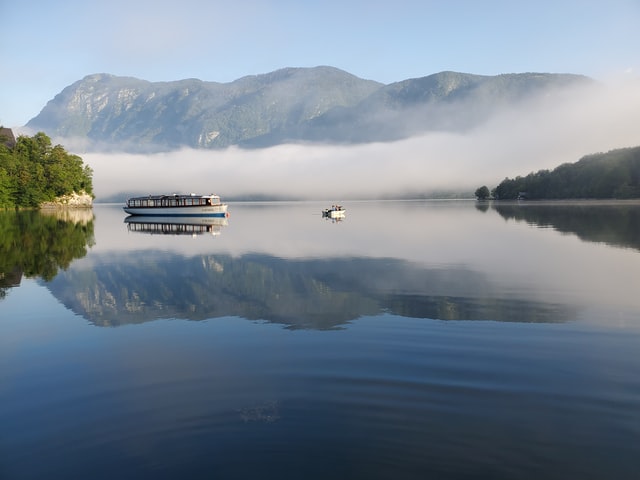 Lake Bohinj Tours
4. Vogel
Vogel is a mountain just above Lake Bohinj. It is a popular summer and winter destination. The resort is reached by gondola from the shores of Lake Bohinj. 
My summer day trip to Vogel was enjoyable. To reach the summit, you will need approximately three hours from the Vogel Ski Center cable car terminal. 
The climb does not require extra strength or endurance, but good boots are required. We didn't have the chance to see Vogel in a winter edition, but all of the people said that this was a true winter paradise. 
It is probably one of the top ski centers in Slovenia with 22 km of slopes. 
There is also a viewing platform on this mountain that although scary, the view is one that will stay in your memory forever.
Here we had to confront our huge fear of heights just to get a couple of panorama photos. However, the pictures did not even come out that well since our hands were shaking. Therefore the stock photo above.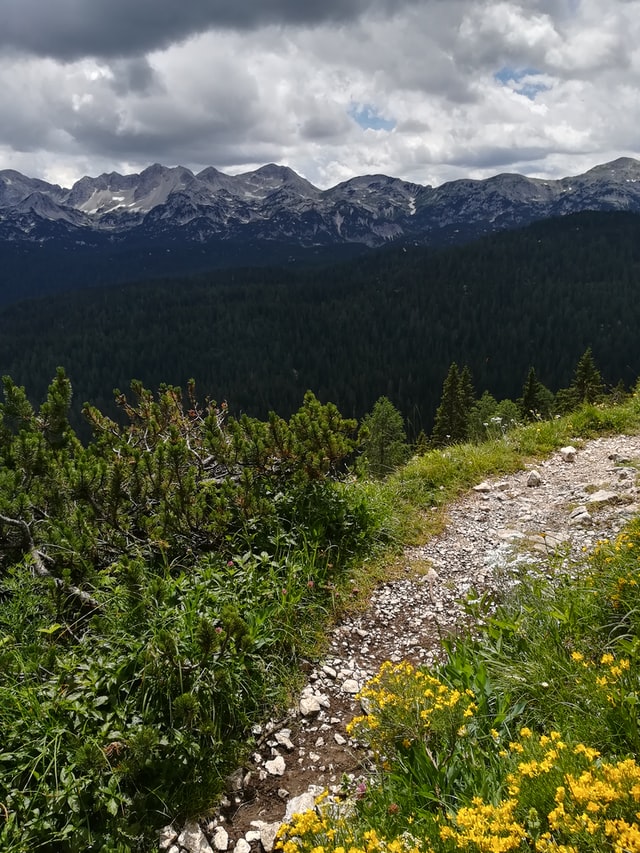 5. Vintgar Gorge
This is another destination that is very close to Bled. If you are a nature lover, be sure not to miss visiting the Vintgar Gorge.
Beautiful and relaxing, this 1.6km river canyon boasts breathtaking views. After a lovely 45-minute walk you will also be able to enjoy a waterfall on the other side.
At first, we thought this place was a bit expensive. But as we walked through the Gorge and realized how much effort went into making the walkway safe, we realized the €10 entrance was not so expensive after all.
https://www.instagram.com/slovenia_nature/?hl=en 
Sometimes we walked on a path, other times we crossed the river on a low walkway constructed over the water. 
The views were magnificent and there were lots of lovely, photogenic miniature waterfalls.
At the end of the walk, there is a cafe beside the weir. From there you can go back the way you came to see it all again from the opposite angle.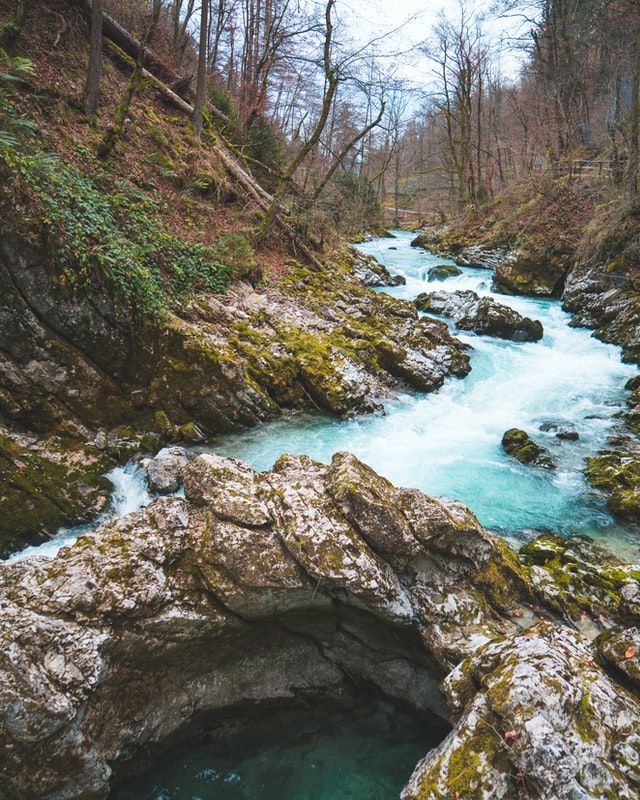 Vintgar Gorge Tours
6. Postojna Cave
It is easy to understand why this cave is one of Slovenia's most popular attractions. Postojna is 24km long and more than millions of years old. 
In the Postojna cave system, Pivka is the main river of the underground river system. 
There is a unique tourist train, the Postojna Cave Railway, that takes you through the underground system of karst corridors, galleries, and halls near Postojna. 
It was built 140 years ago.
https://www.instagram.com/exploringslovenia/?hl=en 
Although Postojna existed for such a long time it was not discovered by humans until 1818. In April 1818, Emperor Francis I and Empress Caroline Augusta were preparing to visit Postojna Cave. At that time, people were only familiar with the cave's first hundred meters.
Those responsible for preparing the cave had a lot on their plates just before the visit. On the rocks above the underground river, they had to build a pyramid with a welcome sign to give the Emperor an unforgettable welcome. 
However, by coincidence, someone discovered that this cave was much bigger. 
The hero that discovered the rest of the cave and risked his life was a brave lamplighter named Luka Čeč.
We heard the story about the discovery of this cave from a friend that I met there.
After visiting the cave we decided to drink coffee together and he told us about the animals, stalagmites, stalactites, and history of the place. We were fascinated by his in-depth knowledge.
Believe it or not, we also saw a baby dragon. No, we are not joking. There is a specific fish that lives in this cave that looks a bit extraterrestrial. It has human-colored pale skin, no eyes, and short legs. 
Since these tiny creatures live in darkness and are isolated from many other factors, they developed different ways to function. 
Their skin is particularly sensitive to light, which makes them very good at sensing prey. They can survive without food for up to twelve years and possess a lifespan of up to 100 years. Up to twelve years without food! Can you imagine that? We can't live an hour without cevapcici.
Postojna Cave: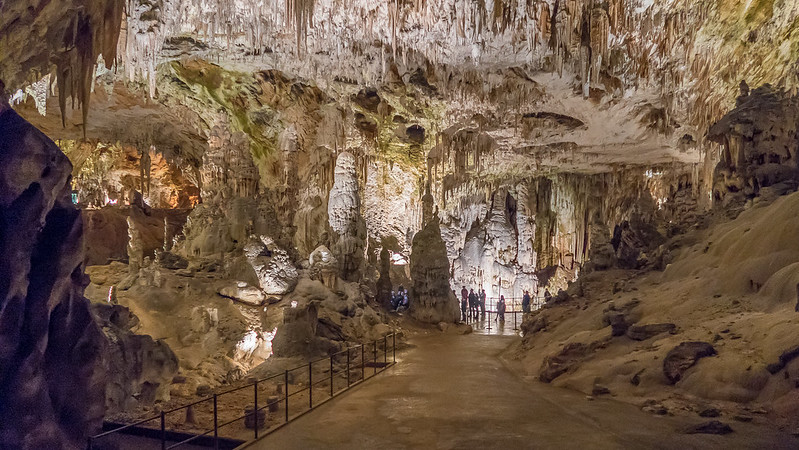 Baby Dragon: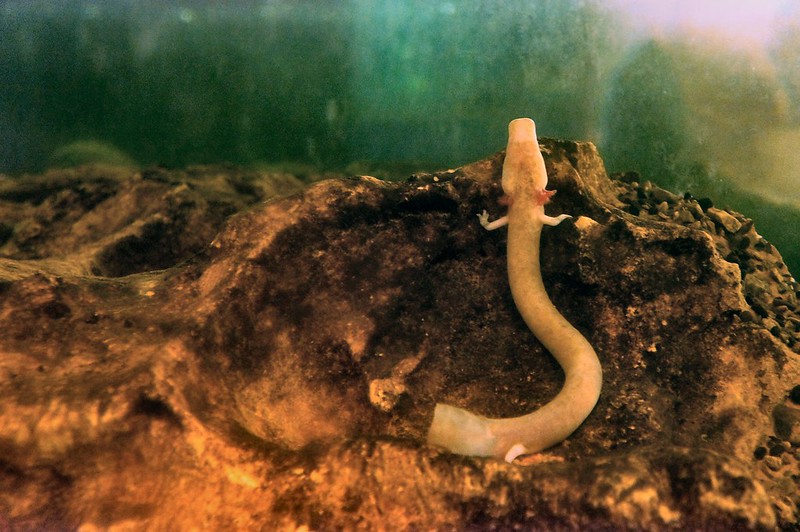 Postojna Cave Tours
7. Predjama Castle
A few kilometers away from Postojna Cave is the Predjama Castle. Located in the mountains, the castle has a peaceful and tranquil atmosphere.
What makes it so special is that it is built inside the mountain. If you really enjoyed Postojna Cave, there is another cave here just below the castle.
The first mention of Predjama Castle dates from 1274. The Patriarch of Aquileia built it in Gothic style in 1307. 
https://www.instagram.com/nature.adventures.slovenia/ 
The Luegg family, whose most renowned member was Erasmus of Predjama, later rebuilt it. The only completely preserved cave castle in Europe is in fact this castle.
We had seen online photos of Predjama Castle that made it seem much bigger than it actually is. However, its location is still impressive. It is much less crowded than the nearby Postojna Caves, and the visit was more enjoyable because of the peace. 
The castle had a brief audio tour, but no special exhibitions were on display. We found the part of the castle built inside the cave to be the most enjoyable part of our visit.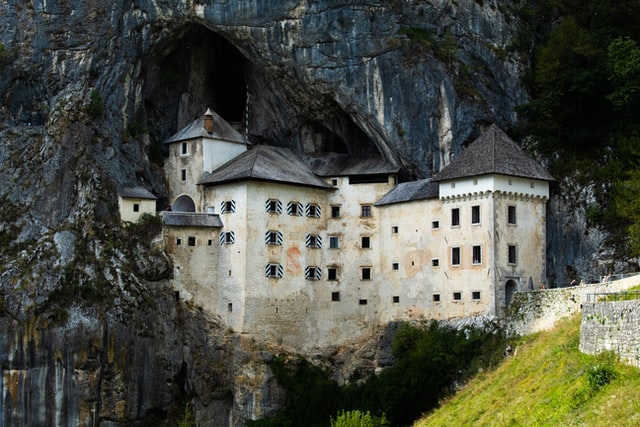 Predjama Castle Tours
8. Lake Zelenci
Another lake finds itself on the list of Slovenia Nature: Nature Lovers Guide. That is the charming Lake Zelenci situated in Kranjska Gora.
It is a very beautiful natural park with a dazzling emerald-colored lake. We found the entire place to be serene, and quieter than Lake Bled. A small lake like this is very picturesque.
From what we've seen from the pictures, this lake looks different in the summer and the winter. It looks very sweet and cute when it is hot, but when there is snow and ice it seems mysterious and fearful.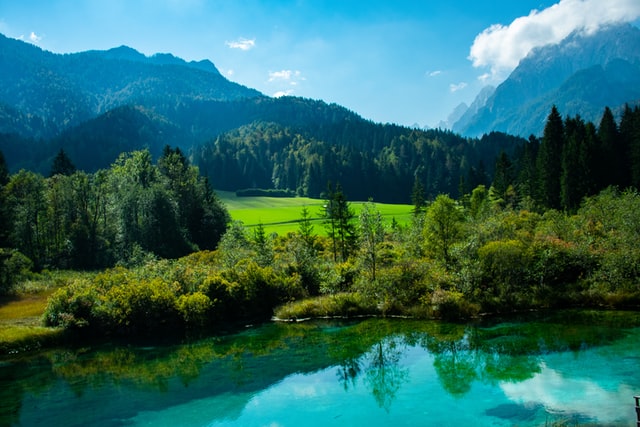 Lake Zelenci Tours
9. Savica Waterfall
In Slovenia, Savica Waterfall is regarded as the most beautiful waterfall. At 78 meters in height, it represents the wild alpine waters of the Triglav National Park with great intensity. 
Savica is not far from Ukanc village and lies at an altitude of 900 meters.
It captivates all who explore it as it combines the unspoiled natural beauty of the area with the beauty of the alpine scenery.
However, there are a few downsides. This place is a long drive except if you are near Bohinj and also since this is a very famous attraction in Slovenia it can get very crowded.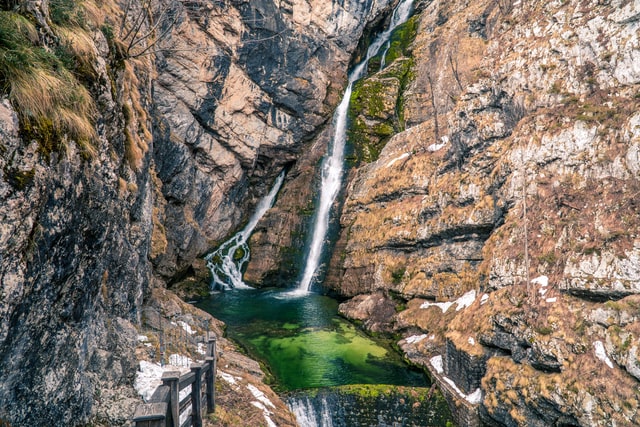 10. Vrsic Pass and the Julian Alps
The Alps reside in 8 countries and Slovenia is one of them. The highest peak in Slovenia is in the Alps and it is called Triglav. It used to be also the highest peak in the Former Republic of Yugoslavia.
We are mountain lovers and we admire the wild beauty of the Alps. So we are very excited to retell our experience of this place. 
https://www.instagram.com/nature.slovenia/
Many of the Slovenian attractions that we mentioned above are situated in the Julian Alps, including Lake Bled, Vintgar Gorge, and the Soča Valley.
First, do you know why they are called the Julian Alps? You probably would not guess that they were named after Julius Caesar, would you?
Now let's talk about Vrsic Pass. It is a mountain that is 1611 meters above sea level. Vrsic connects the Savska and Soska valleys. 
This is the highest mountain pass in the Eastern Julian Alps. Located at the top of the pass is the Ticarjev mountain hut, where you can have a relaxing cup of coffee or even spend the night. Just as we did. Without coffee though! 
Several mountain huts are available on Vrsic. Our favorite place on the Vrsic Pass was the Russian Chapel.
The chapel is indeed a cultural monument built-in memory of many Russian prisoners of World War I. They were buried by an avalanche during the construction of a road across the Vrsic mountain pass.
We would recommend visiting this place in the summer. This place gets tricky when there is a lot of snow and ice.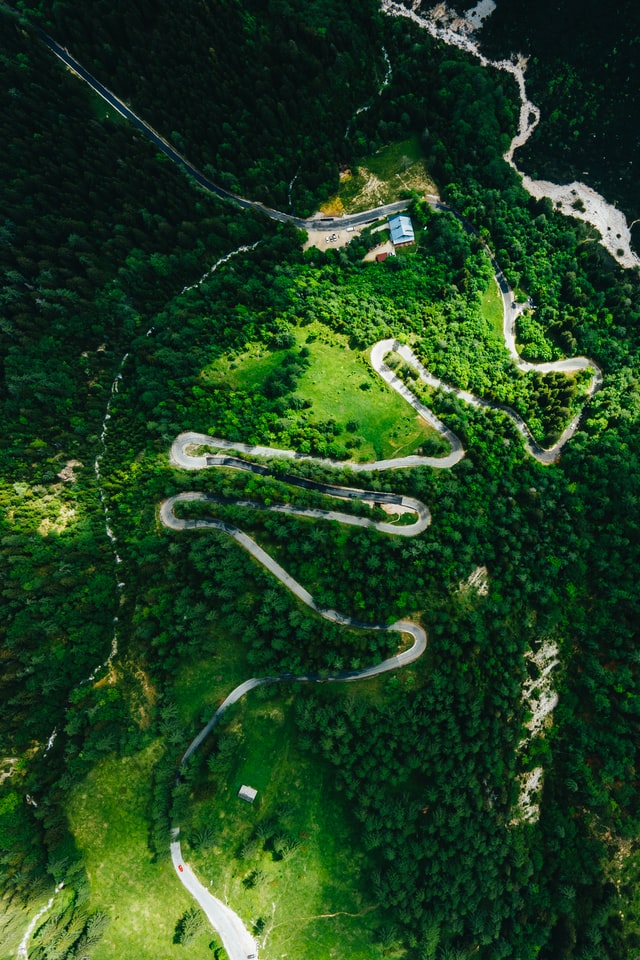 11. Pericnik Waterfall
Amidst Slovenia's many beautiful waterfalls is the Pericnik waterfall. A must-see. 
It takes some 10 minutes of driving from a small city called Mojstrana which is close to the highway to Ljubljana. 
There is a parking place near the Peričnik falls which costs you a few euros. But that is the only money you pay here because the entrance is free. You only need to hike up 5 minutes to get to the first waterfall. 
There are two waterfalls, the other one is smaller than the first. You should be careful only because the paths are very slippery. Also, you will probably get wet, just as we did.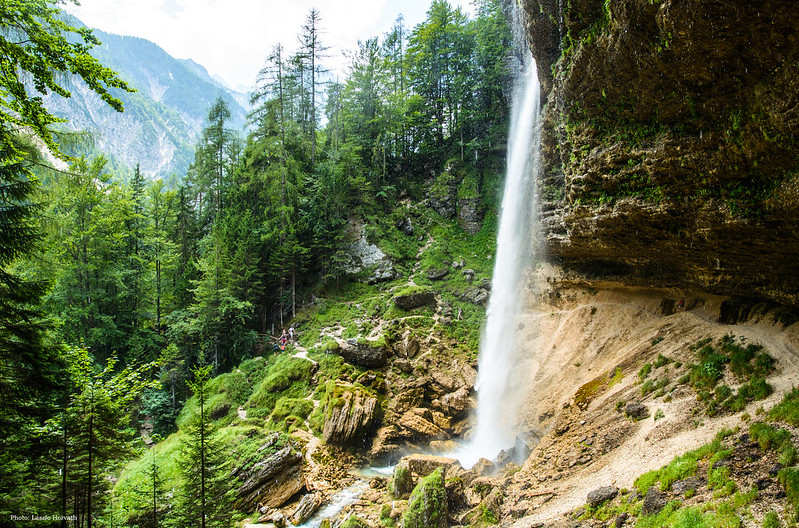 12. Logar Valley
The list of Slovenia Nature: Nature Lovers Guide surely would not be complete without the Logar Valley. It is located in the Solčava region and it's one of the most recognized Slovenian attractions.
Logar Valley is 7 km long and 250 meters averagely wide.  Log is the lower section, Plest is the middle, and Kot is the upper section. Kot is partly covered in forests while Log and Plest have lovely meadows. 
Among the local attractions is the famous waterfall in the valley called Rinka Fall. Located at an altitude of 1,280 meters, the Savinja waterfall is considered Slovenia's highest waterfall.
What we don't want you to miss here is to visit the charming village Solčava. After a long day of visiting the Logar Valley, you probably would be hungry. That is the time to try Solčava's traditional cuisine.
Savinjski želodec, mushroom soup, soured milk with buckwheat žganci, cottage cheese dumplings, strudel are some of the most well-known local dishes.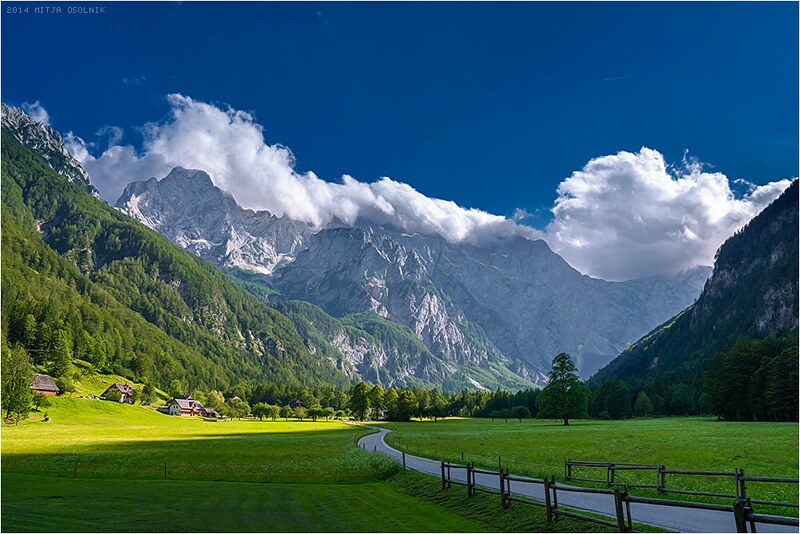 13. Ljubljanica River
In Roman times and up until the mid-19th century, Ljubljanica was an important route for trade and supply.
As it flows towards Ljubljana, the river flows through the unique natural landscape of the Ljubljana Marshes. One of Slovenia's most significant archaeological sites is Ljubljanica. 
Even prehistoric objects have been found during excavations. Historically, the river was believed to have held cult status.
A visit to the River Ljubljanica can fit into any schedule. There is a wide selection of cafes and restaurants serving local and Mediterranean cuisine. On your way, you will see historic buildings and bridges. 
A drink at one of the cool bars will end your day on a high note. During my time in Ljubljana, we found ourselves returning frequently to this part of town.
Ljubljanica is 41 km long. It rises in Vrhnika, passes the capital of Slovenia, Ljubljana, and just a few kilometers away from Ljubljana it outflows in the River Sava.
What would make visiting Ljubljanica more adventurous? We would highly recommend kayaking from Ljubljana to Vrhnika. You just need to choose a sunny day and rent a kayak. We enjoyed this kind of tour more than going on a boat. 
You can take time and flow through the river at your own pace. Do not forget to take your camera! Especially if you go in spring when everything is bloomy and picturesque.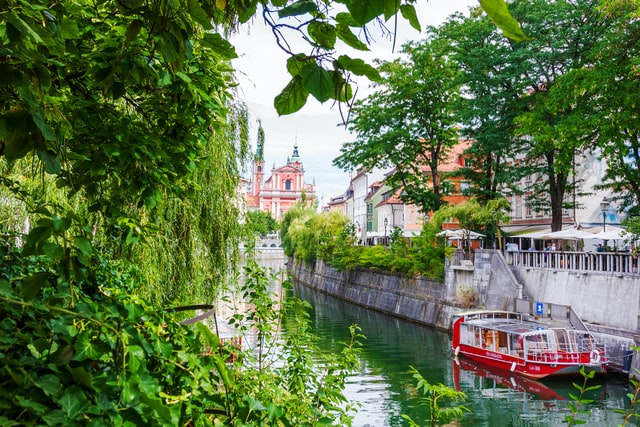 14. Kobarid
Kobarid is a small town in Soča Valley, Slovenia. It has a population of only 4,400 inhabitants. In our opinion, the people were very nice and welcoming. This charming town gives a blend of Mediterranean and Alpine vibe.
This town offers many cultural places such as the Kobarid Museum, the Cheese Museum, St. Anton Church. 
The most famous one is the Napoleon Bridge. Napoleon's soldiers marched to Predel Pass across this stone bridge.
Kobarid Museum offers a captivating insight into a major battle during World War I held in this region. 
Particularly interesting was the video projection display with a map that was made for the battle. Variety of interesting displays and a very nice place to visit.
The best thing in Kobarid's vicinity is for sure the Kozjak Waterfalls. It takes 45 minutes to hike to the Kozjak waterfall from the town center of Kobarid. The hike has beautiful scenery full of nature.
The special thing about the Kozjak waterfall is that it is situated inside a cave. Moss covers the cave walls, making it a very magical sight. This waterfall reaches a height of 15 meters.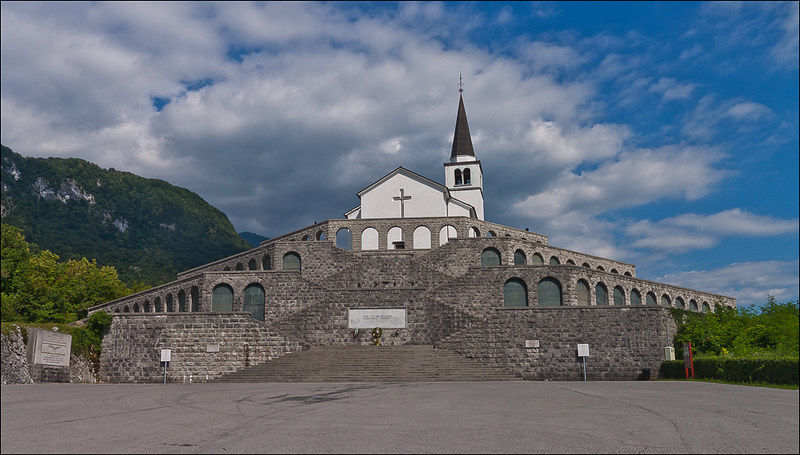 15. Dreznica
Most people forget to visit Dreznica while being in Kobarid. This village is close so you should not miss it. 
What catches the eye and represents a symbol of this village is the Sacred Heart Church. This Church has a 52 meters high belfry and has many artistic paintings inside. The paintings were made in World War II by Slovenian modern artists.
Now let us tell you something more about the Sacred Heart Church and Dreznica.
As a result of the outbreak of World War I, the majority of its inhabitants were evacuated to a safe location in the interior of the Austro-Hungarian Empire. 
After the Italian invasion of Austria-Hungary, the village was occupied by Italian troops, and the inhabitants were sent to internment camps in Italy, where many died from malnutrition and poor conditions. 
Everything from the village got destroyed except the church.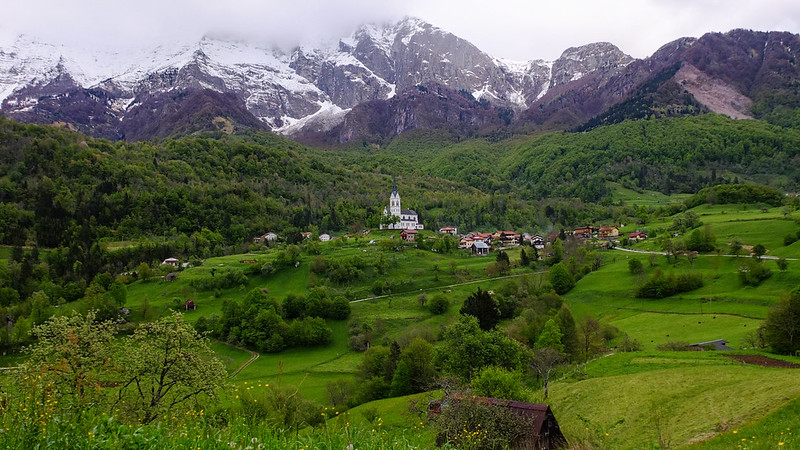 16. Škocjan Caves
The Škocjan Caves do not only find themselves on the list of Slovenia Nature: Nature Lovers Guide, but they also find themselves on the list of UNESCO's national heritage. 
Škocjan Caves are Karst caves similar to the Postojna Caves, just less commercially oriented.
This remarkable natural attraction has been created by the River Reka that springs from the Snežnik plateau. Following its journey in Italy, it disappears underground and reappears on the surface after 34 kilometers. 
Škocjan Caves are said to be known for many thousands of years but they were discovered formally in 1888.
There are about 6 kilometers of underground passages in this limestone cave system of collapsed dolines. 
It is more than 200 meters deep, has the largest known underground chambers and many waterfalls.
For us visiting the Škocjan Caves was such a workout. Nobody said that the whole tour contains almost 1,000 stairs!
We can assure you that you won't even notice that taking pictures isn't allowed since you'll be so busy admiring the canyon and the previous chambers.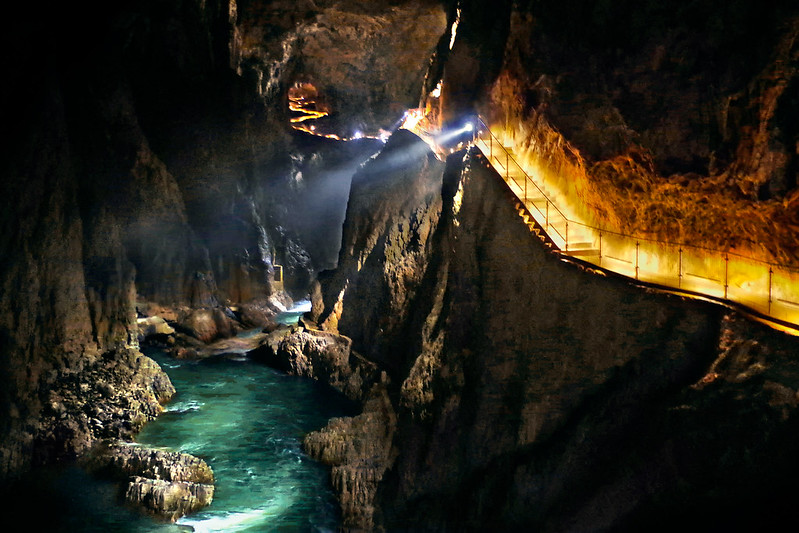 Škocjan Caves Tours
17. The source of the River Krupa
One of the most gorgeous karst springs is the source of the River Krupa in Bela Krajina.
The source is situated beneath a 30-meter high rock cliff. The source is so strong that people built a flour mill and a sawmill. 
We have read that this river is the only place in Slovenia where you can find the cave oyster. 
Here you can also find the human fish, which I mentioned above in the Postojna Cave, and some cave snails. That makes this place biologically significant.
The whole River Krupa is very lovely. But there is a big problem that we think made this place kind of infamous. It is extremely polluted due to a manufacturing company near Semič.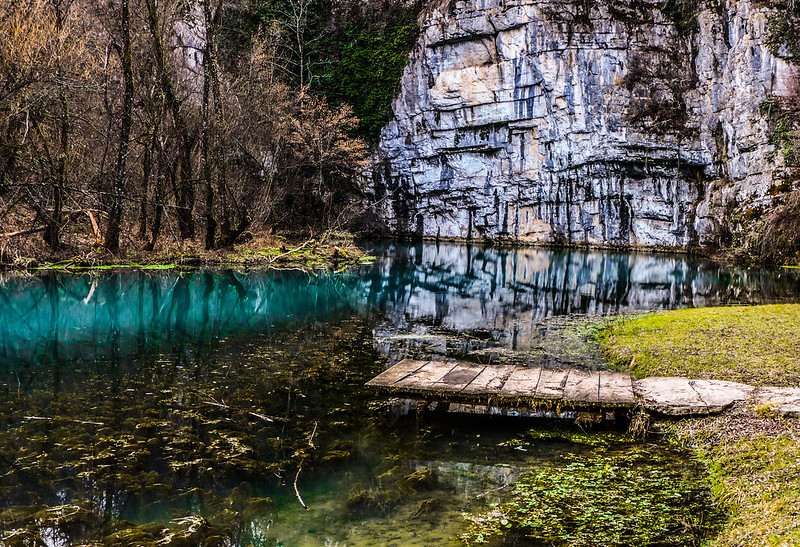 Wrapping up on Slovenia Nature: Nature Lovers Guide
Emerald rivers, wild mountains, old caves, beautiful canyons, and so on and so on. What more would you want to lose if you do not see this country at least once in your lifetime?
We tried our best to give you a variety of choices and to find interesting and catchy information about the places. 
Leave any comments if you have any suggestions of other natural beauties in Slovenia that we may have missed.
If you are interested in reading similar articles to Slovenia Nature: Nature Lovers Guide read these similar articles: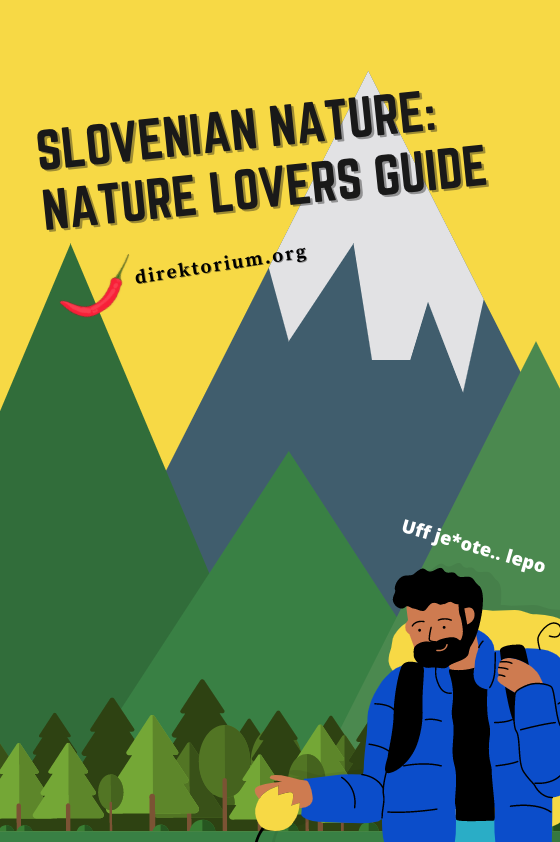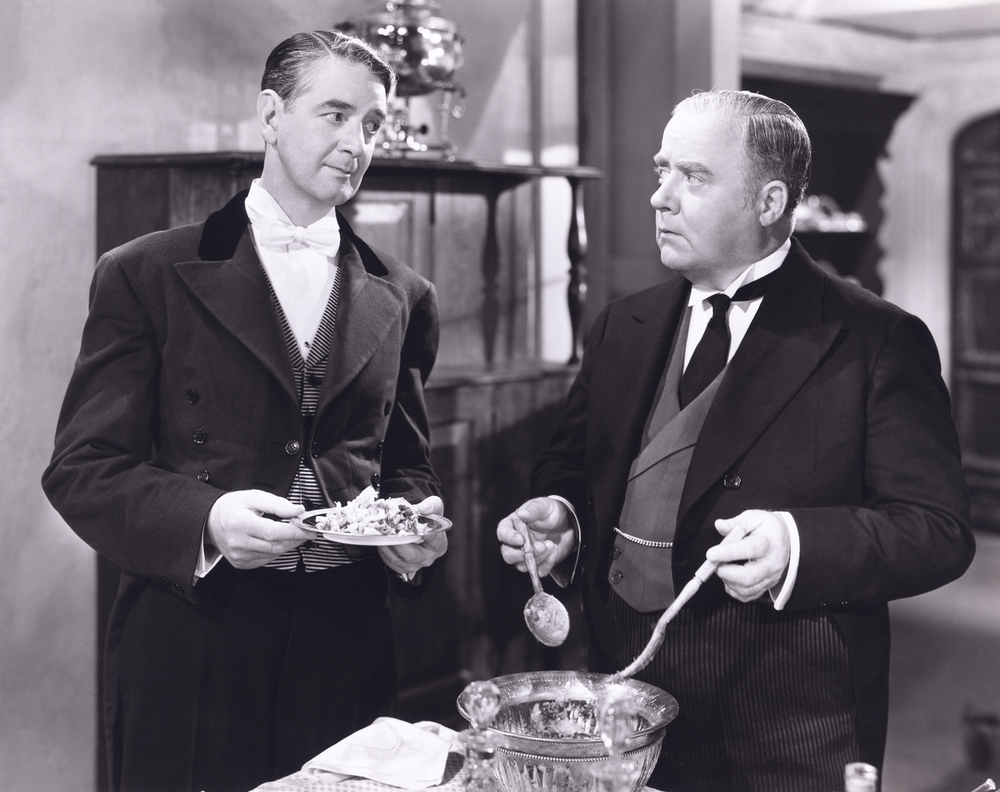 Avid travelers, passionate fishermen, and all-around great guys to hang out with (therefore the reason why they are the ones traveling around and not the rest of us, introverts and repulsive individuals). When not writing about their latest trip or catch, they drink beer, play the synth and call their friends to unpurposefully annoy them. A lot.