Known for its rich history, Krempita is an excellent dessert. It is popular in Germany, Slovenia, Serbia, Croatia, Macedonia, Poland and of course, Bosnia. 
A creamy, flaky cake that is just sweet enough to make you smile without being overwhelming. It never fails to please. The good news is, Krempita is also highly satisfying to make!
There are many different variations and presentations of this vanilla custard cake. There is no doubt that everyone has a favorite, but you will find my version of the Krempita recipe one that will definitely be easy to make! Enjoy!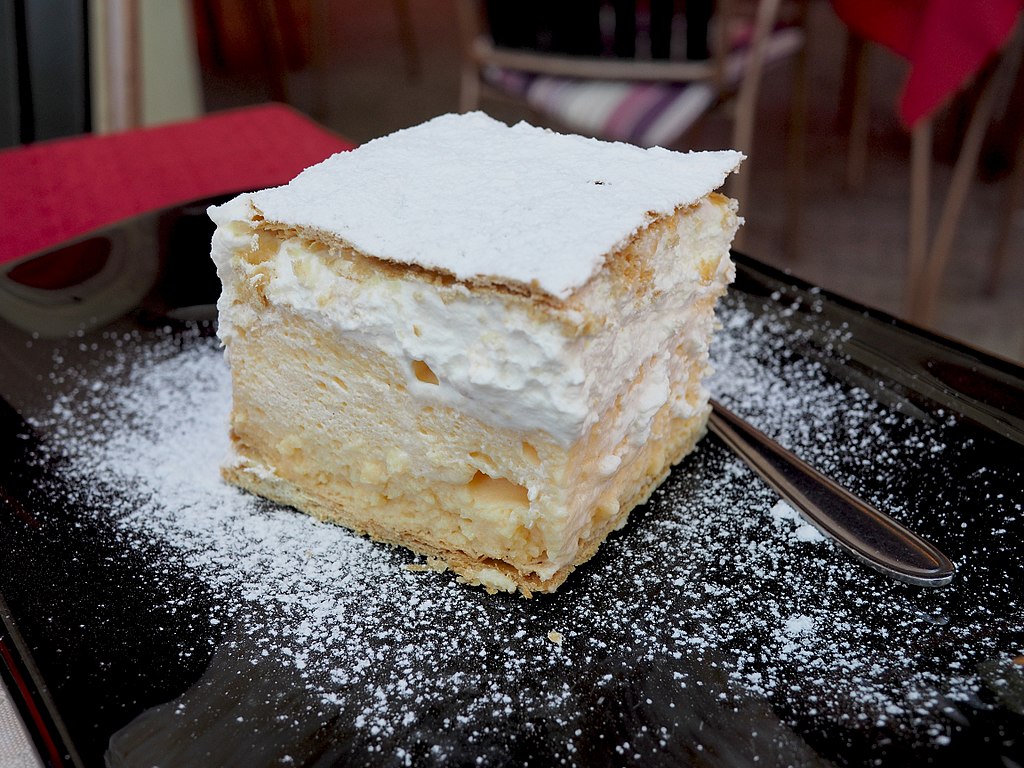 What Is Krempita?
Krempita is the heaven of custard cream. Having a few bites of this dessert filled with creamy vanilla custard and layers of flaky puff pastry will take all your worries away in no time. 
This krempita recipe does not require baking, making it very simple and fast to prepare, but it will be sure to impress all of your guests.
The Krempita recipe is from the Serbian kitchen cookbook and is also popular in Poland and Romania as kremowka, a pastry dessert made of puff pastry and sugar. The word Pita means "pastry dough" and has nothing to do with Middle Eastern flatbreads. The word krem means "cream." 
Two or three layers of pastry can be used to make this dessert. The key is to prevent the pastry from puffing up too much while still being flaky.
Krempita Origin
Originally from the Austro-Hungarian Empire, Krempita is a very old, traditional and famous European dessert. It dates back to the 40th year of the Empire, or more precisely, 1840. Krempita has existed in the Hungarian kitchen for a long time, but it wasn't as widespread as it is today. 
However, during the Empire, the cake was prepared and sold in various confectioneries and cafes across Europe.
Kremšnita is a Croatian term borrowed from Cremeschnitte (Millefeuille in German). There is a variety of regional variations featuring puff pastry and vanilla cream, similar to the pastry cream. 
The Slovakians call it Kremna Retina; the Slovenes call it Kremes; and the Serbs, Macedonians, and Montenegrins call it Krempita.
In the past, cream desserts were highly appreciated by all. Unfortunately, the recipes for Krempita do not exist in old cookbooks because puff pastry and vanilla cream result from the development of culinary technology in the early 20th century. Every bite is sure to be a delight.

Simple Krempita Recipe
You'll love this Krempita recipe! Throughout Europe, puff pastry topped with vanilla custard cream is one of the most popular and loved desserts. 
As you can imagine, this dessert has several variations, but I can safely recommend this recipe as one of the best. This recipe is straightforward to prepare, only requires a few steps, and the end result will definitely amaze you!
It's not difficult to make your own Krempita, especially if you use store-bought puff pastry.  While the cream can be prepared quickly, the hard part is simply waiting for it to set in the refrigerator.
Ingredients
2 sheets frozen puff pastry, thawed

6 large egg yolks

6 tablespoons granulated sugar

2 tablespoons instant flour

1 1/2 cups milk

2 packages unflavored gelatin

2 tablespoons vanilla sugar

1-quart heavy cream, whipped with the vanilla sugar

Powdered sugar, for garnish
Krempita Recipe Step-By-Step Instructions
Heat oven to 200C/400F. Lightly roll out the puff pastry to blend the seams. Each pastry sheet should be lightly scored into nine sections without cutting all the way through. 
Each puff pastry sheet should be separated from two cooling racks by two pieces of parchment paper. They will keep the pastry flat and flaky.
Bake for 15 minutes, then remove the top rack and parchment paper. Place the rack back in the oven and continue baking for approximately 15 more minutes until the crust is golden. Let it cool completely.
In a bowl, combine egg yolks and sugar and whirl until thick and lemon-colored. Add the instant flour and milk, and stir well. Place the pan over a double boiler. Stir the custard constantly until it thickens slightly.
Remove from heat. In 1/2 cup cold water, dissolve gelatin completely. Stir the gelatin into the hot custard until it dissolves completely.
Stir the custard occasionally in an ice bath while cooling. The custard may be strained through a sieve if it has lumps due to being cooked at too high a temperature or undissolved gelatin.
Layer Puff Pastries And Refrigerate
Fold in the sweetened whipped cream when the custard is cool and thick, but not yet set. One sheet of baked puff pastry should be layered over another sheet. 
It should be refrigerated at least 1 hour before serving. A dampened serrated knife makes slicing easier. Form rectangles out of the slices. Sprinkle powdered sugar over the slices.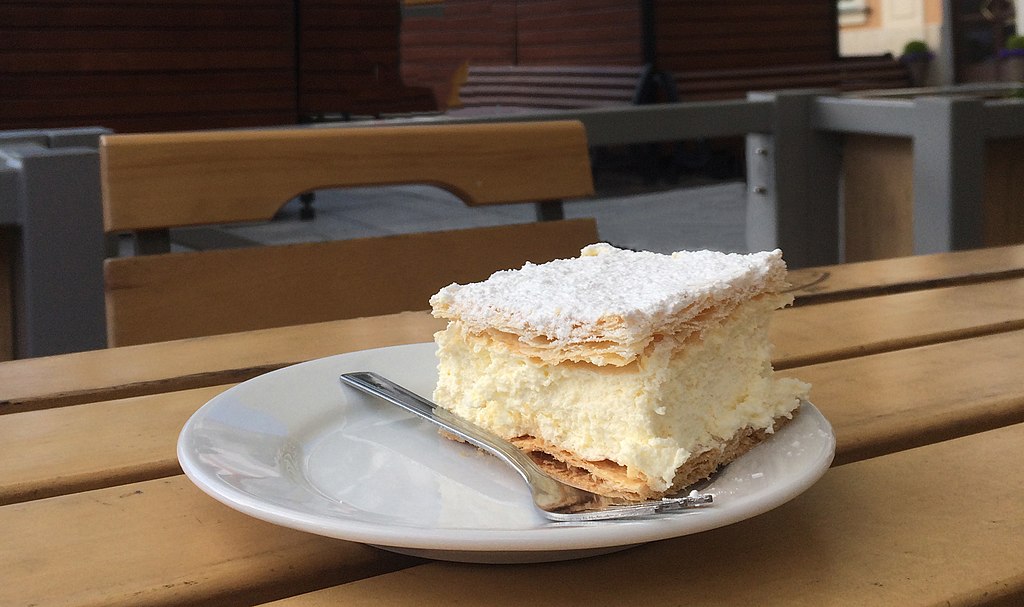 Krempita Recipe Serving Suggestions
The holiday of Easter is one of our favorite times of the year, and we all enjoy sharing it with family and friends.
So, treat your loved ones with something special this year and make this wonderful Easter Krempita dessert. Easy to prepare and fun to eat—you're sure to enjoy it!
Serve this after a delicious home-cooked meal, as it is a light dessert that everyone will enjoy!
Looking for more recipes? Check these Balkan food guides:
And our massive country guides:
Finally, our curated Balkan food guides: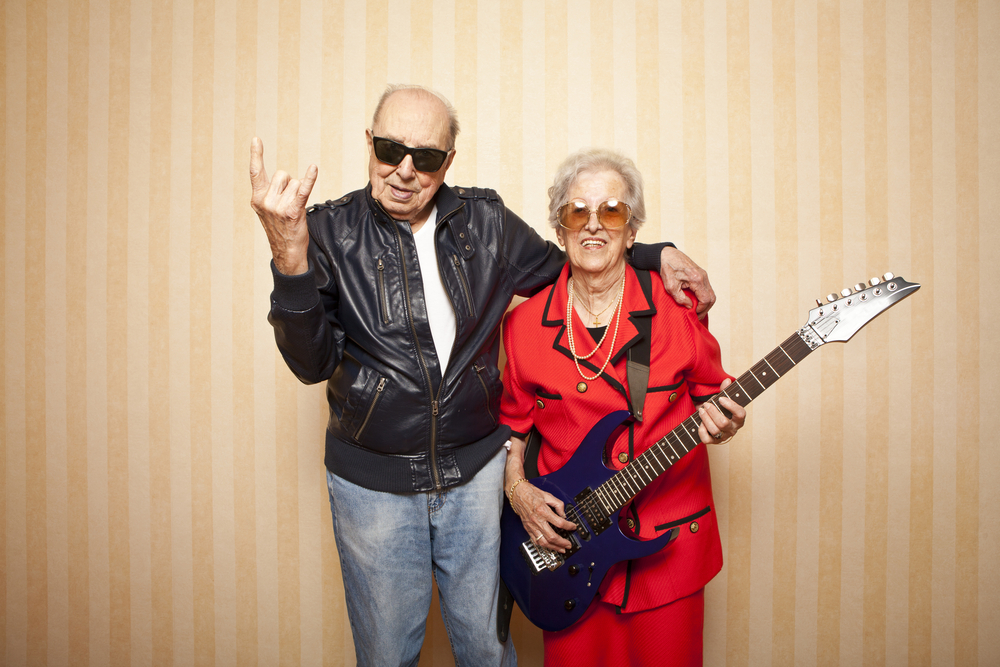 Jadranka Y. and Pero K. Foodies, lovers. Jadranka is the queen of pastries and sweets, whereas Pero is the prince of meat and potatoes.
They met at 15, while working in the kitchen of a famous chef here in the Balkans, and have been together ever since.
But they still love each other and are faithful till death or until one messes up their dish. Which happens quite often if you ask anyone of them.
Love is a battlefield and Jadranka and Pero decide who wins, in the kitchen.