If you have never tried Burek, you're missing out! Burek is a baked Central and Southeast European flaky-filled pastry that totally rocks!
In former Yugoslavia, Burek was traditionally a meat-filled pastry. However, there are different versions of the dish with variations in how the filling is added and shaped into a roll. This article will show you a simple burek recipe to try and do at home.
Given its popularity, Burek has been available for breakfast, lunch and dinner all over the Balkan countries, in every pastry shop or bakery. There are even special shops where you can only buy Burek!
The outside of this baked goodie is flaky and crispy, while the inside has lots of meat or even cheese. After trying it, it won't be long until you're hooked on it!
You can find these rolls in bakeries everywhere, and they're often served alongside yogurt. But, if you are not currently in the Balkans and still want to try this specialty, then why not try this recipe and prepare Burek yourself?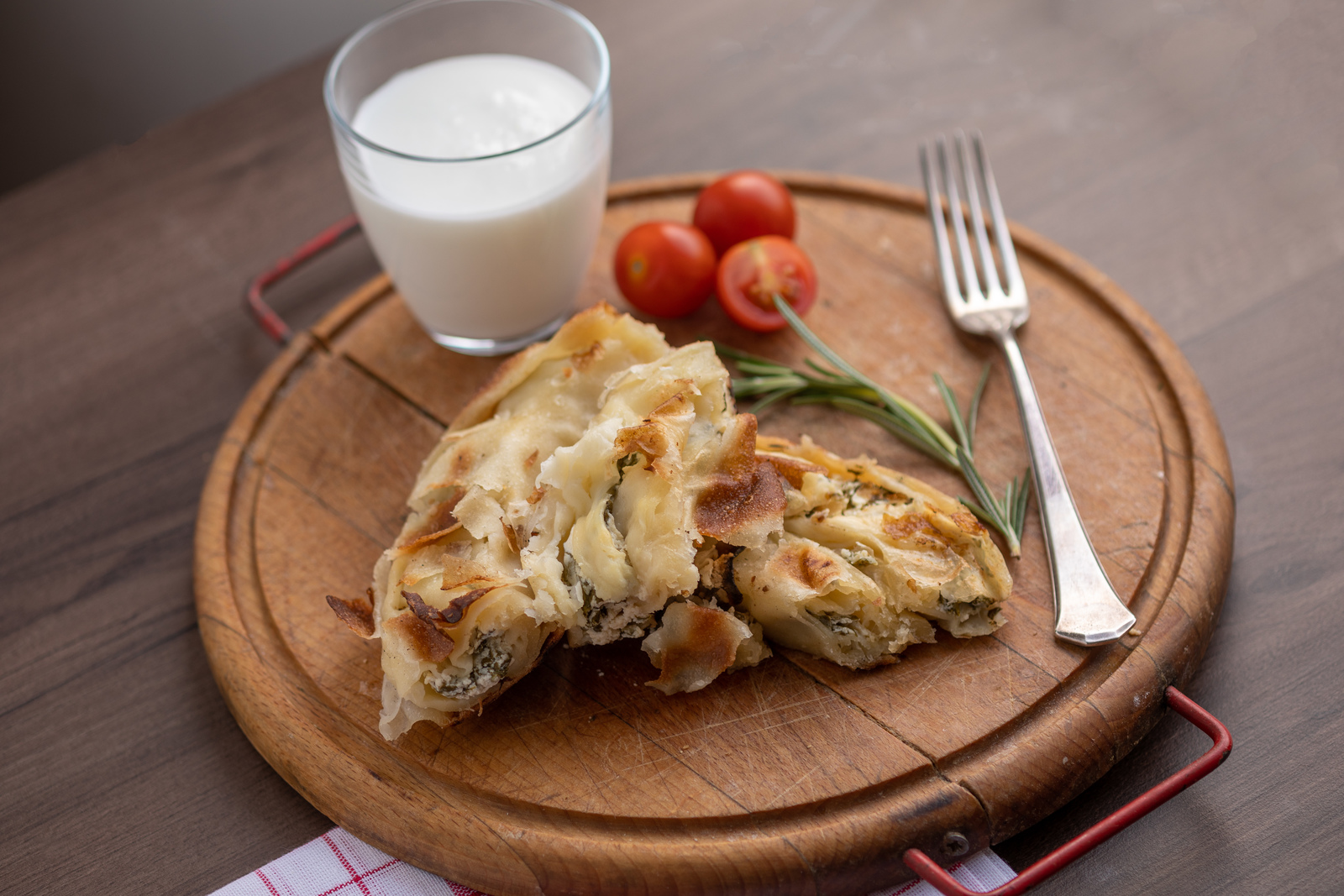 What Is Burek?
If you asked someone to guess the most famous pastry in a Balkan country, they would probably say Burek! This is because it can be found in most bakeries and dedicated Burek stores.
Ѕo you're probably wondering what this traditional Balkan treat is actually made of? The answer: phyllo dough, stuffed with your choice of meat, cheese or spinach – and this is just one burek recipe out there.
Typically, Burek is a meat-filled pastry. The most common fillings are ground beef or ground lamb that is seasoned with onion and spices. The traditional preparation method uses ground meat stuffed into the dough precooked and spiced before being used as filling. 
Burek is fun to make because you don't need many ingredients, and you can get creative with the fillings. As a result, it's possible to make a lot of different versions!
No matter what version you choose to make, everyone will enjoy the flaky crust and delicious chard leaves that wrap up this tasty dish.
Burek Origin
The origins of these baked beauties can be traced to what is now Turkey, specifically the region around Ankara. However, it spread to other Ottoman Empire cuisines and was adopted by neighboring countries in the Balkans, who have adapted the recipes according to local tastes!
Burek is a very traditional Yugoslav dish still enjoyed by many people in the Balkans today. It is one of the most popular pastries in countries like Serbia, Bosnia, Macedonia, Montenegro & Croatia!
The name originates from the Turkish word Börek, which means pastry, and today you can hear many variations of that word and recipes too!
Burek Recipe
Although there are many different varieties of Burek, my favorite is the ground beef version. 
If you want to try a different version, just replace the meat with either white cheese or cooked spinach, and you will get a dish just as delicious!
Here's an easy-to-follow recipe that will help you make this delicious pastry yourself. Enjoy!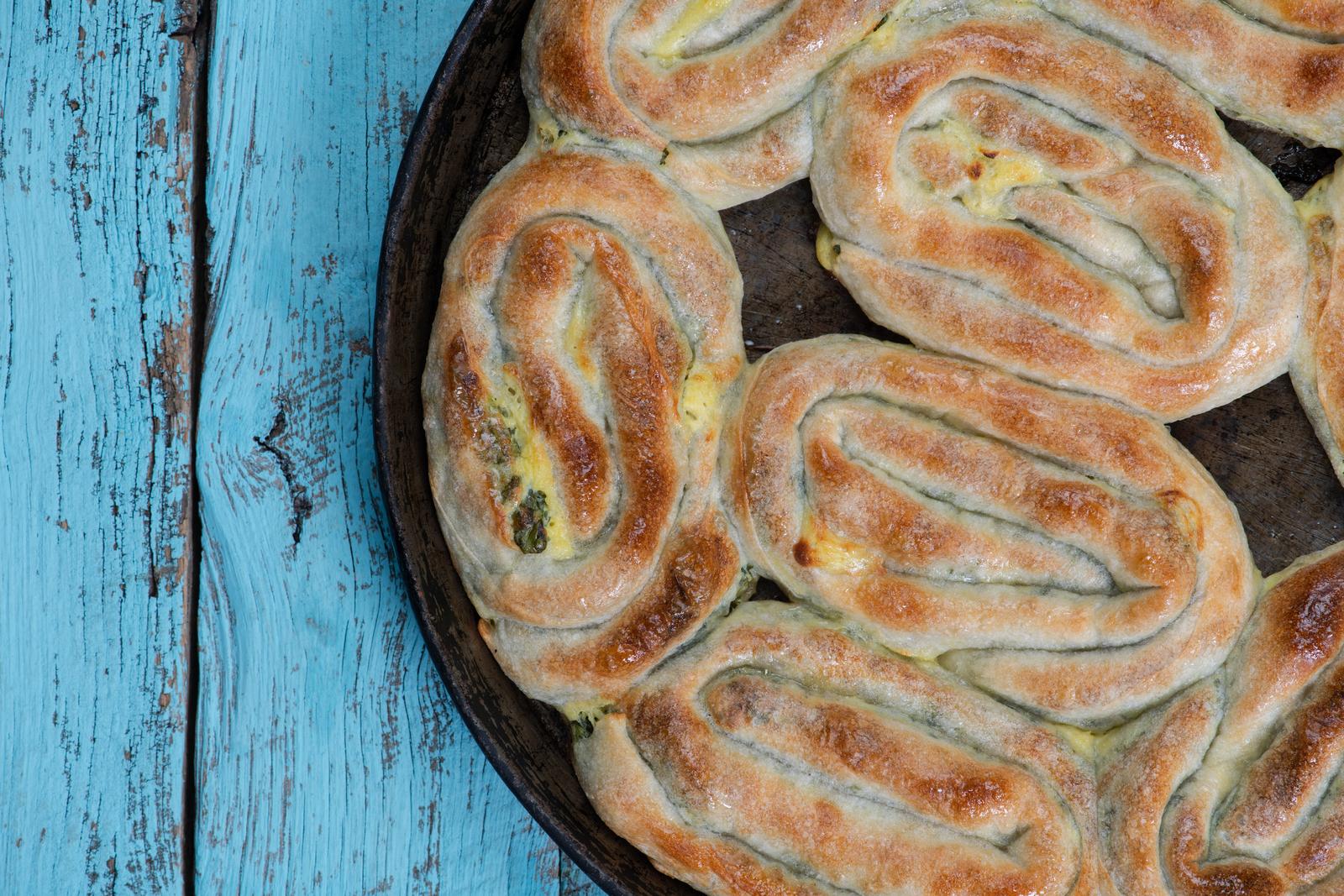 Burek Recipe: Ingredients
500 grams (1 lb) ground beef

1 medium yellow onion

1 tsp olive oil

1 tsp ground allspice

2 tsp paprika

Salt

Ground black pepper

Phyllo pastry sheets
Burek Recipe: Step-By-Step Instructions
When you have gathered all of your ingredients, set them aside and grab a large frying pan.
Place the pan over medium heat and add the oil. Give it a minute to heat up.
You should already have your onion finely chopped. Toss the chopped onion in the pan and fry until soft and brown. 
This is the part where you also add your meat, and in this case- ground beef! Stir it together with the onions and add salt, pepper, allspice, and paprika to taste.
Cook your mixture over medium temperature the whole time until the beef is crumbly but not dry. Once it is cooked, set it aside and let it cool completely.
 A delicious aroma will waft from this filling!
Turn the oven to 375 F as the ground beef mixture cools down.
You need a special kind of dough called phyllo dough for this pastry. Once baked, it creates a flaky texture and is used in many other Balkan-baked goodies!
While you can readily find frozen phyllo dough in most markets, it is always preferable to make your fresh phyllo dough, especially if you want to make the best Burek! 
This recipe has five main ingredients: raki, olive oil, lemon, and flour.
As an alternative, if you're new to baking and making this pastry, you can get yourself a pre-made batch.
You should open the box of dough after it has reached room temperature. Then, layout one sheet of phyllo dough on the counter, brush it with some melted butter and make sure the butter is not too hot.
Using a large cookie sheet and a heavy towel, cover the remaining dough sheets so they don't dry out while working with them. 
Once your first sheet has been spread out and covered in butter, place 1/3 cup of the meat mixture along the longer side of the sheet, 2 inches from the edge.
Cover the meat mixture by folding the bottom over, and roll it into a snake. Split the snake in half, and coil each half into a snail.
This is just one way to shape Burek, but different recipes have different folding techniques—and this seems to be the easiest one!
Make sure that the rolled-out dough is placed on a nonstick baking sheet and snugly pressed against the edge to prevent it from uncoiling. Use more butter to brush the dough on top. 
Continue to fill your phyllo rolls with the meat mixture until all of the mixture has been used up.
After 15 to 20 minutes of baking in the preheated oven, the crust should become golden brown.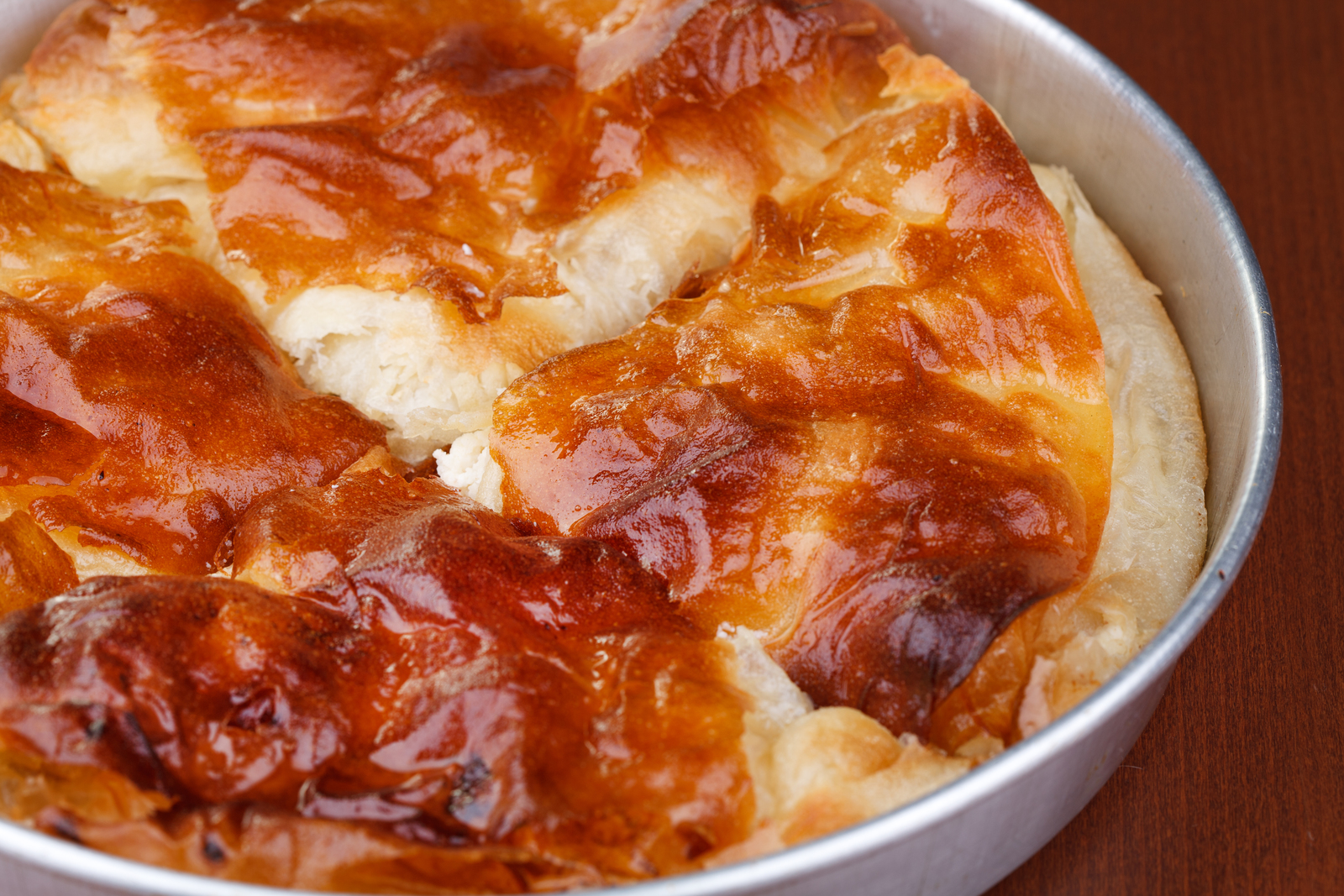 Burek Recipe: Serving Suggestions
As your home fills up with the yummy smell of freshly baked Burek rolls when you take them out of the oven, you'll probably wonder what the best way to eat this delicious pastry is!
If you ask anyone from the Balkans, they will give you a straightforward answer. There is only one proper way to eat Burek, and that is with a cup of yogurt!
Everyone who grabs a slice of Burek, especially for breakfast, has to get it alongside yogurt. Trust me; it is incredibly delicious.
Or as an alternative, you can try it with some Turkish ayran, but the taste is very similar.
No matter how you choose to enjoy this delicious treat, you won't be disappointed and will definitely return for another slice!
Feel free and obliged to check out our other Balkan food guides:
And our massive country guides:
Finally, our Curated Balkan food guide: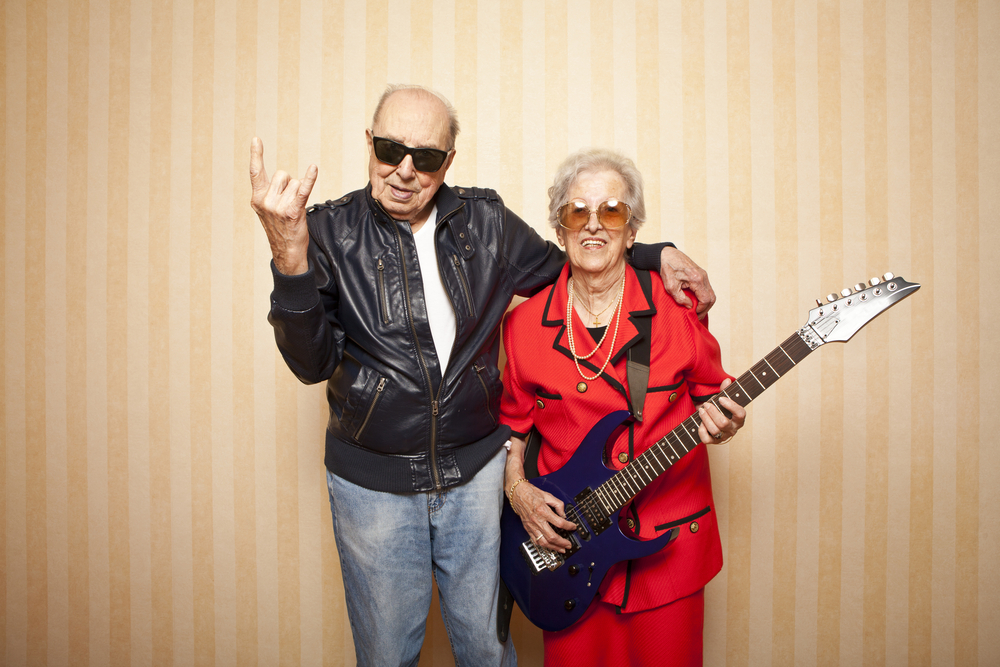 Jadranka Y. and Pero K. Foodies, lovers. Jadranka is the queen of pastries and sweets, whereas Pero is the prince of meat and potatoes.
They met at 15, while working in the kitchen of a famous chef here in the Balkans, and have been together ever since.
But they still love each other and are faithful till death or until one messes up their dish. Which happens quite often if you ask anyone of them.
Love is a battlefield and Jadranka and Pero decide who wins, in the kitchen.