This is a fantastic 3 milk cake called Trilece (Tres Leches). It's a little more complicated than other cake mixes but totally worth it! It is a cake that melts in your mouth. 
It is the perfect combination of lightness and intense flavor simultaneously. But, more importantly, it's easy to prepare and almost impossible to fail with our trilece recipe.
What Is Trilece?
Tres Leches is a moist cake soaked in three types of milk—evaporated milk, condensed milk and heavy cream. 
Made with a base of delectable golden sponge cake and topped with frosting, the result is a creamy, soft and delicate cake enhanced by the sponge's flavor and texture.
Tres Leches is often referred to as an authentic Mexican cake, but today I am showing you how to make a Turkish version of caramel Tres Leches layer cake, which is also called a "Trilece."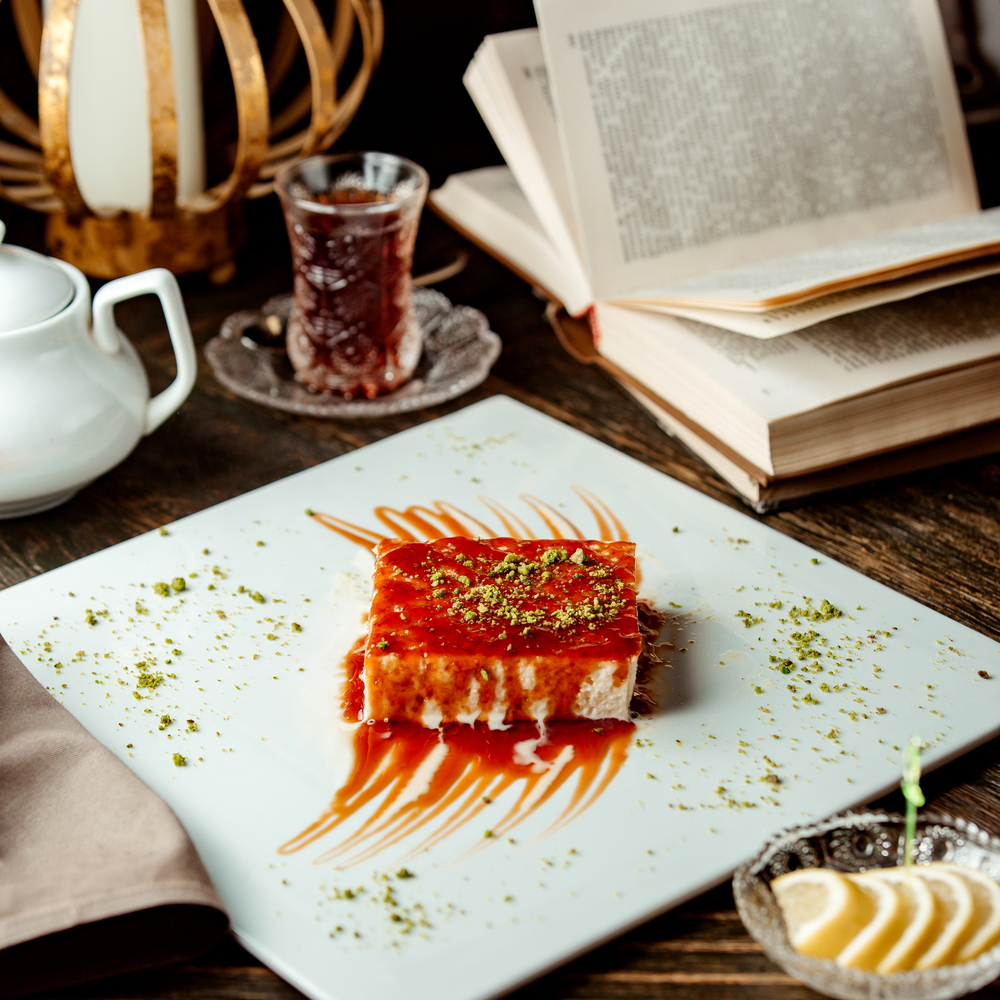 Trilece Origin
Mexico was known for its bread cake recipe with custard and wine around the 19th century. One of the main components is alcohol-soaked sponge cakes with cream cheese and sugar. The recipes were fantastic for repurposing leftover cookies, cake or bread into delicious desserts. 
During the 19th century, European influence in Mexico contributed to the popularity of soaked recipes in the New World using European ingredients such as custard, bread and wine.
As Nestle opened up factories in Mexico during World War II, their evaporated milk, condensed milk and cream boxes included a recipe for Tres Leches. As a result, they are credited with making Tres Leches Cake popular.
Today, it is still widely used in Mexican recipes to combine evaporated, condensed, and cream. In moderation, its combination makes it so irresistible and desirable among locals and visitors alike.
But this Caramel Tres Leches is a Turkish version of the Mexican Tres Leches dessert. It is a sponge cake soaked in milk syrup, with whipped cream and buttery caramel.
As with flan cake and tiramisu, this cake is a crowd-pleaser and the first to disappear at parties.
Trilece Recipe
This Trilece recipe is a simple and delicious cake that melts in your mouth. The main ingredients for the cake are flour, milk, eggs, and sugar; the three kinds of milk that soak into the sponge cake are condensed milk, evaporated milk, and cream (instead of heavy cream).
Tips
Some people prefer to make Trilece with a pound cake base, while others make theirs with sponge cake. If you like it more buttery, you can use pound cake in your recipe.
Before you start, make sure the eggs are at room temperature. If you forgot to take them out, let them sit in a bowl of warm water until they reach room temperature.
If you are using egg beaters, you will need to beat the mixture longer. If you are using a stand mixer, you should beat the eggs and sugar for 8 to 10 minutes.
To check the consistency of your beaten egg and sugar mixture, take the beaters off and make an "S" shape with the batter dripping from the beaters. The "S" shape should sink within 10 seconds if you are on track. If not, beat more!
Stir the flour gradually into the egg mixture, sifting it over it as you go. Make sure that the flour does not collect at the bottom of the bowl.
The topping for this milk roll is a sweet caramel sauce, so the milk syrup used in the recipe is less sugary. I used only a quarter cup of sweetened condensed milk to keep from making it too sweet. You can reduce it to two tablespoons if you like things on the sweeter side.
It helps to use a deep saucepan when making caramel sauce because caramel tends to splatter. It's also good to use room temperature butter—rather than cold butter—to reduce the shock of adding it to the hot sugar. And don't worry if clumps form while you're stirring—they will melt eventually.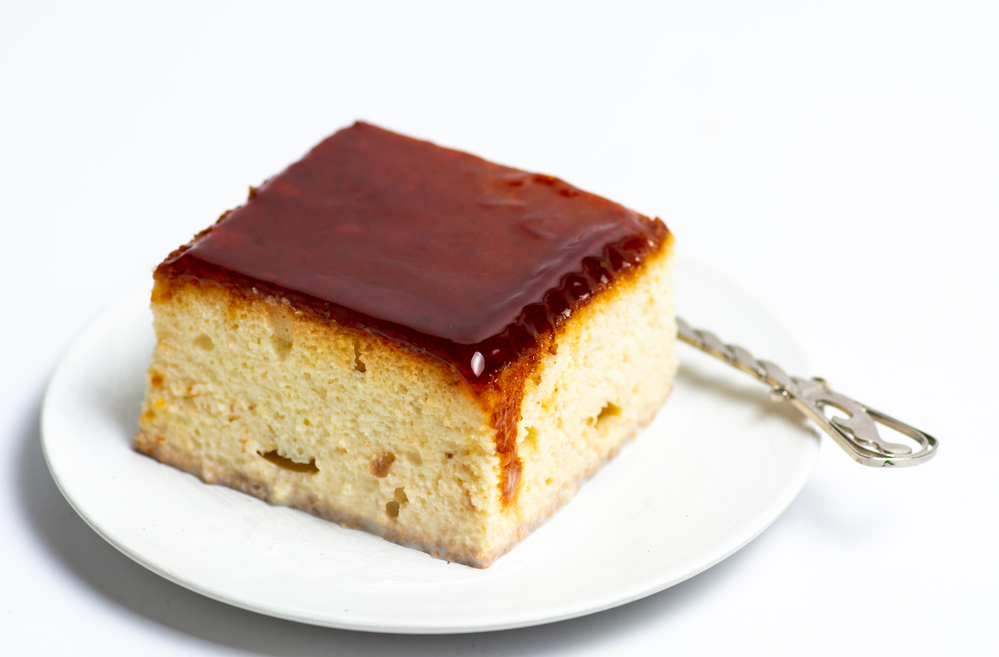 Trilece Recipe Ingredients 
The cake:
6 large eggs at room temperature.

1 teaspoon vanilla extract.

1 1/3 cup (275g) granulated sugar.

2 cups (250g) of all-purpose flour.

1 1/4 teaspoon baking powder.
Milk syrup:
1 can (12oz) evaporated milk.

1/4 cup sweetened condensed milk.

1/2 cup heavy whipping cream.
Whipping cream:
2 cups heavy whipping cream.

2 Tablespoons granulated sugar.

1 teaspoon vanilla extract.
Caramel layer:
1 1/4 cup (250g) sugar.

4 Tablespoons butter at room temperature.

1 cup heavy whipping cream.

1/8 teaspoon salt.
Step-By-Step Instructions
Butter or baking spray the bottom of a glass baking dish and preheat the oven to 340F / 170C.
Put the eggs and vanilla extract in your electric mixer bowl. Beat on high for about one minute until you see foam.
Adding the sugar, a little at a time, for approximately 5–8 minutes will result in a pale yellow mixture that has tripled in size.
Mix flour, baking powder and one-third of the flour mixture. Sift the mixture over the egg mixture, then fold the ingredients using a spatula until they are all combined.
Stir the flour into the batter until all of it is mixed in. Keep stirring until no lumps of flour remain. After pouring the batter into the greased cake pan, bake it for 30 minutes. The cake will be golden brown when it's done.
Combine the evaporated milk, heavy cream and condensed milk in a deep bowl or large enough measuring cup. Set aside after mixing until well combined.
When the cake is done, place it on a wire rack to cool. To help the icing soak evenly, poke some holes into the top of the cake with a toothpick.
Pour the three milk mixtures over and let sit for an hour. While you're waiting for it to soak, finish the other preparations for the recipe.
Once your whipping cream is in your mixer bowl, beat it for around 3 minutes or until it thickens but is still soft.
Beat the cream with an electric mixer on high speed for 3 to 4 minutes or until it thickens. Beat the mixture for 5–6 minutes or until it reaches a stiff peak; add vanilla extract and sugar. Cover it and refrigerate it, so it firms up even more.
Melt the sugar in a deep saucepan over medium heat until it is amber-brown. This will take 5–6 minutes, and you should stir the sugar occasionally while it cooks.
Reduce the heat and add butter, constantly stirring as the entire amount of butter is incorporated into the mixture.
Add the heavy cream slowly, stirring continuously. The mixture will bubble again and rise a bit in the pan. Don't worry if it clumps—just keep stirring until everything is smooth again.
Take the mixture off the heat and pour it into a heat-proof glass cup. Let it cool for about an hour.
Assemble The Cream, Caramel And The Cake
Place 2 tablespoons of the whipped cream in a small piping bag and keep in the refrigerator. Over the top of your cake, spread the remainder of the whipped cream evenly.
Place in the refrigerator for 30 minutes to firm up before adding the caramel layer.
Over the whipped cream, pour the cooled caramel. Use a spatula to spread it evenly. Snip off a corner of the sandwich bag and make parallel lines in the caramel.
Using a toothpick, draw a line between two points across the paper in one direction, then move an inch in the opposite direction and draw another line.
The dessert can be refrigerated for 30 minutes to an hour before serving to firm the layers or served immediately.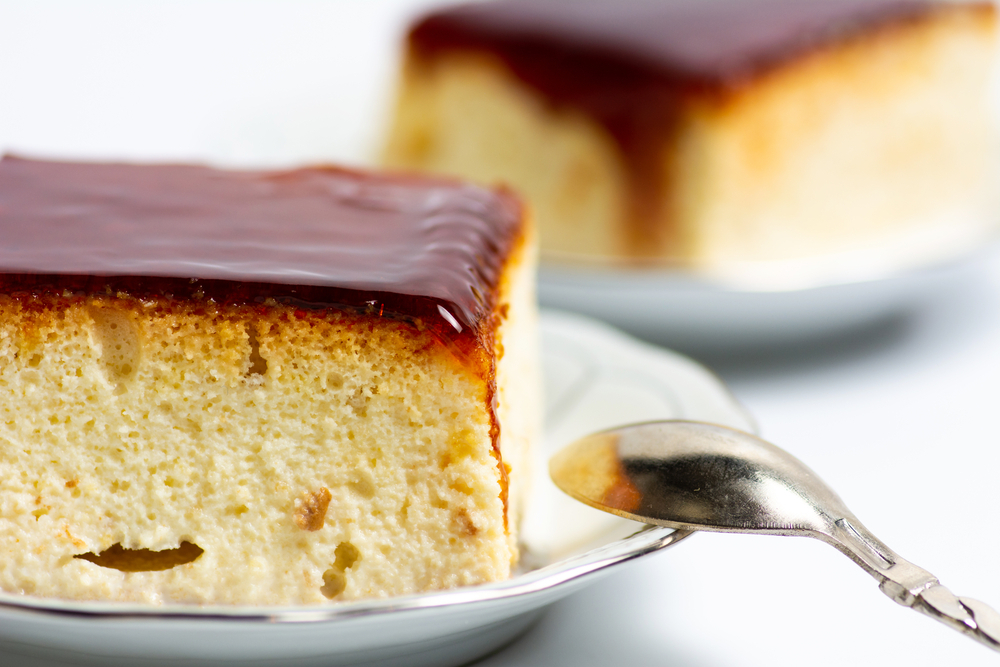 Serving Suggestions
Every time I serve this cake to family and friends at a get-together, I'm met with a chorus of rave reviews. It's my favorite part! 
Something about having the perfect frosting-to-crumb ratio makes this the most satisfying dessert!
Looking for more recipes? Check these Balkan food guides:
And our massive country guides:
Finally, our curated Balkan food guides: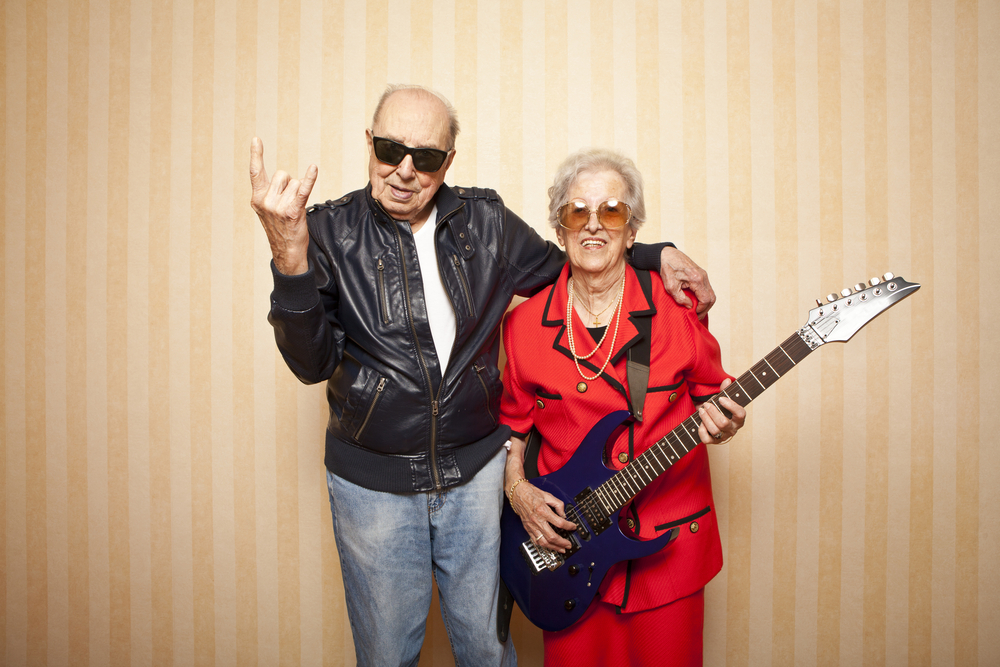 Jadranka Y. and Pero K. Foodies, lovers. Jadranka is the queen of pastries and sweets, whereas Pero is the prince of meat and potatoes.
They met at 15, while working in the kitchen of a famous chef here in the Balkans, and have been together ever since.
But they still love each other and are faithful till death or until one messes up their dish. Which happens quite often if you ask anyone of them.
Love is a battlefield and Jadranka and Pero decide who wins, in the kitchen.